Paris-Charles de Gaulle Airport (Aéroport Paris-Charles de Gaulle), also known as Roissy Airport or just simply CDG, is the main international airport for Paris and is located 24 km to the northeast of the city.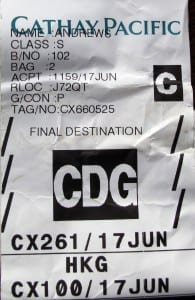 Paris-Orly Airport (Aéroport de Paris – Orly) is Paris' second airport and is located 13 km south of the city. Most domestic flights to and from Paris, as well as some international flights, use Orly.
In 2005 we planned to finish our walk somewhere near Toulouse, so for a change we decided to fly back to Paris. We booked over the net and flew with Easyjet. Our tickets were an amazing €7 each, plus €15 each for taxes. The same trip by TGV costs about €75 and takes 5 hours.
We also used Easyjet to fly from Paris to Nice in 2008, allowing us to pull off the feat of getting from Beijing to the Alpes of Provence in the same day.
Back to: Rail travel in France