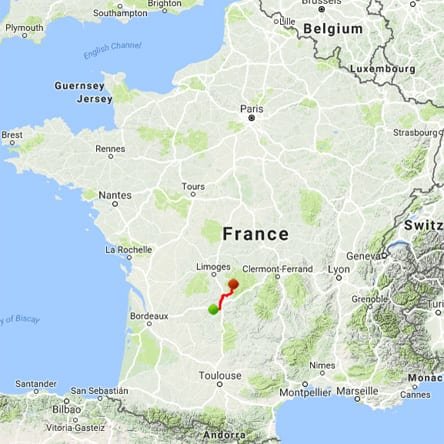 Once again our intentions were cut short by a medical problem, reducing our walk from the hoped-for forty days to a mere seven.
Our plan was to go up the Vézère to Treignac, then across via Aubusson to join the Loire at Nevers. After that we would follow the river downstream as far as Cosne-sur-Loire, then turn west to Bourges and along the Cher to Tours.
We started at Terrasson-Lavilledieu, which had been the starting point for our downstream walk on the Vézère in 2005, and went in the other direction, past Uzerche and Treignac, to the tiny village of Lacelle.

This was as far as we got. At this point we decided that Jenny's eye needed attention at home, so we hitch-hiked to Limoges, got the train to Paris and flew back to Australia.
A quick visual summary of this walk can be seen in the yearly photo album. For the statistically inclined, there is also a spreadsheet that gives details of distances, costs etc.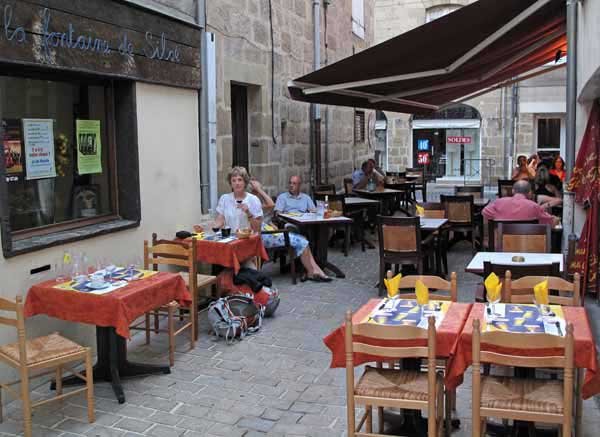 Getting to Terrasson
By the time we arrived at the railway station of Brive-la-Gaillarde, we had been travelling for 38 hours, including a plane flight to London, another to Paris and a train from Austerlitz to Brive. Such is the price that Australians pay for a visit to Europe.
It was 8:20 pm, but we had checked on the internet that there was a camping ground close to the centre, so we strolled down to the old town and celebrated our arrival in France with a delightful meal in a laneway restaurant (Le Corrèze).
We had a menu consisting of a plate of hors d'oeuvres, an elaborate salad, then steaks with a shallot sauce. To finish Keith had a cream caramel and I got some cheeses, which I put away for tomorrow's lunch.

As we were leaving, we asked the waiter about the quickest way to get to the camping ground, and the appalling answer was – it had closed a few weeks ago! Already the light was fading, but we hurried to the place, just to make sure, and to see whether we could perhaps sleep on the grass there anyway.
That was impossible, as there was a high fence around it, so we rushed back to the centre looking for a hotel. The first one we tried was booked out and we only just got our foot in the door of another one as it was shutting up for the night.
Next morning, after a delightful breakfast in the square amongst the market stalls, we caught the 10:45 am train to Terrasson, and went over the Vézère on the old footbridge for refreshments at a riverside bar.

As the camping ground in the village had closed several years before, the nearest one was three kilometres downstream, not in the direction that we would be walking.
Had it not been for the heat, we would have been tempted to set off then and there for Saint-Pantaléon.
As it was, the march to the camping ground was quite enough in our exhausted state. We slept most of the afternoon and ate at the camping snack bar in the evening.
Day 1: Terrasson-Lavilledieu to Saint-Pantaléon-de-Larche
Day 2: Saint-Pantaléon-de-Larche to le Saillant
Day 3: Le Saillant to Vigeois
Day 4: Vigeois to Uzerche
Day 5: Uzerche to Chamboulive
Day 6: Chamboulive to Treignac
Rest Day: Treignac
Day 7: Treignac to Lacelle
This map shows accommodation icons for each night. Zoom in on a particular icon to see its precise location.
You can also see this map using Google Earth and take a virtual flight along our route.