A daily diary of our 33-day, 720 km, four-canal walk.
Our first ten days were in the far south, from Port-la-Nouvelle to Avignonet-Lauragais.
We crossed the thinly populated hills of the Corbières, then descended to join the Canal du Midi, on which we passed through many Cathar towns such as Carcassonne and Castelnaudary. The land along the canal was a carpet of vines.
We then took a train to Burgundy.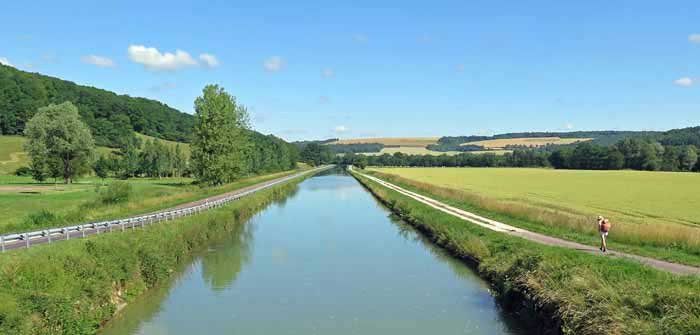 The second part of the walk started in Beaune and went north to the Canal of Burgundy, which we followed for a week until we got to Tonnerre.

From there we turned west, past the vineyards of Chablis and the wheatfields of Auxerre, and then through the former province of Puisaye to Rogny-les-Sept-Écluses, where we met the Canal de Briare.
We walked down this canal for a day until we reached the Loire.
At Gien we left the river and pressed on through the forests of the Sologne to our final canal, the Canal de Berry, which we followed for the last four days, from Mehun-sur-Yèvre to St-Amand-Montrond.

A quick visual summary of this walk can be seen in the yearly photo album. For the statistically inclined, there is also a spreadsheet that gives details of distances, costs etc.
This year for the first time we took no commercial maps or guides, and relied wholly on our own home-made maps, which have much more detail than the Google Map below.
We made them using the online IGN TOP 25 map, and our overall route can be seen here, superimposed on the IGN map. For those who are interested, there is a description of how we make these maps.
There is also a lot of very useful information about maps and guides in our Beginner's Guide.
Although we list the appropriate TOP 100 maps at the beginning of each page of our diary, please note that these are not really adequate unless you are following a GR. We include them only as a general guide.
Our route for this year
The diary has been broken up into the following sections:
Capendu to Avignonet-Lauragais
Venarey-les-Laumes to Tonnerre
Mehun-sur-Yèvre to St-Amand-Montrond
To see icons for each night's accommodation on this map, press the full-screen symbol at the top right and then tick the accommodation icon box at the top left. Zoom in on a particular icon to see its precise location. These accommodation icons are also shown on all section maps.
You can also see this map using Google Earth and take a virtual flight along our route.