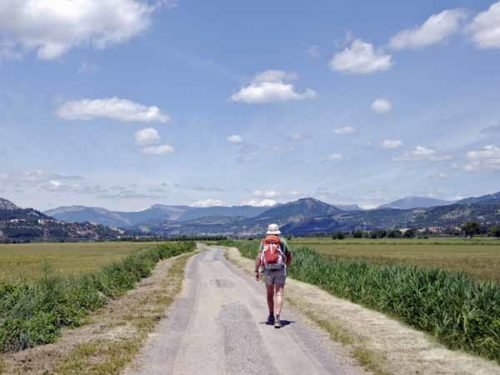 This was the first year that we were seriously affected by a health problem.
After walking for eight days in Provence and the Drôme, from Saint-André-les-Alpes via Digne-les-Bains and Sisteron to Rémuzat, Keith's kidney stone proved too much to bear.
So we hired a car in Avignon and drove for 28 days up the eastern side of France, finishing in Reims.

What we had hoped to do was to continue walking northwards and to reconnect with a previous starting point at Cluny, then press on into Burgundy as far as time allowed.
A quick visual summary of this walk can be seen in the yearly photo album. For the statistically inclined, there is also a spreadsheet that gives details of distances, costs etc.
The diary has been broken up into the following sections:
St-André-les-Alpes to Sisteron
To see icons for each night's accommodation on this map, press the full-screen symbol at the top right and then tick the accommodation icon box at the top left. Zoom in on a particular icon to see its precise location. These accommodation icons are also shown on all section maps.
You can also see this map using Google Earth and take a virtual flight along our route.