We are a pair of ageing but energetic Australians addicted to walking in France. We have done this every year from 2002 until we were interrupted by the pandemic in 2020. To the despair of our family, we keep thinking of new areas to explore, and we hope we will be able to continue doing so until our legs crumble, or civilisation does, whichever comes first (at the moment it looks like the latter!).
Many companies offer so-called independent walking tours that provide route information, hotel bookings, and transfer of bags between hotels. They are absurdly expensive and we consider them rigid and limiting. However, we don't completely knock them, as their brochures are a good source of ideas for our own itineraries.
It is not actually very difficult to organise your own expedition, although there are pitfalls.
Starting off

We have written this website for our own pleasure, and also in a spirit of comradeship with our fellow walkers, to spare others some of our more disastrous mistakes. We have no commercial motivation and so it is free of ads.
We hope it will be a useful guide for anyone contemplating a pedestrian tour in France, whether you call it hiking, rambling, trekking, tramping or just plain walking.
The Beginners' Guide is a general introduction to walking in France, containing information and advice. To learn from our mistakes, see Golden Rules, and for answers to common questions, see our FAQs page.
Our walks so far

A brief statistical summary of all these walks can be seen on this spreadsheet.

For a brief description and a map of each of our walks, see Diaries and Maps.
From our diaries, we have extracted what we think are the best Short Walks (from three to ten days), as well as other short, flat walks on Canals and Disused Railways.
The Pilgrimages of Saint Jacques de Compostelle

Since mediaeval times, pilgrims have converged on the tomb of Jesus' disciple Saint James at Compostela in northern Spain. In English, these pilgrimages are collectively known as the Ways of Saint James, in Spanish the Caminos de Santiago, and in French the Chemins de Saint Jacques.
They came from all directions, including through France, and all four of the main French routes have now been marked for present-day walkers. The most popular one starts in le Puy, which is the one that most people think of when planning a walking holiday in France.
For a brief outline of these four traditional routes and links to the diaries of our adventures on them, see Pilgrim Ways.

France has much more to offer the walker than just the pilgrim routes. Indeed the pilgrim routes, especially the Way of Le Puy, have become almost too popular in recent years, and it is hard to get a feeling of freedom and autonomy while shuffling along in a queue.
There are about 180,000 kilometres of beautifully maintained tracks known as GRs (Grandes Randonnées) in other parts of the country, many of them traditional thoroughfares between villages from the days before motorised transport.
They pass through farmland, vineyards, hills, woods, forests and mountains – and there are always villages to provide accommodation and food along the way.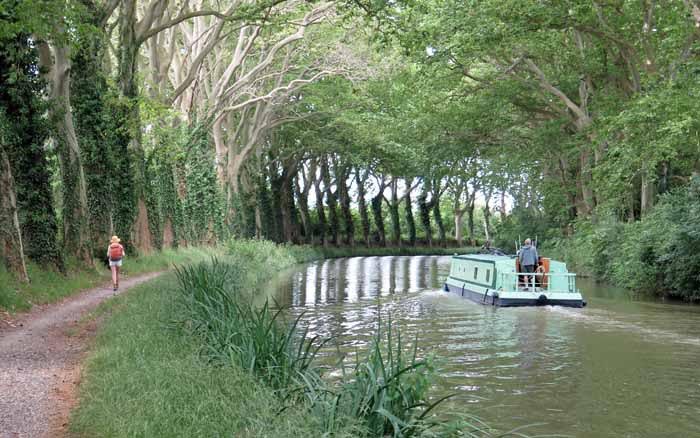 Walks along some of the famous rivers, like the Loire and Vienne are full of beauty and interest, as are Canal Walks such as those on the Canal du Midi, the Canal du Nivernais and the Canal de Bourgogne.
In the south there are many lovely walks amongst the vestiges of Roman occupation.

If you would like to get in touch with us to ask a question about walking in France, to make a comment or to point out a mistake, we would be very pleased to hear from you.
Keep in mind that we don't organise or lead walking trips for other people – we have enough trouble organising our own!
However, if you have a question, please start by reading our FAQs page, our Beginners' Guide and our Golden Rules, where you will find the answers to many questions.
You can contact us, Jenny and Keith, at:
Subscribe to our mailing list