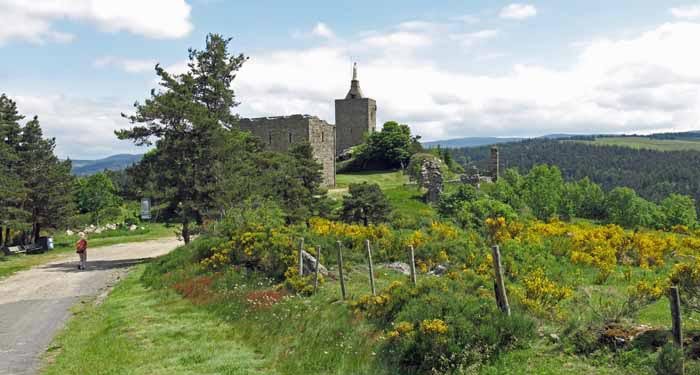 We started from le Puy in freezing weather and walked for ten days through the Cévennes on the Régordane, an ancient trade route and pilgrimage, which took us down to Saint-Gilles.
Then from Montpellier, we crossed the coastal plain of the Languedoc on an improvised route, more than half of which had been the Roman Via Domitia.
The third part of our intended walk, the Sentier Cathare, we never actually attempted.

By the time we got to its starting point at Port-la-Nouvelle , a great heatwave had descended on France and we decided it was not the weather to start a steep, dry, treeless walk with few villages en route.
Instead we spent two weeks travelling at leisure by train, visiting some of our favourite villages, and gradually moving northward until we arrived in Paris for our return flight to Australia.
A quick visual summary of this walk can be seen in the yearly photo album. For the statistically inclined, there is also a spreadsheet that gives details of distances, costs etc.
This was the first year that we supplemented our usual TOP 100 maps with a few home-made ones, to provide more detail in certain places. How we did this is explained in Maps and Guides.
Our route for this year
The diary has been broken up into the following sections:
Le Puy-en-Velay to la Bastide-Puylaurent
Saint-Thibéry to Port-la-Nouvelle
To see icons for each night's accommodation on this map, press the full-screen symbol at the top right and then tick the accommodation icon box at the top left. Zoom in on a particular icon to see its precise location. These accommodation icons are also shown on all section maps.
You can also see this map using Google Earth and take a virtual flight along our route.