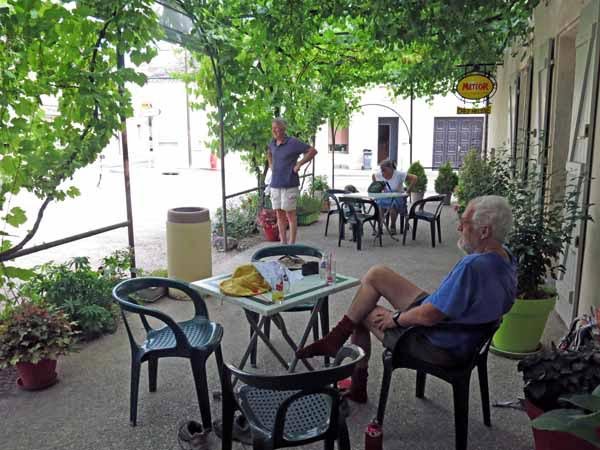 In this year's walk we covered 750 km in 33 days.
As can be seen from the map below, it was not the quickest way to get from A to B, which just goes to show that in our case, it is the journey rather than the destination that is the thing.
On the other hand, it is always lovely to arrive at the end of a long walk.
Our walk this year was generally from east to west, with a large detour to the north to take in the part of the Canal of Burgundy that we had missed two years earlier.
Apart from the first few days in the mountains of the Jura, the landscape was gentle and benign, with plenty of villages to provide the necessary comforts.
Nevertheless, after a month we felt the need for a rest, and as we had forgotten to allow for any rest days in our schedule, we had to shorten the overall trip.

This gave us time to indulge in a little three-day break in St-Amand-Montrond, and also a few days of leisure at the end.
A quick visual summary of this walk can be seen in the yearly photo album. For the statistically inclined, there is also a spreadsheet that gives details of distances, costs etc.
We no longer use commercial maps – our home-made maps have much more detail than the Google Map below.
We made them using the online IGN TOP 25 map, and our overall route can be seen here, superimposed on the IGN map. For those who are interested, there is a description of how we make these maps.
There is also a lot of very useful information about maps and guides in our Beginner's Guide.
Although we list the appropriate TOP 100 maps at the beginning of each page of our diary, please note that these are not really adequate unless you are following a GR. We include them only as a general guide.
Our route for this year
The diary has been broken up into the following sections:
Saint-Julien-en-Genevois to Simandre-sur-Suran
Tournus to Saint-Jean-de-Losne
Saint-Jean-de-Losne to Bligny-sur-Ouche
Bligny-sur-Ouche to Étang-sur-Arroux
Digoin to Saint-Pourçain-sur-Sioule
Saint-Pourçain-sur-Sioule to Vallon-en-Sully
To see icons for each night's accommodation on this map, press the full-screen symbol at the top right and then tick the accommodation icon box at the top left. Zoom in on a particular icon to see its precise location. These accommodation icons are also shown on all section maps.
You can also see this map using Google Earth and take a virtual flight along our route.