Sunday, 25 May 2003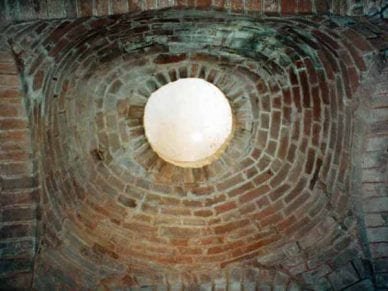 During the night we were both struck down with colds, so that made three out of three of the party. It was time for a day off, even though we had only walked for one day.

We slept till 10:30, then strolled into the village for coffee and a look at the sights, including the beautifully restored Penitents' chapel.
All the power lines in Collonges have been put underground in order to preserve its medieval appearance, helping to make it one of the worthiest Plus Beau Villages in France.

The afternoon passed in slumber. As evening approached we took the short cut through the tunnel to Penny's chambre d'hôte and admired the huge fireplace in her bedroom.
The three of us wandered around the streets and chose a restaurant which we went into as soon as the doors opened, as we were hungry.
The dining room was elegantly appointed, with candles, mirrors, old furniture and flowers, and the food was in keeping.
Previous day: Martel to Collonges-la-Rouge
Back to this section's summary