Sunday, 2 July 2006
Distance 11 km
Duration 2 hours 20 minutes
Ascent 34 m, descent 24 m
Map 28 of the TOP 100 blue series (now superseded)
There was no fruit for our muesli, but we were not complaining after our good fortune of last night. We left at 7:45 am without seeing (or paying) our host, who was perhaps hung over from patriotic celebration of last night's football result.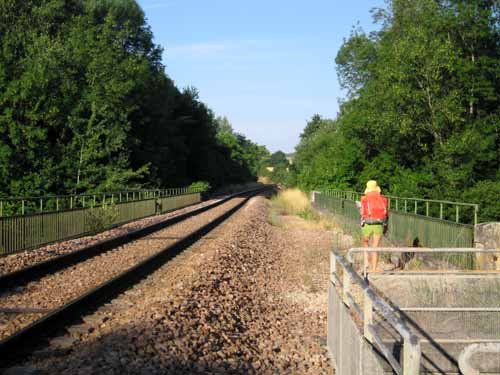 Leaving the road, we battled up through a patch of nettles onto the railway tracks and crossed two waterways, arriving at the canal in less time than it would take to drive there by road.
The towpath took us past some jutting crags and a wood, to Merry-sur-Yonne with its square-towered church set in trees.

The village was across the canal from the road and consequently innocent of any shops, or even a boulangerie.
A local housewife was aghast that we would have to walk another five kilometres to get to one ("O la la!").
We were more interested on finding a bar for our morning coffee and we thought we had succeeded as we crossed back to the towpath and came to the tall rocks of the Rocher du Renard, but the accursed cafe was closed.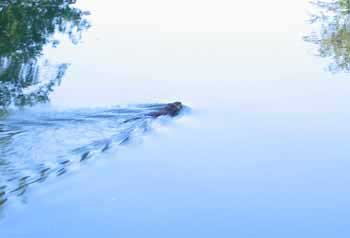 Pulling ourselves together, we strolled on peacefully enough, although we destroyed the peace of an otter, which flung itself into the canal and wriggled away leaving a fan of ripples on the still water.

After an hour we got to Châtel-Censoir and just past the station we took a footbridge over the canal to the camping ground, which was on an island beside the river.
It was only ten o'clock but the day was already like a furnace and we were glad to drop our packs and boots, pay the necessary €6.60 and set off in quest of second breakfast.

The steep, stony little town had a boat port on the canal, sheltering a cluster of white boats with pink umbrellas.
Up in the streets, we followed our usual rule of heading for the church, which in this case was on a great height, almost inaccessible to cars, whereas the commercial centre was low down on the main road, as we found out from a merciful local when we were halfway up.

The queue at the boulangerie snaked out into the square. With our baguette and pastries we sat in shady comfort at the bar and wrapped ourselves round bowls of coffee.
The local papers on the counter had headlines like "C'EST FAIT!" and 'TROP FORT!" Keith took a wonderful photograph of the shirtless drinkers at the bar for his series "French people do get fat".

When we got back to the camping ground, the office was closed and stayed that way for the rest of the day, which was a pity, as the showers were operated by tokens that had to be bought from the office.
Nevertheless we were able to have a reviving hot wash before lunch. The last of the charcuterie from Vincelles was finally consumed, having been recooked several times in my pack.

The afternoon passed restfully with a nap, a cold beer supplied by our English neighbours, and a swim in the river at a little gravelly beach much favoured by the locals. The water was cold and refreshing.
An icecream cart and a man selling cherries came around at different times.

At about 8 pm we set off in search of dinner, which on a Sunday night was not easy to find (our new English friends had never eaten out in the month they had been here, so were not much of a guide).
The only place open was a rather pretentious establishment (for example no carafes of wine, only bottles), redeemed by a pleasant gravelled garden at the back, where we found a table.

We ordered the simplest possible meal of pasta, pizza and salad and settled down to sip our wine and observe our fellow diners. One woman, pasty and intense-looking, spoke a strange Slavic tongue, which we eventually realised was American of some sort.
The scowling waitress came back to say that neither of our choices was available. We chose again and this time we got one dish, the other being completely different from what we had ordered.
With a look of hatred the waitress removed it and after a pause the actual chef came out beaming apologetically to deliver our second dish. There was surely blood on the floor in the kitchen.
Previous day: Vincelles to Mailly-le-Château
Back to this section's summary