Sunday, 11 June 2006
Distance 16 km
Duration 3 hours 55 minutes
Ascent 118 m, descent 112 m
Map 37 of the TOP 100 blue series (now superseded)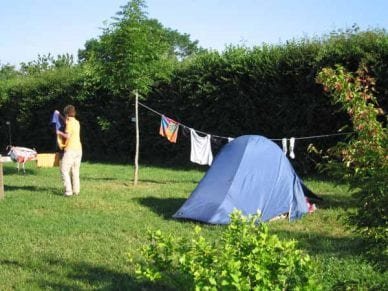 We began in leisurely fashion with a coffee at the camping snack bar, then handed back our gate keys and made off to the exit at the bottom, which leads out directly to the Voie Verte. Unfortunately it was still locked from the night before, but a merciful Dutchman nearby saw us trying to heave ourselves over and let us use his key.
As we trudged along, it became clear that we should not have spent so much time at the snack bar – it was sweltering hot already, and the shade on the Voie Verte was patchy.

Being long-established, these old railway lines are often in a tunnel of trees, but this one was in more of a wide canyon, only shady early or late in the day.
After an hour or so we came to the defunct station of Saint-Gengoux-le-National, the town itself being a kilometre away, but worth the deviation.
We found a prosperous, self-contained little place on a steep slope with a river below. A maze of cobbled lanes crowded around the handsome Romanesque church, which was peculiar in having an enclosed wooden walkway between steeple and bell-tower.

We drank our coffee in the main street looking out over the river to the green undulations beyond, so different from the exhausted grey of Australian hills in summer. The Europeans do not appreciate how lucky they are, both in climate and in soil.
Continuing our walking railway journey, we stopped for lunch in the shade of a walnut tree near Etivaux, then pressed on to our destination, Saint-Boil. Having failed to discover anything about this delightfully named saint, we imagine him as the patron saint of skin disorders, and have added him to our list of obscure French heroes.

The town was off to the left a little way from the Voie Verte, and was as empty of life as Saint-Gengoux was full of it. All its commercial establishments had succumbed to that creeping blight of the French countryside – ease of travel to bigger towns nearby.
We could not see a camping ground, but we found out from a local that the nearest one was at Collonge, only a kilometre away on the opposite side of the Voie Verte. This was what we had been looking for anyway – we had already seen it from the track without realising what it was.
The village of Collonge is even deader than Saint-Boil, if that is possible, but below it the former water mill is now a four-star camping resort, with a lake, cabins, a pool, a restaurant and prices to match. It was 2:30 pm when we got there, the hottest time of the day.

We could have arrived hours earlier but we were not yet into the necessary routine. We had not suffered enough yet to make a dawn start seem attractive.
The place was full of elderly English caravanners watching the World Cup on their satellite TVs.
The usual routine of showers, clothes-washing and a siesta ensued. We only have one change of clothes but our washed ones always dry in time to be packed away.
When the cool of evening arrived, we took a table on the wooden terrace of the restaurant, overlooking the lake, and sank our teeth into steak with Roquefort sauce. There is something about hard physical exertion that brings out the red meat eater in us.
We conversed pleasantly with some English speakers nearby. The waiter seemed French but turned out to be from Derby.
Previous day: Cluny to Cormatin
Back to this section's summary