Sunday, 24 June 2007
Distance 28 km
Duration 5 hours 40 minutes
Ascent 262 m, descent 277 m
Map 66 of the TOP 100 blue series (now superseded)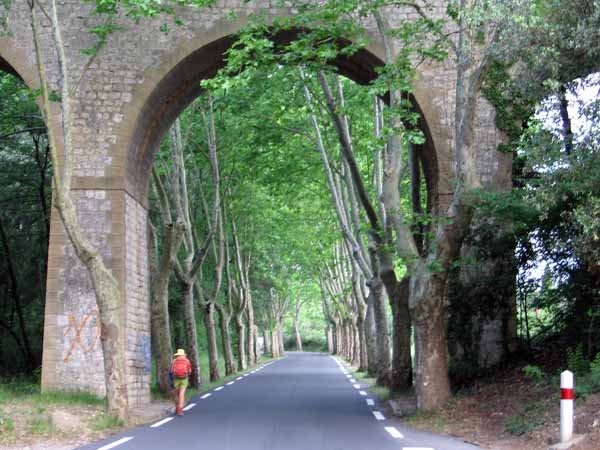 We were up in the town by 7 am, astonished to see most of the shops and bars already open, even on a Sunday. However we did not stay.
We marched off down the main road, crossed the highway and found the D982 going west under the railway line towards Arpaillargues.
We reached this unpronounceable village after a pleasant walk on along an avenue lined with plane trees, and were gratified to find not only a boulangerie, but a bar, just opening at 8 o'clock.

We carried chairs out to a table on the footpath, as madame had not had time to do it, and indulged in a splendid second breakfast, with a view down the canyon of the street.

Setting off again, we had not gone far when we came to a fork in the road, and turned off on the smaller D120, which we had almost entirely to ourselves for the three hours it took to walk across to the river, the one that we had last seen at Collias.
Level farmland of wheat and vines stretched away on our left, while on our right the land rose to a low ridge.
At the tiny village of Collorgues, which was right on the fold of the map, I failed to see that there was a road heading south, and we followed it for a way before turning back.
We finally trudged into Moussac on the river at 11:30. It was a substantial town but we knew it had no accommodation apart from a couple of chambres d'hôte.

There was a row of modern shops perched incongruously in the middle of the steep old stony lanes. Fortunately they included a bar, so we enjoyed a second round of coffee and looked at yesterday's Midi Libre.
We found our way down through crooked streets to the river and crossed it on a walking bridge which connected with what must once have been the main road, lined with plane trees. This took us out to the highway, the N106, and after a short walk along that we turned off to Sauzet.
The new autoroute (promised for mid-2007) was a rubble-strewn building site. Chastened by my disastrous short-cut the week before in Châteauneuf-de-Gadagne, I did not dare suggest cutting directly across the fields to Saint-Geniès.

Instead we kept on the road all the way into Sauzet and out again, arriving at last at the railway station of Saint-Geniès.
The village was deep in Sunday afternoon torpor with not a soul to be seen and all the shops closed. We wandered about until we found a sign to the hotel but somehow we missed the front door and came in at the less imposing back entrance, where one of the owners was sprawled on a sofa watching TV.
He jumped up apologetically and showed us to our room, which was up a private staircase and had a large, modern bathroom attached.
It was a pleasant old whitewashed room, with blue shutters on the window, terracotta tiles on the floor and not a right-angle in sight.
The first thing we did was have showers lying down in the bath, using the hand-held shower head, then we had a rather late lunch (it was 2 pm) and sank into the bed, the first one we had been in for two weeks, and slept for hours.

When we woke up, it was time to visit the pool, which was next to the paved courtyard where dinner would later be served. We had a brief dip, then reclined in deck chairs under a mulberry tree watching other people exert themselves.
Before tidying ourselves up for dinner we had showers again. I brought out the silk skirt that I had been carrying for just such an occasion, and Keith changed into his Hugo Boss T-shirt, so we both looked suitable guests for this Logis de France establishment.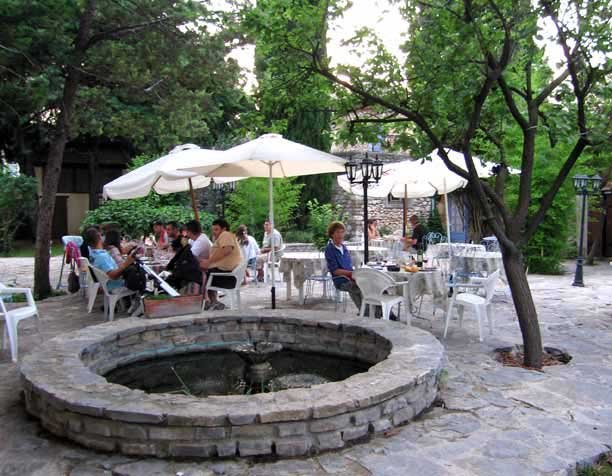 The dining terrace was a busy and convivial scene when we appeared.
Our demi-pension menu was set – pork terrine with salad to begin, followed by skewers of beef with sliced potatoes, zucchini fritters and other delightful vegetables.

A well-stocked platter of cheeses then made the rounds of the tables and we finished with icecream and black coffee.
With this we consumed three baskets of bread and a bottle of red from the neighbouring village of Dommesargues.
It was lovely to just walk upstairs afterwards and sink into bed again, instead of having to walk to our tent.
Previous day: Pont-du-Gard to Uzès
Back to this section's summary