Wednesday, 18 June 2008
I was still feeling delicate and my blisters were painful, so we thought a rest day was called for.
Without bothering about muesli, we hobbled into the Place des Fontaines and settled down outside a café overlooking the square. With the coffee, Keith had a pain aux raisins but I was not hungry at all.
It was the first completely clear, sunny day of this year's expedition and when we got back to the camping ground, we moved our tent out from its hangar, as it was too hot and also we were in the way of the fliers trying to get their gear out.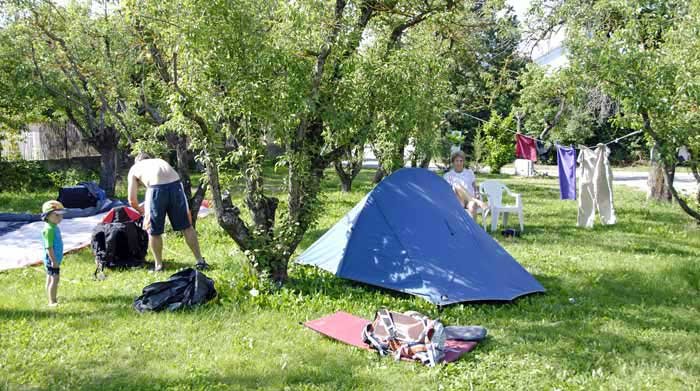 We set ourselves up under a young willow tree and spent the afternoon being entertained by a succession of landings of the many daredevil fliers, some of whom had glided all the way to Sisteron or even Gap after leaping off the cliff behind Laragne.

The camping ground took up half of a wide, flat field and the other half was the landing area, so there were a few exciting moments when fliers swooped in too low and almost clipped the trees above the tents.
They were an affable bunch and we enjoyed speaking English for a change.




In the evening we walked back and surveyed the eateries again, deciding on a North African restaurant.
The outside dining area at the back was not very salubrious so we moved indoors to a most elegant room, where we had a beautiful Moroccan salad and then tajines.
Keith finished off with a crème brûlée for the sake of his research into regional variations in this substance, but I desisted and during the night I was sick again.
Previous day: Sisteron to Laragne-Montéglin
Back to this section's summary