Wednesday, 1 July 2009
Distance 20 km
Duration 3 hours 55 minutes
Ascent 142 m, descent 84 m
Map 48 of the TOP 100 blue series (now superseded)
We rose at 6:15, as the forecast was for a hot day of 33°C. Our remedy for jet lag had worked – yesterday's walk to the camping ground in the bright sunshine – and we were feeling fresh. Nevertheless, I tried not to look in the mirror as I washed my face.
A few days earlier I had had a minor operation on my lower eyelid and it was not healing well. It was red, sore and weeping. Even worse, it was hanging down like a bloodhound's.
With our muesli we had plums that we had gathered yesterday on our way out from town. We had slipped back into our old ways already.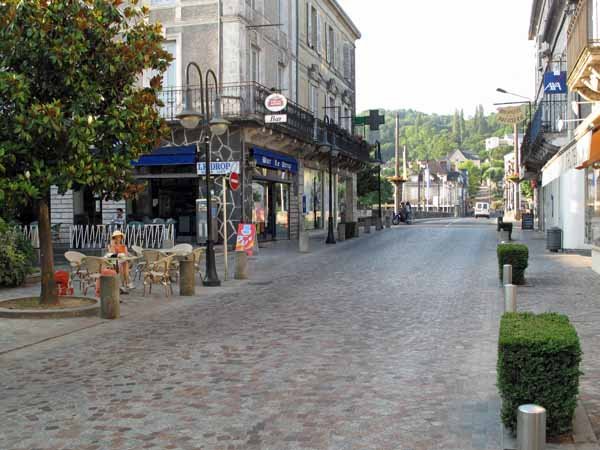 There were only a few cars on the road as we swung along, and when we got to Terrasson we crossed the river on the main bridge for the first time (on our previous visit and yesterday we had used the mediaeval footbridge) and found ourselves in a street of thriving shops.
We were the first customers at Le Drop, which was just opening at 7:30. Chairs and a table were hastily set out for us on the pavement and we spread out our pastries and maps around the coffee cups.
It was already 27°C, according to the sign on the pharmacy.

At 8:15 we set out in earnest, past the station and along the road beside the railway line. There was no GR here and we were only doing this road walk in order to link up with our previous starting point at Terrasson. Otherwise we would have begun at Brive.
Fortunately the big N89 took most of the traffic, leaving only the locals to share this road with us. We went under the railway and continued until we arrived at the village of la Rivière de Mansac, which was written in such pale letters on the map that it looked almost non-existent.

We came to a crossroads and were about to march on when Keith thought he saw a shop sign down the side street. We hurried towards it and found not one, but two bars, and several other shops.
We chose the bar just over the railway line, where there was a crowd of umbrellas shading the terrace. The coffee was delightful but we did not stay long, as it was getting hotter by the minute.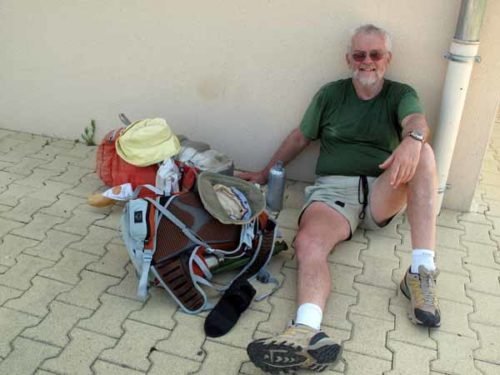 A little way further on, at Belotte, we crossed the tracks onto an even smaller road which took us directly into the outskirts of Saint-Pantaléon. I was so out of practice, both with the exertion and with the heat, that I had to stop and rest for a while before we got there.
Just at the intersection with the D152 was a brand-new hotel, sitting in a sea of gravel, but with a paved strip under the eaves. For lack of a tree, we sat there with our backs against the shady rear wall until we had sweated enough to cool down slightly.
It was no distance from there to the village, which had a shop, a couple of cafés, a church with a beautiful old bell-wall and little else. The woman in the shop said there was no camping and the only hotel was the one on the highway that we had just come from, so we went back, this time to the front door, and booked in.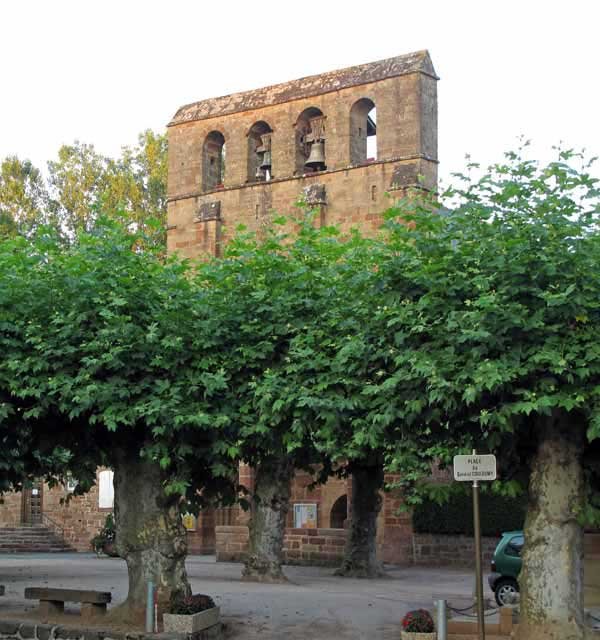 Our room was immaculate, in fact it looked as though it had never been used. There was a magnificent bathroom and, best of all, an air-conditioner. We flung ourselves down and did not move for a couple of hours.
Then we had showers and lunch in the room before sinking back into blissful air-conditioned slumber. Outside was like a blast-furnace. At 7:30 we descended to the bar for a drink, although it was too new to have any atmosphere.
Rather rashly, we decided to go back to the village for a pizza instead of eating at the hotel. Even though it was after 8 pm, it was still oven-like and the sun coming through the trees added to our discomfort. We should have got a take-away and eaten it in the cool of our room.

Nevertheless they were good pizzas and we saved what we could not eat for tomorrow's lunch.
Before going to bed Keith had another shower during which he slipped on the wet tiled floor and wedged his big toe under the door with great force.
He thought he had broken it, which would have been a farcical end to our expedition, but it was just heavily bruised.