Wednesday, 8 July 2009
Distance 19 km
Duration 4 hours 10 minutes
Ascent 451 m, descent 334 m
Map 41 of the TOP 100 blue series (now superseded)

Our deliberations (about whether to continue or to go back to Australia for my eye to be treated) had not resolved themselves into a definite plan, but the weather had improved so we decided to push on along the GR46.
Our sympathetic host had offered to provide provide breakfast for us before we left, so we sat in the office, surrounded by brochures and books, and ate fresh bread, jam and butter with a jug of coffee.
While we ate, we chatted with both father and daughter. She was studying in Montpellier and was here for the summer to help while her mother was away. Although she was obviously fond of her father, we gathered that she was finding it rather too quiet for her taste.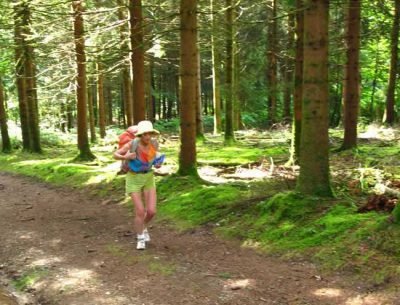 My eye was strapped up to make it less repulsive to look at, but it was still pendulous and painful. Before we left, we used the office telephone to ring the eye doctor in Australia, and were told that he would need to see me before he could decide what should be done. That much was obvious, but I was not enjoying the prospect of spending the rest of my life looking like a bloodhound if I left it too late.
We set off with many thanks and walked back past the hotel to where the GR440 crossed the barrage. By following it the other way, we hoped to come to its intersection with the GR46, the track we actually wanted.

At first we scrambled steeply up from the road on a wheel track through the forest. This seemed promising but when we got to the top of the rise and emerged onto a road, we knew we had gone too far. We were on the way back to Treignac.
Retreating downhill a certain distance, we tried again, this time climbing a gate with a No Entry sign. This took us round the upper side of some cabins opposite the hotel, then stopped abruptly.
Ahead was undisturbed pine forest, but we refused to be deterred, reasoning that if we kept going upwards, we must eventually reach the GR46.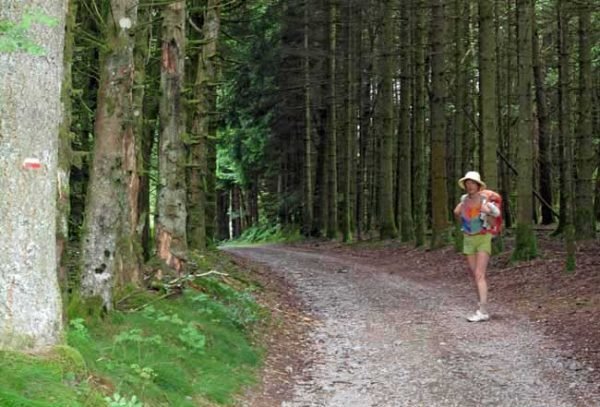 A long time later we were still climbing, covered with scratches and blocked by a mass of thick tangled undergrowth, so with great reluctance we turned back, right down to the road and along to the camping ground.
If our host was startled to see us, he was too polite to say so. Producing a tablecloth-sized map, he suggested that we continue on the road to the next forestry track, which he promised would take us up to the GR.
We walked beside the lake the full length of the camping ground and more, and at last found a side road, but we were not at all sure it was the right one, as it switched back towards the camping ground alarmingly as it climbed.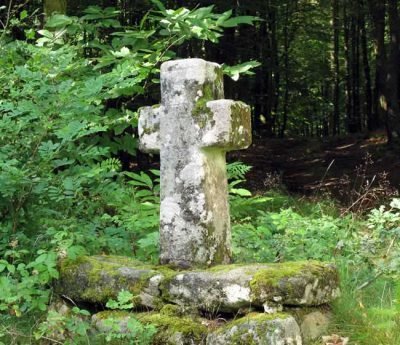 We came to a clearing where a man was cutting logs. As soon as he saw us he nodded and pointed forward. We could not speak to him because of the scream of the machinery.
The path zig-zagged onwards and upwards, in a beautiful mature conifer forest, with the morning sun slanting onto an carpet of moss. Then it began to descend and our worries returned, but very soon we saw the familiar red and white marks on a crossing track.
In this way we finally connected with the GR46, which we had been pursuing ever since we left Madranges two days ago. It had been an unedifying performance, missing the track on three separate occasions, but now we were reunited with it.

From then on it was a delightful walk, with our minds at rest, a classic mixture of grassy, bracken-lined tracks, small forestry roads and footpaths through farmland.
We came down to a lake, then ascended again and emerged at last in the top streets of Lacelle, among bald, newly-built houses that were at odds with everything around them – the beautiful landscape that we had been walking in, and the graceful buildings of the old village further down.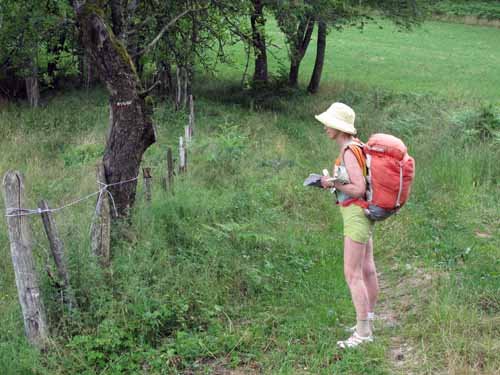 On the main road we were pleased to see activity at the Hotel Moderne, a venerable stone building whose title must surely have been a joke. We were in need of our morning coffee, although it was nearly 1 o'clock and people were having lunch inside.
We crammed ourselves into a table on the footpath for this, and asked our plump waitress about eating here in the evening. They would be open, she said, and we promised to return.
The camping ground was immediately behind the hotel, a neatly-mowed area of grass, almost deserted. The office was closed, but there was a telephone box nearby, which was convenient, as we wanted to ring one of our family in Australia before it got too late (2 pm in France was 10 pm in Australia).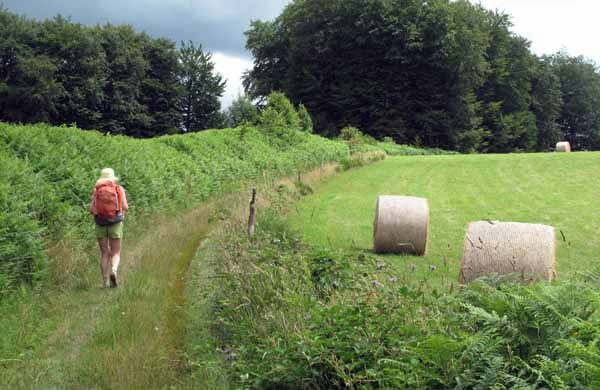 The door to the phone box opened inwards in such a way that it collided with the apparatus, leaving a space too small to squeeze through. It was all very mysterious.
After trying various contortions, we managed to wrench it outwards and entered triumphantly, only to find that it would only ring emergency numbers.
By this time we had pretty well made up our joint mind that discretion was the better part of valour, and that we should cut the walk short in the interests of my eye. It was then that we found out that there was no bus service and, although there was a railway station, the train did not take passengers.
The idea of walking 15 km along the highway to Eymoutiers to catch a train did not appeal, so we fell back on the old standby of our youth, hitch-hiking (or auto-stop as it is called in France).

For a long time we had no success. I sat demurely on the wall while Keith extended his thumb to a stream of uncaring traffic.
Then a car, having already gone past us, swerved to a stop and backed up beside us, revealing the couple from Rouen with whom we had chatted at the Pot d'Acceuil in the camping ground.
They never pick up hitch-hikers, they said, but they had recognised us as they shot past. We asked to be dropped at Eymoutiers, but when we discovered that they were on their way to Limoges, we changed our request.
After an hour of pleasant conversation with these splendid people, we got out, with many thanks, at the railway station of Limoges.
During the three-hour trip to Paris we ate our very late lunch and that evening we were installed at the Paris camping ground in the Bois de Boulogne.
A few days later we arrived home, where I was pronounced in need of another operation on my eye, as I had suspected.
This time everything went well and I was soon able to face the world without having one side of my face held together with sticking plaster. Medical misfortunes had cut short this walk as well as the previous one, but that had only strengthened our desire to repeat the experience more successfully next time.
Leaving Lacelle
Under normal circumstances no walking holiday would end in Lacelle. Apart from walking to Eymoutiers (which means that your walk has not yet ended), the choice for leaving seems to be hitch-hiking or organising a taxi to pick you up.
Previous day: Rest day in Treignac