This section of our walk allowed us to link our previous walk down the Loire (in 2006), with the pilgrim's Way of Vézelay, which we intended to follow as far as its meeting with the Way of Le Puy at Condom. We had already walked from Vézelay to Cosne-sur-Loire (admittedly by a circuitous route via Avallon, Vermenton, Chablis, Auxerre and Clamecy), and had no wish to start again from Vézelay. We only had a month to spend in France.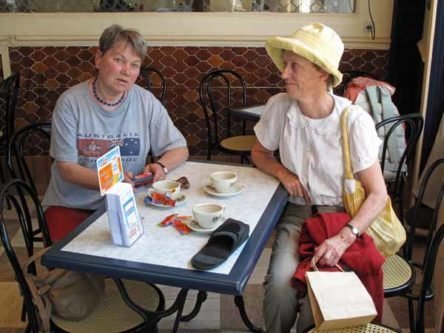 Most of these three days were spent near the river, on towpaths, levee banks and minor roads. The weather was sunny and promising, but unfortunately the promise was not to be fulfilled in later days.
Getting to Cosne-sur-Loire
We got the train from the Gare de Bercy in Paris (which specialises in Burgundian destinations), having taken the precaution of buying our tickets well in advance from the SNCF website, for a much-reduced price (€14 each compared to the full fare of €27.40).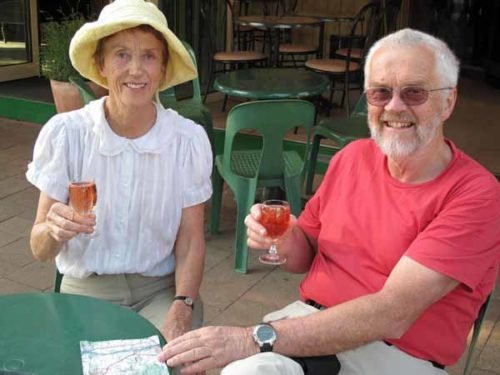 The trip took about an hour and three-quarters, and we were met by Heidrun, a French friend who lives nearby. She gave us two little goat cheeses of the local appellation.
After a lively conversation, she drove off and we walked down to the village, which we remembered from our previous visit.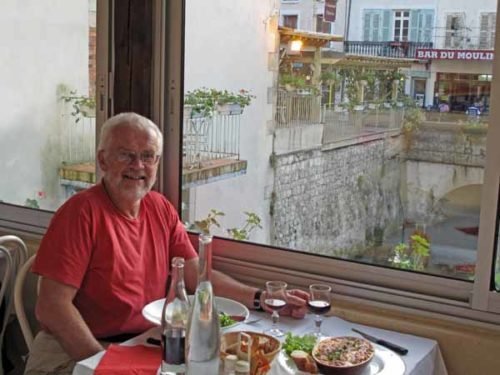 The camping ground was over the bridge on an island, and as soon as we had set up our little tent, we went back and sampled a glass of the famous rosé from Sancerre.
We dined at la Petite Venise, an Italian place in an old mill, with a terrace overlooking the millstream. However, nobody was eating out of doors on such a chilly evening.
We sat in a sort of glassed-in bridge straddling the water and could look down on a family of ducks cruising about on the smooth water. It was a lovely substantial meal of tagliatelle and lasagne and we thoroughly enjoyed our first restaurant meal of the year in France.
Day 1: Cosne-sur-Loire to Saint-Satur
Day 2: Saint-Satur to la Charité-sur-Loire
Day 3: La Charité-sur-Loire to Fourchambault