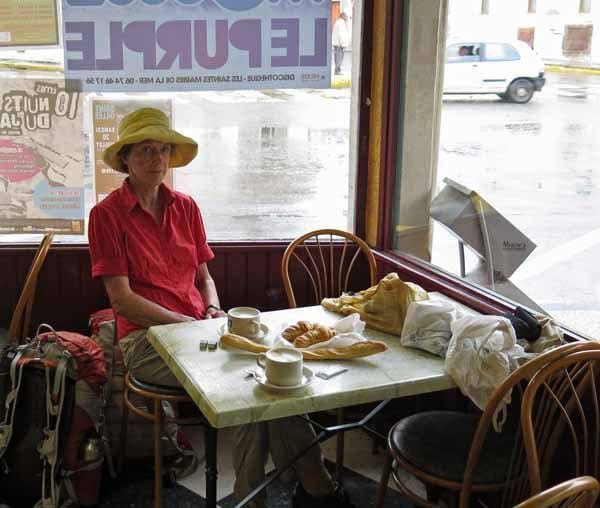 Wednesday, 3 July 2013
Distance 6 km
Duration 1 hours 45 minutes
When we woke up it was raining steadily, a circumstance that we found highly amusing, given that we were not walking today and had just finished a ten day expedition without a single drop of rain.
We hauled all our gear over to the shower block to pack up, then set off in our plastic capes in search of breakfast.
At a boulangerie near the abbey that we had noticed yesterday, we got a baguette and croissants, and carried them down to the Café de la Poste, as it was just opposite the bus stop.
All the tables under the awning were taken so we went inside, which turned out a good idea, as the awning started leaking on the outdoor drinkers and forced them inside anyway.

The 10:30 bus took us into Nîmes for €1 each, back over the country that we had just walked through, and by the time we arrived the rain had stopped.
From the railway station we marched up to the arena, then to the Maison Carrée, and got disoriented on the way back, which was not so bad, as we discovered various elegant boulevards in the east part of the town.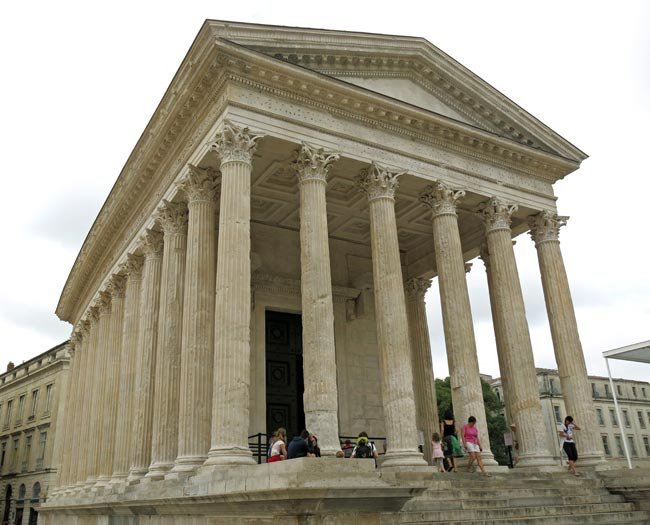 When we made it back to the station we sat down outside for coffee under the trees before getting on the train.
Once again the journey was particularly interesting for us, as we had walked that way the previous year.
Whilst on the train, we had a grand lunch with fresh bread and the steak the we had saved from last night's dinner.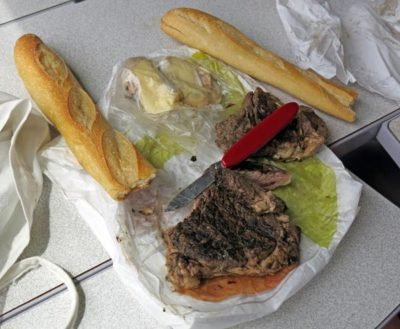 At Montpellier we quickly got to Comédie, which we remembered from last year, and on to our friends' house in the exclusive western part of town. To get there we walked over the highest point of the town, where there was a park with formal gardens and a triumphal arch.
The apartment was on the first floor, a series of large, lofty rooms painted white, with yellow window frames. A bay window in the main room let in a torrent of cool light.

Our dear friends fussed about making us comfortable, and then we all went up onto the roof where they had set out some deckchairs.
From here we could see all over Montpellier, including down into the street below, along which the riders of the Tour de France were due to go on their departure in two days' time.
We stayed two nights here and thoroughly enjoyed the change from constant travelling. The first night we ate at home, talked a lot and watched the Tour on TV, reminding us of the joys of domesticity.
Previous day: Nîmes to St-Gilles
Back to this section's summary