This year, the first five days of our walk were along the southern part of the Canal du Nivernais, starting at Clamecy, close to where we had left off ten years earlier.
This part of the canal was not in the original plan of 1784, which aimed merely to connect Clamecy to the Seine (and hence to Paris), but the idea of extending it to join the Loire was quickly adopted.

The project was greatly disrupted by the Revolution and it took over fifty years for the whole thing to be opened.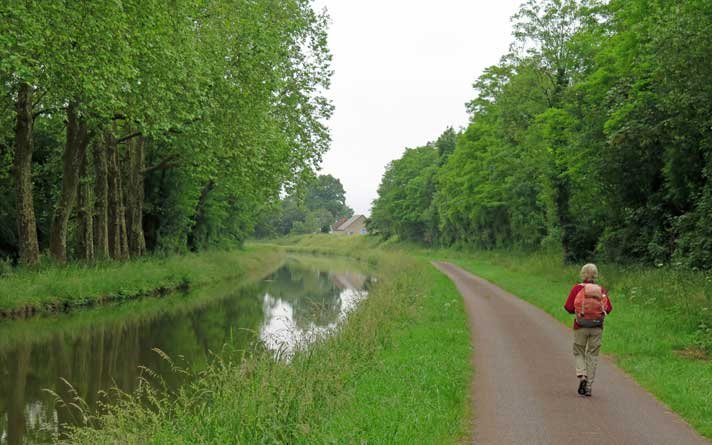 From Clamecy the canal climbed steadily and on the third day we reached the highest point, near Baye, and began to descend, finally meeting the lateral canal of the Loire at Decize.
Our previous walk had been in searing summer heat, but this time we hardly saw the sun and often had to bring out our warm tops and rain capes.

The whole of Burgundy was flooded and we walked for days with wet feet, resulting in an impressive crop of blisters.
After an initial night in a hotel, we camped our way to Decize, and often had to take refuge from the rain in our tent during the afternoon, instead of lying under a shady tree as we usually do. However we managed to get a splendid restaurant meal every night, so we were happy.
The villages were not as closely spaced on this part of the canal as in the northern section, but they were interesting and picturesque, especially Châtillon-en-Bazois and Cercy-la-Tour.
Getting to Clamecy
Drawing a veil over the many tedious hours on trains and planes that brought us to Paris, we begin our story at Charles de Gaulle airport.
As we were arriving from Amsterdam, there were no immigration formalities and we went straight into town on the RER, agreeably surprised that it was not crippled by strikes, as it had often been over the previous few weeks.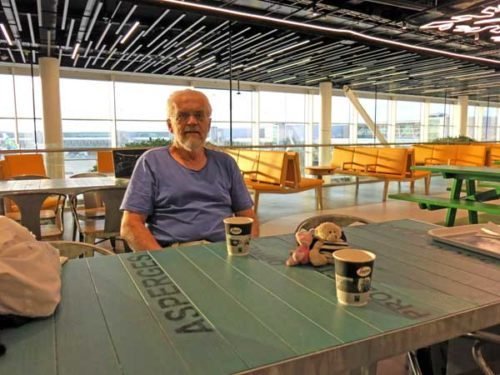 It was cold and threatening to rain when we arrived at Bercy station.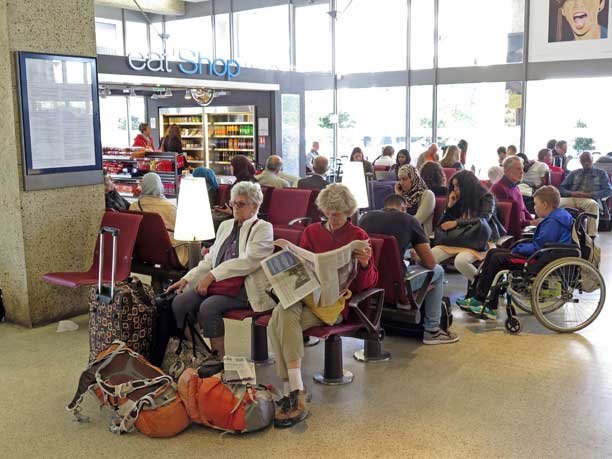 Our train for Burgundy did not leave until 2:35 pm (but at least it was running today, despite the strikes), so we went for a little walk along the banks of the Seine, still swollen after the recent floods.
After a couple of blocks we felt so exhausted that we went back to the relative warmth of the station waiting room and built ourselves up with long sandwiches and paper cups of coffee.
Hearing music nearby, I went out to the concourse and discovered a piano that I had not noticed before. These are commonly found on railway stations in France, free for the public to use, and I had memorised a little Mozart piece to play if I got the chance.
The woman who was playing had brought sheet music with her and I was pleased when she packed it away, then aghast when she pulled out another sheet and resumed her tinkling.
Soon after that our train arrived and my glittering Paris debut as a pianist had to be postponed until further notice.
The train was packed with commuters and we were lucky to get two awkward little fold-up seats under a row of dangling bikes.
We skimmed along the valley of the Seine beside the brown, engorged river with its cargo of logs and debris.
At Sens most people got off and by Auxerre the train was almost empty. Only a handful (including us) emerged at the terminus of Clamecy.
Day 1: Clamecy to Dornecy
Day 2: Dornecy to Chaumot
Day 3: Chaumot to Châtillon-en-Bazois
Day 4: Châtillon-en-Bazois to Panneçot
Day 5: Panneçot to Decize