Friday, 16 June 2017
Distance 34 km
Duration 9 hours 0 minutes
Ascent 726 m, descent 919 m
Map 143 of the TOP 100 lime-green series
A good night's sleep banished all fatigue and we woke feeling completely adjusted to French time, despite the eight hour difference from Australian clocks (for some reason we are impervious to jet lag when we arrive in France, but suffer terribly on our return).
We sprang up early and were ready to leave by 6:30 am. Our aim was to walk the first few kilometres unfed and then have breakfast at Viry, as the only café in Neydens (the one at the camping ground) did not open until 8 am.
My boots had been to France twice before and were perfectly comfortable with one pair of socks, but for some reason I decided to wear an extra pair, telling myself with impeccable logic that if one pair of socks was good, two pairs would be better. The result of this little brainstorm was to stay with me for the duration of the walk.
We left Neydens on a slightly different route from last year, past the ugly new shopping plaza and through the sleeping streets of a new housing estate before joining our former route, which plunged down under the autoroute (the A41) and up the other side to the foot of Feigères, where we clambered up a rough staircase to the chapel at the top of the village.
After that, the route was different from last year's, but perfectly gentle and easy. Beyond the houses, the tar became gravel and we wandered through a wood and then on wheel tracks across fields of wheat.
The only slight worry was when the track vanished through a gate into a farmyard, but we skirted around that, and found the track again on the other side.

Just as we reached the bitumen road that led down to Viry, there was a screech and a bang, and we turned to see a motorcyclist splayed out in the gutter with his bike beside him. We rushed over, as did several other people, and helped him onto the footpath, while mobile phones ran hot.
There was a pool of petrol, or possibly blood, on the road, but the victim did not look badly hurt. The most amazing thing for us was that he was only fourteen years old.

Setting off again, we descended to the village, while the ambulance and fire engine raced past us up the road.
The centre of Viry was all that we could have desired – it had a boulangerie stacked with succulent pastries and a vined-shaded bar just across the road.
We settled down at the bar and when our coffee came, it was served with cream. We felt we were back in the department of the Rhône, the only other place where we had experienced this luxury.
As we had so much ham and butter left over from last night's dinner, we had a half-baguette as well as two croissants and a pain aux raisins for breakfast, a good reintroduction to the joys of walking in France.
We left Viry on a rising road that emerged from the houses and meandered across a hillside planted with crops, looking out towards the blue wall of the Jura.


We passed a few hamlets hardly worthy of a name, and after a couple of hours, at Jurens, we sat down beside the road to give our feet an airing and our stomachs a bit more padding.
I had misread the map, so when we set off again we found ourselves lost, and had to come back a little way, but we were in fine form and did not mind.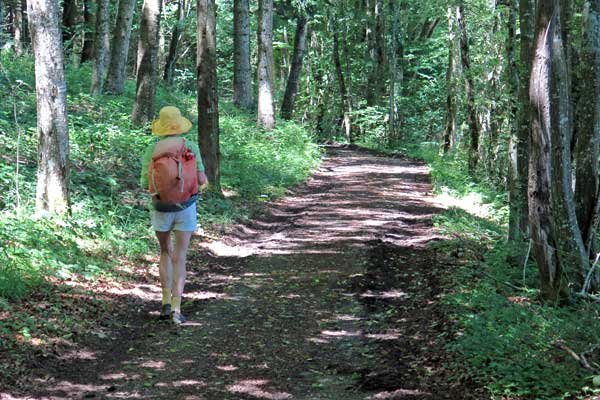 Between us and our destination of Bellegarde was a formidable knife-edged ridge known as the Vuache, which we hoped we would be able to cross without trouble.
At first it was easy – our little road became a wheel track and entered a thick, rising deciduous forest. Then it levelled out into a sunny clearing, but immediately began to climb again into the forest, and this time it was steeper, with several side tracks that made us worry about whether we were still on course.
So it was with some relief that we puffed up to a junction of tracks and saw the sign for the Golet du Pey at 861 metres, which was the top of the climb according to our map. We were on the very spine of the Vuache.
Our only problem now was getting down the other side, which looked much steeper. The ground seemed to fall away vertically and the map was black with contour lines.
However there were some painted marks on the boulders below that seemed to indicate a route, so we picked our way down very slowly, between rocks the size of double-decker buses.

After a while the gradient became less extreme and we were able to admire the view, an enormous valley with a great cleft carved by the river Rhône on the horizon.
The track was rough, precipitous and long, but we felt we were following in the footsteps of thousands of years of former inhabitants, who would have used this route to cross the barrier of the Vuache.
What they would have made of the sight of cars spewing from the autoroute tunnel far below, with their howling roar, is impossible to imagine.
Eventually we reached the level of the road and thought that the hard work was over, but we were wrong.
At first we descended on a pretty little road through open meadows, and then on a wheel track which plunged down a ridge and delivered us to another road, zig-zagging its way down to the Rhône.
By that time we were getting short of water, so we deviated towards the only house in sight, a farmhouse.
Luckily for us the farmer and his family had just driven up, so they kindly filled our bottle and we set off for what we thought would be a brief final push to Bellegarde.
The distance on the map was short, but progress was slow because of a deeply eroded sidestream called the Parnant.
We struggled down and teetered across the water on stepping stones, only to discover a sturdy wooden footbridge a little further on.
Following this small river toward its meeting with the Rhône, we came to a glassy-smooth cavern, the Tine de Parnant, into which the water slid and disappeared from view, never to be seen again as a separate stream.
The track continued along the Rhône and we soon came to an unlikely sight – a tall, new-looking, bright blue suspension bridge, the Pont de Grésin, seemingly put there by mistake, as it only joined two dusty tracks on either side of the river.
It turned out that this narrow choke-point was an important historical river crossing between Savoie and France.
For example, it was the only way over the Rhône on the so-called Spanish Road, the route taken by Spanish soldiers in the 16th and 17th centuries on their way to Spain's possessions in Flanders.

A succession of wooden bridges had been swept away by floods, but in 1896 an arched stone bridge was constructed. This one was built to last, but it died young in 1940, when it was dynamited by the Résistance to impede the German advance.
After the war it was replaced by the present imposing steel structure, which had recently been given a face-lift. We stepped over this magnificent footbridge and trudged up under the cliffline, then up again through steep fields to the village of Grésin.
By the time we arrived at the first houses we were feeling very depleted, and when a dog came over to sniff at me, I told its apologetic owner that it was my sweaty smell that was attracting his pet.
Finally we made it to the main road at the top of the village, and sank down at a bar. It was a run-down, unprepossessing place, but we were not quibbling about the décor, and ordered coffee and a carafe of cold water, which came in a fat yellow teapot.
Greatly revived, we took the small road (the D18) down to Bellegarde, rather than the highway.
Nevertheless this road was surprisingly busy, but as it was all downhill after the first pinch, we didn't mind. In an hour we were in the streets of Bellegarde, having crossed under the railway line on which we had travelled yesterday.
There was no camping in Bellegarde, so we took a room in the Hotel Hermance, not far from the station. It was already late in the afternoon and we only had time for showers and clothes-washing before setting off to investigate the possibilities for dinner.
There were three good-looking places – la Belle Epoche, la Colonne and le Capri – and we finally chose the last of these, probably because of the beautiful gnarled little olive tree in a pot on the terrace.
Most of the tables on the terrace were occupied, but we found one beside the olive tree. After a glass of rosé to get in the mood, Keith had a pizza Reine and I had a salade italienne. Both of them were delectable and with the usual accompaniments of bread and wine, made a fine meal.
I had forgotten to bring my jacket after such a hot day, and as the evening advanced I started to feel cold in my light summer shirt. When we went inside to pay, we realised that we should have come indoors, where the pizza maker was mopping his brow in front of the fiery oven mouth and the air was deliciously warm.
On the way back to the hotel we looked around for a bar that opened early, as the hotel breakfast did not begin until 8 am.
Not far away we found a salon de thé, and as it was also a boulangerie, it opened at the crack of dawn, so we retired to bed happy in the knowledge that we would start walking with a full stomach.
As I took off my shoes for bed, I saw that my toenails were a strange purplish colour. The extra pair of socks that I had worn during the walk had drawn blood under the nails, although I had not felt any great discomfort. These dark stains never went away until they grew out, months later.
Previous day: St-Julien-en-Genevois to Neydens
Back to this section's summary