Wednesday, 13 July 2016
Distance 17 km
Duration 4 hours 0 minutes
Ascent 430 m, descent 260 m
Map 156 of the TOP 100 lime-green series
Topoguide (ref. 650) Sentier vers Saint-Jacques-de-Compostelle : Genève – Le Puy
The morning was cold, although the sky had cleared overnight, leaving only a few wisps of cloud.

We did not feel the need to start early and it was 8 o'clock before we set off down the steep stone street to the bottom of the village.
Just past the closed bar, the GR veered off to the right, but we had decided to take the D503, which looked a much shorter way, with less climbing.
Also, staying on the bitumen seemed a good idea after all the rain. But there was a little gap in our maps and we were not sure whether we could get to Bourg-Argental (and breakfast) that way.
At the edge of the village, quite a crowd had gathered around a huge truck full of hay that had lost its wheel and fallen onto its side.
We asked one of the bystanders, and they confirmed that the D503 would indeed take us to Bourg-Argental.

The road traversed steep green meadows but was itself almost flat, so we made good time, reaching the ridge top after a sharp final climb.
Here we rejoined the GR and began to descend on what looked like the old road into the valley, wide and gravelly.
In less than two kilometres we arrived in the main street of the town, but it was a very long town and we walked just as far again before we came to the centre, at a crossroads near the church, where there were all sorts of shops, including three bars in a row.
As it was now after 9:30 am, the boulangerie had run out of croissants, but we made do with two Croix de Savoie, a brioche and an apple chausson, and ate them with great relish behind a sheet of glass in one of the bars, protected from of the cold mountain breeze.
We had two rounds of coffee to go with our double issue of pastry.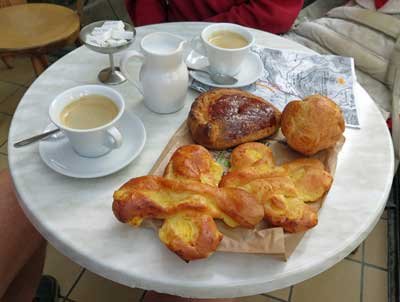 We noticed our friend Walter walking up carrying a baguette and a large jar of pickles, which he proceeded to finish off at an outside table. He had just found out that it was permissible to bring food from elsewhere into a bar, and came inside to tell us the good news.
Then he mounted his strange ponderous steed and paddled off down the road, while the other people in the bar rose to their feet to watch him go. When Keith told them that Walter was going all the way to Spain, their amazement turned to disbelief.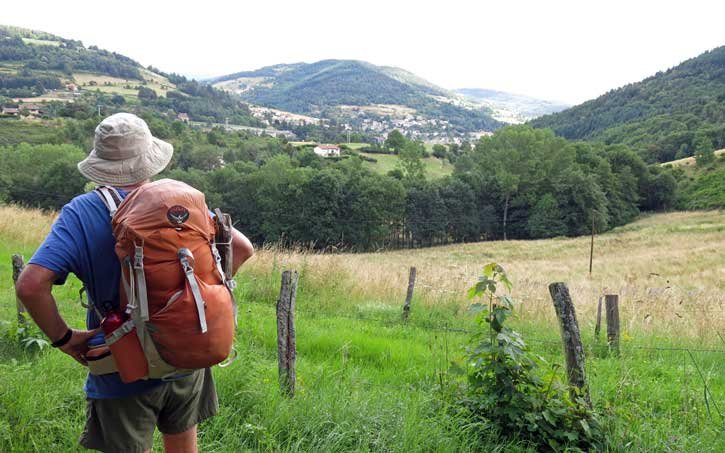 A few minutes later we followed him but did not see him again that day, because he had to stay on the bitumen, while the GR soon went off it.
At first we stumbled along at the base of the highway embankment, wondering whether a car would come hurtling over the edge on top of us, but then we got onto a peaceful path that undulated across fields and entered a forest.

Not long after that the GR joined a small road that looked suspiciously like an old railway line, and went under a couple of stone bridges, then over a deep ravine, which the road spanned in a long curve, with green metal fencing on either side.
A kilometre or so further on, at the next over-bridge, we left this road and descended rapidly on a forest path, which joined another road and continued to descend.

At the bottom were piles of timber and an old saw-toothed factory with a tall chimney, and just past that, the main road (the D503) and the village of St-Sauveur-en-Rue, our destination.
From the earliest times, this little village was a staging point between the Rhône and the Loire. Although it was hemmed in by mountains (the Velay, the Vivarias, the Vocance, collectively known as the Pilat), the nearby pass of le Tracol provided a crossing point for traders.
The qualification "en-Rue" (on the road), which distinguishes it from several other St-Sauveurs in the vicinity, presumably relates to this trade route through the town.
It was also a powerful religious centre for 700 years, from the foundation of its priory in the eleventh century until it was disbanded during the Revolution. Nowadays the village has a humbler role, as a dormitory for people working in St-Étienne.
We walked up towards the church, past a double row of plane trees that looked like a former road, although it was now a park.
At the top there was a shuttered window and a faded sign, "Les Platanes- Pizza", marking the final resting place of the bar-restaurant that we had been hoping to patronise that night. Nevertheless we had hopes that there would be another restaurant in the village.
Pressing on past the grey bulk of the church, we found a small Vival supermarket and went in to ask, but the reply was in the negative.
It seemed that it would be a picnic tonight in the camping ground, and since it was a kilometre away, up a hill, we bought supplies then and there – cheese, sausage, wine and a tomato.
At the only other shop in sight, the boulangerie, we got a quiche and a pasty. Both shops were on the point of closing, so in that respect we were lucky.
All we needed now was for the camping ground to be open. A thin, patched street climbed the hillside between the houses, until it joined the D503 which was coming up from the valley in a couple of sweeping loops.
The entrance to the camping ground was on one of these loops, and as we went in we were relieved to see everything looking fresh and cheerful and orderly.
There was a lake surrounded by mown lawns and overlooked by a terrace on which tables and chairs were arranged in a promising way. We started to hope that a picnic would not be required after all.
The manager emerged from a mobile home and invited us to choose a spot between two rows of cabins, on a grassy shelf above the shower block. He invited us to eat at their little restaurant tonight, and even to have breakfast there in the morning.
Having relieved us of €11.40 for the accommodation, he left us to put up our tent and have showers. The sun came out for a moment and I hung out our still-wet washing from yesterday, but soon it began to rain again, and the manager came back to offer us the use of a room with a drying rack.
When the rain increased from a sprinkle to a deluge, we retired to our tent and lunched in style on the food we had bought for dinner. A plastic container or two of wine added to the pleasure of the occasion, and afterwards we slept for a couple of hours.
Late in the afternoon the two German waifs came staggering in under their big packs, and were shown to one of the cabins. We finally realised that they never actually camped, they just stayed in cabins in camping grounds.
By 7 pm the rain had stopped but the air was bitingly cold, so when we descended to the snack bar, we went indoors.
Two tables were set up in the warm, bare room, which obviously doubled as the reception office. Its walls were lined with tourist leaflets and racks of basic grocery supplies.
A young woman fumbled about pouring two glasses of rosé as if she had never done it before, and we sat back to enjoy them.
The door opened and our German fellow walkers came in. Although we have very few words in common, I went over to their table and showed them our maps, and there was a great deal of nodding and smiling on both sides.
The menu was extremely plain. Keith had steak and chips while I had ravioli, and we rounded the meal out with bread and wine as usual. Our new friends meanwhile had hamburgers, chips and Coke.
During the night it rained again and became very cold. We were at 800 metres and it certainly felt like it.
Previous day: Clonas-sur-Varèze to St-Julien-Molin-Molette
Back to this section's summary