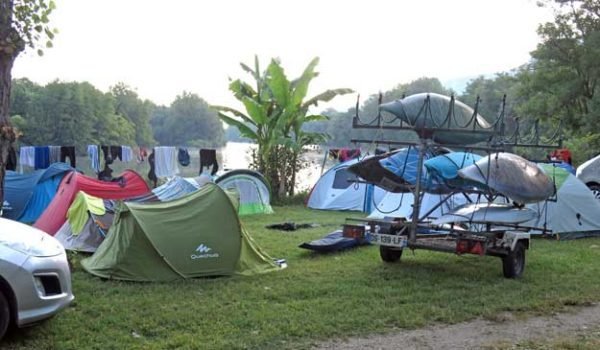 Sunday, 3 July 2016
Distance 24 km
Duration 6 hours 10 minutes
Ascent 738 m, descent 750 m
Map 150 of the TOP 100 lime-green series
Topoguide (ref. 650) Sentier vers Saint-Jacques-de-Compostelle : Genève – Le Puy
After a blissful sleep we awoke to the customary grave-like stillness of a camping ground at dawn. The close-packed tents looked like a crop of mushrooms sprung up overnight, but not a single kayaker stirred.
The only other sentient being was the manager, who was wandering around with a video camera, recording the amazing scene.

Having been assured last night that the cafés would be open early, we retraced our steps into the main street, bought a large bag of croissants and settled down to enjoy them in the cosy interior of the Café du Commerce, where there were already a good number of customers.
It was still cold outside. We had two rounds of coffee, as we knew there would be no bars along the way today.
When we finally left town, we followed a sharply rising road past the graveyard, and at the first bend we struck out on a stony track which led to a chapel on the very edge of the cliffs, where a statue of the Virgin gazed protectively out over the river and the village of Yenne.
This chapel was built in a period of patriotic fervour following the unification of Savoie with France in 1860.
The path continued to rise inexorably through a forest. In places the bare rock was deeply scored by the wheels of generations of passing carts.
It was hard to imagine the constant traffic of those times, when this was the main road – these days the track is in danger of being swallowed up by the forest through lack of use.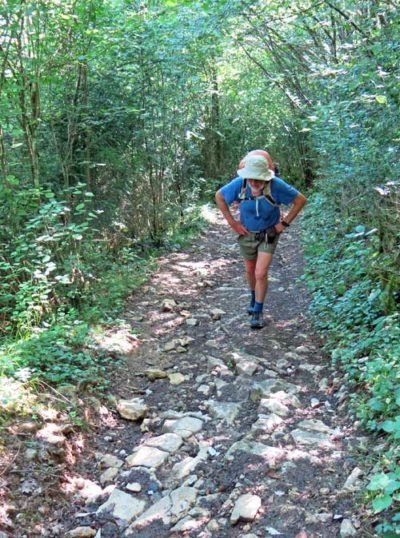 Some parts of the track wound their way through spacious glades, but other parts were hemmed in by tight, prickly scrub and often terrifyingly exposed to the drop.


At one such precarious point we were astonished to meet six cyclists coming the other way – at least they had had the good sense to dismount.
By this time it was two hours since our breakfast and we started to look for somewhere to sit for refreshments. Just then we came to a clearing with some sheds, crossed by what looked like a forestry road.
Beside it was a shelter, newly built, with a table, chairs and water tap. We brought out the meat and bread left over from our Turkish feast last night and had a very satisfying break.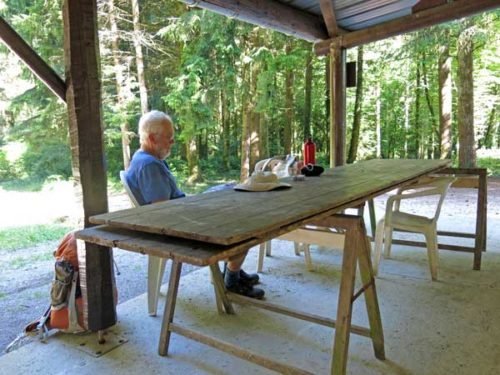 A bit further on, as we ascended a slope, we heard shouts ahead, then two cyclists came bursting out of the forest and shot past us with glad cries. We waved but they couldn't, as it was all they could do to stay on their bikes.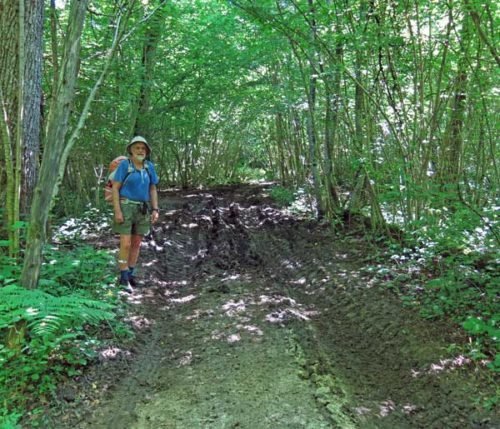 As we approached Mont Tournier, the track became muddy and churned up, with intervals of smooth white rock on which cartwheel grooves could sometimes be seen.
At this point we parted company with the GR as we had worked out a short cut to the valley, going straight down when the GR continued to climb.
Our way was overgrown but passable, and when we emerged into the fields we were almost blinded by the glare after hours in the depths of the forest.
Ahead was a wide grassy valley, the first tame landscape we had seen all day. I zipped off the bottoms of my long pants and we covered ourselves in sun cream.
Half an hour later we were at St-Maurice-de-Rotherens, where we sat on a bench under a line of trees beside the church and drank the last of our water.
Here we rejoined the GR and crossed a ridge, then slipped down through the fields towards the village of Gresin, a pretty little place dominated by its church.
Below it a road went along the floor of the valley and the GR turned left before climbing a wooded ridge. However we were pretty sure that by turning right we could get to our destination with much less exertion, so we did that.
Four fast kilometres of road marching, with little traffic, brought us to the top of St-Genix-sur-Guiers and the end of our day's walk.
Sunday afternoon torpor hung over the town, but the Bar des Sports near the church was open and we rewarded ourselves with a coffee of arrival.
Across the street was a pizzeria-restaurant that would be open tonight, according to the sign, so that was good news.
All that remained was to check that the camping ground was fit for occupation (after Frangy we were never confident).
We went down to the river, but not over the bridge, and found the camping ground past some tennis courts. It was immaculate, with manicured lawns, graceful trees, flower beds, a swimming pool and a restaurant. Predictably, it was run by Dutch people.
We chose a plot near the back gate, under a young willow. Next to us a big van drove up and disgorged a Swiss couple from St-Galen.
The man was very chatty and told us, in excellent English, that they had just bought the van and were so thrilled with it that they intended to sell their apartment and take to the road permanently.
It sounded an appalling idea to us but naturally we did not say so. Meanwhile his wife smiled and nodded without a word, and we certainly had no hope of speaking to her in German.
Next we had a visit from another camper, a skinny, anxious-looking cyclist from North Queensland, although British by birth.
He seemed to be one of those loners that one meets along the way, driven by a desire to complete some mission or other. In his case, he wanted to ride all the mountain stages of the Tour de France.
The shower block was as pristine as everything else in the camping ground. We started to think that this might be a good place to have a rest day tomorrow.

We did not particularly need the rest, but we had more time than we needed to get to le Puy. We had noticed that the restaurant in town would be closed tomorrow, but the one at the camping ground would be open, so we would not have to slum it.
Back in town, we took a glass of rosé at the Bar des Sports. People were gathering for the big Eurocup match between France and Iceland, which started at 9 pm.
We stepped across the road at 8 pm and were shown to a lovely open terrace at the back of the restaurant, facing into the setting sun but well shaded by umbrellas. Our affable Swiss neighbours were already eating at a nearby table.

We began our meal with an enormous salade niçoise, which we shared.
Then Keith had his favourite, entrecôte, and I had turkey, which came with mushrooms and another little salad.
It was all delicious but too much for our shrunken stomachs to take in. I came away with a bag full of lunch food for tomorrow – meat, bread and salad.
Previous section: St-Julien-en-Genevois to Yenne
Back to this section's summary