Sunday, 23 June 2002
Distance 8 km
Map 58 of the TOP 100 blue series (now superseded)
Topoguide (Ref 651) Sentier de Saint-Jacques-de-Compostelle Le Puy/Aubrac/Conques/Figeac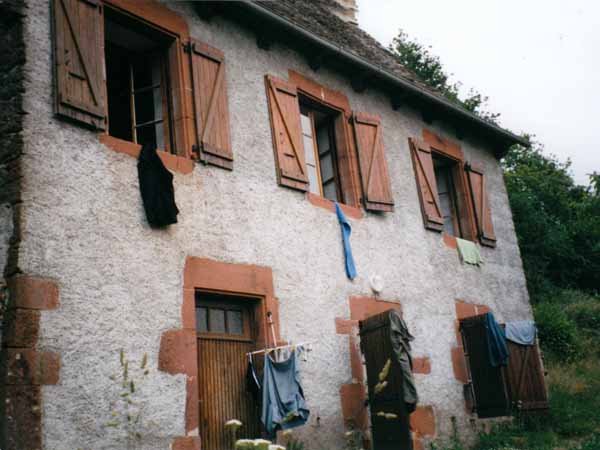 We decided to start the day being tourists. Once more ascending the rue Charlemagne, we indulged in a reviving coffee before wandering round the pretty cobbled lanes and arriving at the basilica.
The upper church was as beautiful as its reputation, but Keith almost fainted with horror in the subterranean treasury, at the sight of the jewel-encrusted scalp of the girl martyr, and the claustrophobic grovelling of the faithful. He had to get out into the fresh air to clear his head.
At 11:30 we set off from the camping, crossed the pilgrim bridge and began the long rough climb out of the valley. We were in the shade of thick forest all the way but we still suffered in the cloying heat.

After ages, the gradient levelled out and we had our picnic lunch under the last tree before emerging into the rolling fields of normal life.
Out in the sun, we enjoyed the walk to Noilhac, which is a variant of the usual GR65, and found the village well set up for pilgrims, with a bar-restaurant and a gîte.
The gîte was in an old farmhouse and the restaurant had an expansive view and a delicious set menu – tomato salad, guinea fowl, cheeses and small black coffees.
Previous day: Golinhac to Conques
Back to this section's summary