A five-day walk through the fields and vineyards of eastern Burgundy starting and ending in Beaune that we did in 2004.
Getting to Beaune
Trains leave for Beaune from the Gare de Lyon in Paris.
This year Keith had been doing an intensive language course at Lyon and was to meet me at Beaune. I was travelling with my big brother (big in age, height, girth and heart) and his fine consort Sue.
I had arranged to meet them on the platform but there was a moment of panic when I presented my computer print-out for the pre-paid ticket.
The woman behind the counter wanted to see my "carte bleue de paiment", which I thought was some extra authorisation that I should have printed out as well.

I said I did not have such a thing, whereupon the manager was called and I was told that the ticket could not be issued without it. We were all getting tense.
Then the woman in desperation asked me how I had paid, to which I replied by carte bancaire, producing it. She snatched it from my fingers, swiped it and the ticket spewed out. That was how I learned the colloquial expression for a credit card.
On the platform the others were waiting, but I could not travel with them as they had first-class tickets, part of a Eurail package. I found a seat in second class and managed to drop my hard-won ticket on the floor while going to put my pack in a luggage bay.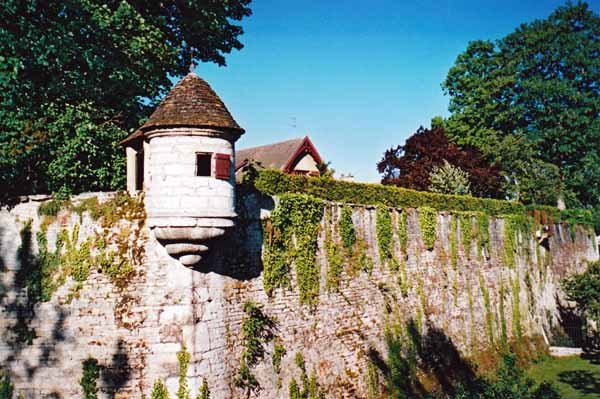 It was rescued by an excellent woman nearby, for which I thanked her in elaborate and I hope grammatical French. I seemed to be the only person taking an interest in the scenery streaming by – the intense greenery, the tidy fields and compact villages.
At Dijon we changed trains and I had to sprint to make the connection. There was no sign of Max and Sue, and since they had not booked this leg, I deduced they would be coming on the next train.
I tumbled into a carriage opposite a gigantic African man with thighs like a fertility goddess, and resumed my inspection of the landscape. At Beaune my beloved hero was waiting on the platform.
I was explaining that Max and Sue had missed the connection just as they walked up behind me. So we were all assembled. We walked the short distance to the town, had lunch and coffee and then set off on our adventure.
Day 1: Beaune to Savigny-lès-Beaune
Day 2: Savigny-lès-Beaune to Meursault
Day 3: Meursault to Santenay
Day 4: Santenay to Nolay
Day 5: Nolay to Beaune
This map shows accommodation icons for each night. Zoom in on a particular icon to see its precise location.
You can also see this map using Google Earth and take a virtual flight along our route.