It was not always so, but in the last few centuries France has become the arbiter of all things gastronomic. Even the vocabulary of cooking is mostly French.
It would therefore be mad to go there and not make the most of the opportunity, especially to sample the dishes of the regions that you walk through.
We make a habit of trying all the specialities as we go along. Indeed, eating looms so large to us as walkers that we worry that we are shallow by nature, ignoring famous monuments in favour of a café or restaurant.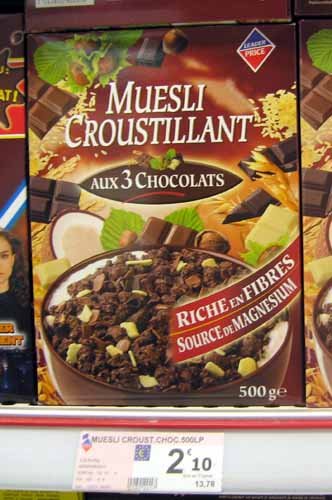 On our earlier walks, the daily pattern of eating began with a bowl of muesli and powdered milk. This meant that we either had to bring a large supply of muesli from home, or buy French muesli along the way.
Unfortunately most French muesli is revoltingly sweet, with a choice of honey coated, caramel coated or chocolate coated (the top of the range has three coats of different sorts of chocolate).
Consequently we have changed our habits, and take only a couple of servings of muesli, for emergencies. We now do as the French do, and have pastries and coffee for breakfast. This only works if there is an early-opening bar near our camping ground, but if necessary we walk for a few kilometres unfed before we find one.

We buy some croissants or other pastries at the boulangerie and take them to the bar to eat with our coffee while we watch the goings-on of the village.
It took us a couple of years to work out that this bringing in of food is perfectly acceptable in France, whereas in Australia it would not be tolerated.
There is usually a copy of the local paper to read, if one of the regulars has not already got hold of it.
We used to call this our "second breakfast", but now it is just "breakfast", and we find it much more sustaining than muesli for walking.

Lunch is a fresh baguette with cheese, sausage, paté or a tin of mackerel, and a tomato or a few lettuce leaves for colour.
We find a shady spot for this little feast and often finish with a handful of cherries or apricots picked along the way.
When buying lunch supplies, it is worth remembering that village shops nearly always close between 12:30 pm and about 3:00 pm on weekdays. Worse still, on Saturdays they close at 12:30 pm and stay that way till Monday, or even Tuesday.

On the other hand, there are increasing numbers of large supermarkets in provincial France, and their opening hours are much longer.
In the early evening we take an apéritif at a bar, usually out of doors. This leads up to dinner in the local restaurant. Whilst we are happy to camp, we do not come to France, the land that invented fine dining, to stir up little messes on a spirit stove and eat them cross-legged on the ground from a plastic plate.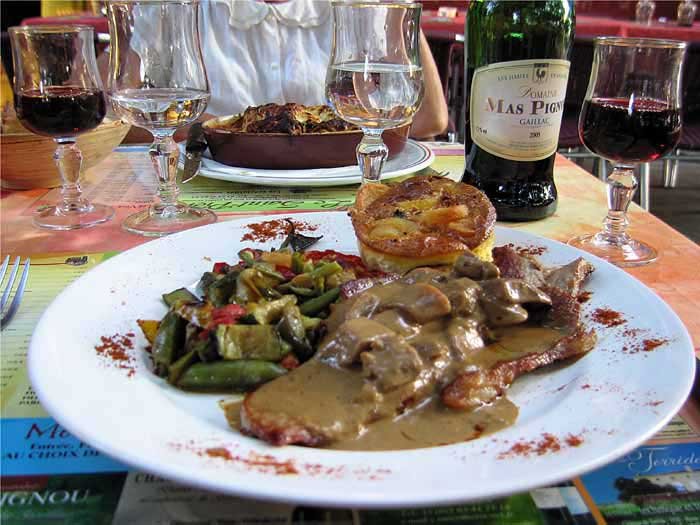 What we save on accommodation we spend on restaurants. There is nothing like a day's walking to enhance one's appreciation of a well-cooked meal, and it sets you up for the rigours of the day ahead.
Only occasionally are we reduced to a take-away pizza, and even then we can buy a bottle of wine on the premises and eat it comfortably outside the shop.
Sundays and Mondays are often difficult, as restaurants tend to be closed in the evening. If there is no prospect of an evening meal, it is sometimes possible to have a restaurant meal in the middle of the day.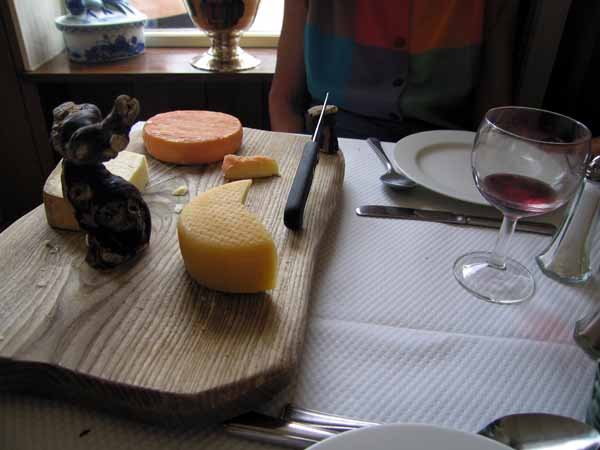 These are very popular with the French and are usually cheaper than the same thing at night, but for walkers who still have a way to go, it is hard to press on after four courses and a carafe of wine.
The amazing and delightful result of all the eating that we do in France, is that we come home thinner than when we left.
Keith usually loses four kilograms and Jenny three. It does not seem to be possible to eat enough to compensate for the exertion.