Like everybody else, we took far too much on our first walk. Our basic criterion now is that everything we carry (except for a warm top and a rain cape) should be used every day.
That still leaves room for discretion – for example, do you take a pillow, or just use folded clothes? We agonise over decisions like this. Keith carries a pillow, Jenny doesn't.
We take only one change of clothes. As soon as we are installed in a camping ground, we wash our walking clothes, hang them out to dry and wear the other set for the rest of the day.

The pants we wear at night have detachable legs so they can be worn short or long, depending on the weather. During the day we normally wear shorts.

The thickness of your warm top depends on how much you feel the cold and how much you are prepared to risk a chilly walk back to the tent after dinner.
As to rain gear, we no longer carry Goretex jackets, which were heavy and seldom used.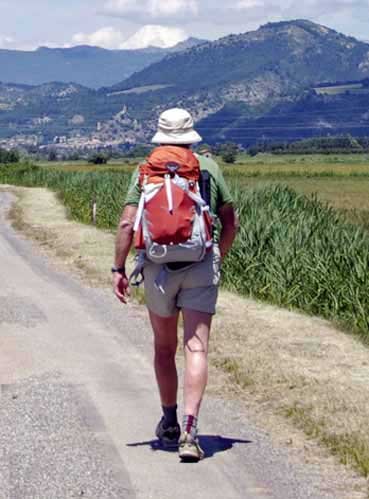 Instead, we take flimsy plastic ponchos weighing less than 50 gm, that can cover us, packs and all so that we look like two-legged bisons. These are fine as long as you are not pushing through the foliage, where they would get shredded.
In regard to backpacks, we did contemplate buying super-lightweight packs, but decided they were too flimsy.
Keith has now taken four different packs to France; each one smaller and lighter than the previous one. His current pack is an Osprey Talon 33 (large) that weighs 0.85 kgs, which he chose by taking all his gear into an outdoor shop and picking the lightest pack that could contain it.
Jenny takes a climbing pack that she bought in Italy over 30 years ago, from which she has cut off all the excess straps so that it weighs only a kilo.
From 2002 to 2008 we carried a MacPac Eclipse tent. It was an excellent tent and all things being equal we would still be using it. However, with weight being so important, combined with the fact that it was becoming difficult to fit it into Keith's amazing shrinking pack, we reluctantly decided to change tents.

From 2008 to 2011 we used a Kathmandu Lansan Light tent. It is not as well designed as the Eclipse (the pack storage area blocks the entrance, making it difficult to get in and out, especially in the rain) but it was lighter and easier to stuff into Keith's pack.
From 2012 we have taken an MSR Hubba Hubba V6, which has all the advantages of the Lansan and none of its disadvantages. It has kept us dry in some terrible storms and we are entirely happy with it.
Keith used to take a Thermarest Prolite (small) self-inflating mattress (310 gms) and Jenny a full-length non-inflating bedroll (360 gms), but in 2012 she decided to sacrifice weight to comfort, getting a Thermarest Fortieth Anniversary (regular) self-inflating mattress (680 gms) and Keith, envious, followed suit in 2013.
This was wonderfully soft and luxurious and did away with the need to dig a hip hole, which we have always done in the past, despite feeling guilty about damaging the carefully tended grass of the camping ground.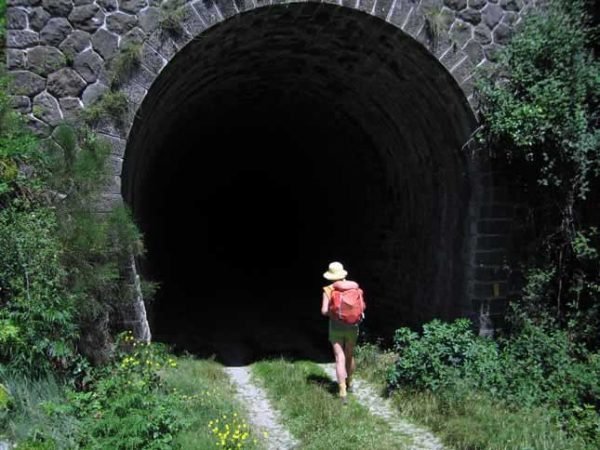 We have experimented with sleeping bags. One year we took half-zip bags, which proved a mistake because on hot nights it was hard to get free of the bag. We now use Macpac Escapade 150 liners, which are very light (0.48 kg) and have a full zip. If it is cold, we wear our clothes to bed as well.
We carry a very small torch but we hardly ever use it because we walk in mid-summer. It is handy for walking through disused railway tunnels and sometimes for sneaking late at night into a farmer's field. Our torch would fit into a matchbox and weighs 25 grams.
We use lightweight walking shoes rather than the serious boots that we would wear in the Australian bush. When not carrying our packs, we wear sandals, and on cool evenings we have even committed the atrocity of wearing socks under them. Luckily we did not meet anyone we knew whilst doing so.
Since 2003 Keith has worn a Suunto watch/altimeter/barometer/compass. We use the altimeter function to keep track of our daily ascents and descents, the barometer to check on overnight weather changes, and the compass to occasionally get our bearings. His current model is a Suunto Core.

We have never been really lost in France, but have strayed from the track many times when the compass has been a great help in getting us back on it.
Also, coming from the southern hemisphere where the mid-day sun is to the north, we sometimes get a bit disorientated in France with the mid-day sun to the south, so a compass can be useful at such times.
To find how far we have walked each day, we now use Google Maps which appears on every section page. The distance is automatically calculated by Google.
We take no phone or GPS, but we do carry an iPod Touch, which allows us to connect to the internet by WiFi.
We have downloaded the MAPS.ME app (which are offline maps) onto the iPod, very useful when we find ourselves having to go off our very narrow homemade maps. For France, these maps are arranged by department.
MAPS.ME seems to be as accurate as the IGN TOP25 maps and therefore superior to Google Maps.