Thursday, 13 June 2002

We had decided that we liked the continuity of a long walk rather than several shorter walks, so the idea of doing part of the famous pilgrimage came into our mind. We knew very little about it except that it started from le Puy and went through Montcuq, where our Melbourne friends were in residence.
The patrone of the camping had told us we could get to Manosque on the school bus at 7 am, so we were ready to leave by 6:30. The only trouble was that the entry gate was chained shut and we had to fling ourselves and our packs over a rather high fence.
The bus ride with the school kids was trouble-free, and so was the train trip to le Puy-en-Velay (we were not even sure whether this was the right Puy to be heading for, but we decided to risk it).
The journey was in three parts – from Manosque to Marseilles, then to Saint-George-d'Aurac, and finally into le Puy – and took us through all sorts of scenery, from coastline to forests and river valleys.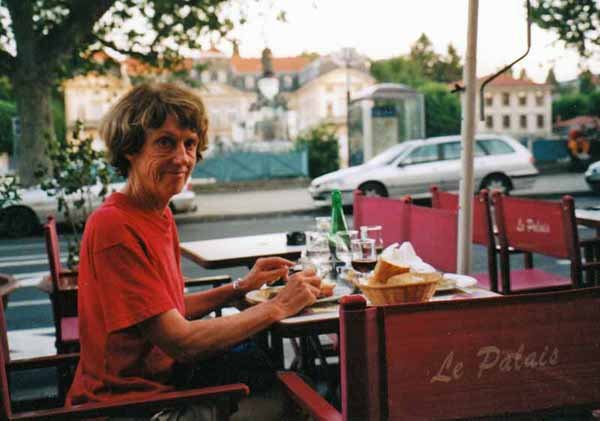 It was evening by the time we arrived at le Puy, which sits in a deep bowl with its two volcanic plugs poking up like horns from amongst the houses.
We just had time to find the camping ground and set up our tent before hurrying back, unwashed, to town for a meal. It was still hot at 9 pm, but the sun was low and we found the eating area well patronised.
We had steak au poivre vert with vegetables at le Palais, a solid protein dinner to build us up for way ahead.
Previous day: Riez to Gréoux-les-Bains
Back to this section's summary