Robert Louis Stevenson, the consumptive young Scottish writer who later became famous for "Treasure Island" and "Kidnapped", walked through the Cévennes with his donkey Modestine in the autumn of 1878.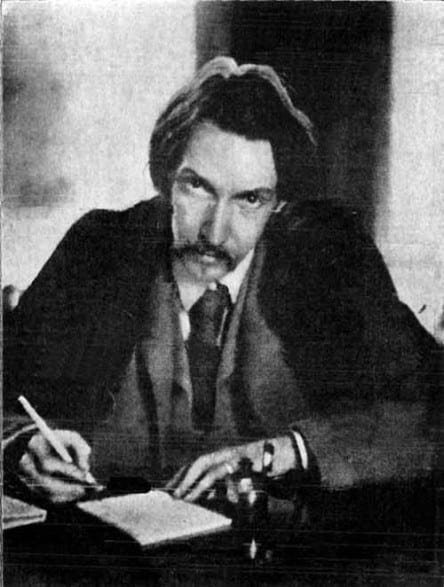 He chose this mountainous, backward area because it was almost the only part of France where protestantism still prevailed after the Wars of Religion and the purges of the seventeenth century.
To Stevenson these so-called Camisards were the French equivalent of the persecuted Covenanters of his own country. The book he wrote describing this expedition, "Travels with a Donkey in the Cévennes", made him well-known for the first time.
His trip began from le Monastier, but the modern track named after him starts at le Puy, half a day's walk away.
Although he was a sociable soul, he preferred to walk alone, because "you must have your own pace, and neither trot alongside a champion walker, nor mince in time with a girl", and in order to "surrender himself to that fine intoxication that comes from much motion in the open air, that begins in a sort of dazzle and sluggishness in the brain, and ends in a peace that passes comprehension".
It is possible to reconstruct most of his route from what he wrote in "Travels with a Donkey in the Cévennes", and this is now the Robert Louis Stevenson Track (GR70).
However, while we kept fairly close to his footsteps, we decided to take some liberties.

We reasoned that RLS would have taken the line of least resistance at the time, and so we sometimes followed small roads which did not exist in his time. This section, and the following one, cover our walk from le Puy-en-Velay to Florac on the GR70.
A good accommodation guide for the Stevenson Track is the strangely named "Miam-miam Dodo" (French baby talk for Eat-Sleep), which lists all the eating and sleeping possibilities along the way.
This first section of the Robert Louis Stevenson walk has much in common with the Régordane (GR700), which we did in 2013. The information there is more up-to-date in the matter of accommodation, and also there are several variants of the route, with different merits, that could be useful
From le Puy the path rises steeply to Ours, then returns to the level of the Loire at Coubin, and again at Goudet, only to rise again past Ussel, Landos, Uffernets and Pradelles, falling to Langogne then continuing upstream along the upper reaches of the Allier to Luc and la Bastide-Puylaurent.
The land is mountainous and often bare, harsh in winter but a garden of daffodils in summer. There are many reminders of the Wars of Religion and other conflicts along the way.
Day 6: Le Puy-en-Velay to Goudet
Day 7: Goudet to Langogne
Day 8: Langogne to la Bastide-Puylaurent
Previous section: Beaune to Beaune