Thursday, 30 June 2005
Distance 14 km
Duration 3 hours 30 minutes
Ascent 319 m, descent 311 m
Map 48 of the TOP 100 blue series (now superseded)
Topoguide (ref. 321) Traversée du Périgord
Today we would leave the Vézère valley and cross over the ridge to rejoin the Dordogne at Saint-Cyprien.

There would be some climbing in this, and after so many days of river-walking we wondered whether we had the legs for it.
We got up promptly and were up at the bar of the camping ground at 8 o'clock, in time for coffee, served in glass mugs, and the pastries we had ordered the evening before. Some Swedish cyclists were doing the same, but as usual there were no other walkers.
With some reluctance we shouldered our packs, crossed the bridge and strode the length of les Eyzies for the last time.
We turned off following the GR marks and the track ascended in a tall birch forest which filtered green light from a great distance above. It was by no means a wilderness, however, as there were dwellings tucked away here and there.

At one point we lost the way, but a woman hanging out her washing put us right.
As the slope levelled out we took a series of tiny tar roads – we just obeyed the GR signs – then a muddy wheel track in thick forest, where we were attacked by the mean, skinny biting flies that we had met in the Pyrénées, which are only ever found in dank, confined places.
Out in the sunny fields again, we admired the handsome but tottering château of Fages, then dived down a pathway to enter the top streets of St-Cyprien.

It was a good way of arriving in the village, if only because it was so steep that we may not have had the urge to climb up from below to explore it.
The church was large rather than beautiful, having been rebuilt on its twelfth-century remains.
Saint Cyprien himself was a sixth-century hermit who wrought so many miracles from beyond the grave that a monastic order was founded here.
With a pleasant sense of anticipation we descended through the lanes, with the cottages stepping down beside us, until we reached the main street just at noon.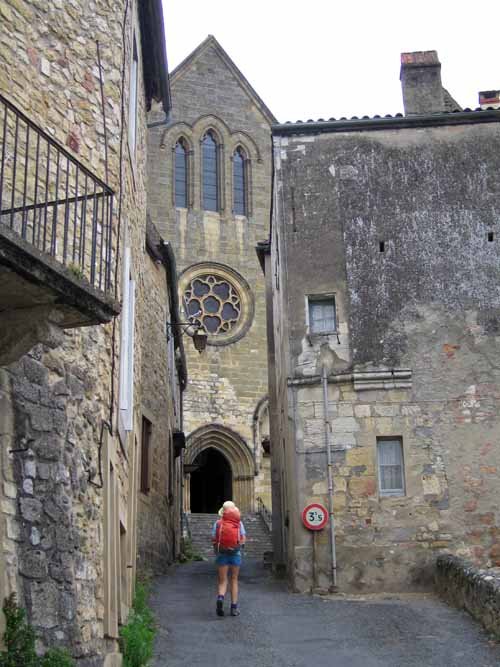 It was almost roofed with streamers and garlands, red and yellow, for the approaching rugby match.
We settled down in a microscopic triangular terrace beside a bar with only three tables, and had very fine coffees with a square of dark chocolate at the side.
At the Office of Tourism we found out that the camping ground was a kilometre and a half away, down on the river, on the other side of the highway and railway line. Typically, there was an area for camping cars right next to the town, but it was just a sheet of bitumen.
The camping ground itself was a delightful place, with a pool and plenty of shade. We ate our lunch and lay down for a rest, but a bank of black cloud reared up over the trees so we hastily put up the tent.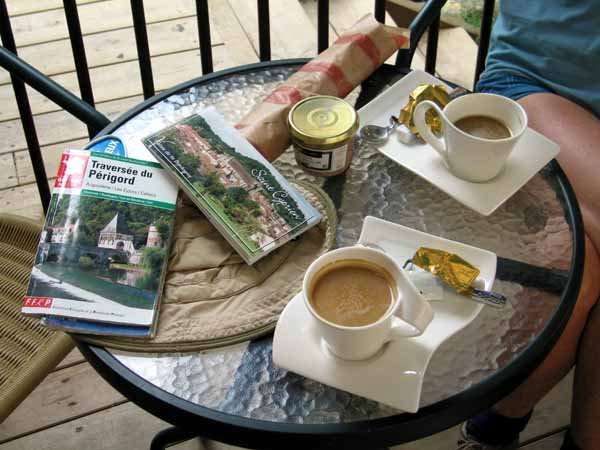 It did not actually rain until much later, as, washed and rested, we started back to town. We had only gone a few steps so we hurried back for our flimsy plastic capes and toddled off again like two walking toadstools, one orange and one blue.
On the way we got some lunch supplies of sausage, cheese and bread at the Spar supermarket, which had the extra advantage of being dry and warm.
The choice of eateries in Saint-Cyprien was severely limited, and while we were looking around it began to rain in earnest, so we dived into a brasserie where the waitress was just rolling down the storm curtains.

The water coursed down the thick plastic sheets, distorting our view of the fine fountain in the street outside, as we sipped our apéritifs, and after a while we decided to stay for dinner, especially as we had been joined by an English couple who were as happy as we were to mix dining with conversation.
Keith had cassoulet and I had a rare steak, both very enjoyable. We got back to our tent without having to put on our capes again, but the clouds had brought on the darkness early.
Previous section: Terrasson-Lavilledieu to Lalinde
Back to this section's summary