Thursday, 6 July 2006
Distance 27 km
Duration 5 hours 30 minutes
Ascent 256 m, descent 293 m
Map 28 of the TOP 100 blue series (now superseded)

A few days before, when we were sauntering up the Yonne so slowly, we had worried that this stage of 27 km might be rather a challenge, but after yesterday's accomplishments it no longer seemed so. We left soon after our hostess rolled up in her little car at 7 am. Naturally she was full of patriotic glee at the result of le Foot.
Back in the village, we collected bread and croissants but failed to find anywhere to have coffee, not even the excellent hotel of last night. We also failed to connect with the back road to Oudan, which should have turned off just after the level crossing, but it did not matter much, as it was too early for traffic.
At the top of the rise, we took the small road down to Oudan just as it began to rain, and we traversed the hamlet in our pink and blue plastic hoods, saluted politely by a group of farmers at the crossroads, then ascended to meet the main road again.

From then on the road (the D33) was as straight as a gunbarrel through dense emerald forest, still dripping although the rain had actually stopped. We strode along effortlessly, chatting and dreaming, almost unaware that our legs were moving. Only an occasional car came past.
The high wall of a hidden chateau was a sign that we were nearing Menou, the only village on the road. This consisted of a few houses strung out along the highway, looking plain and grim. We prepared ourselves for the prospect of no café, but we were wrong.
There was a thriving little establishment, not only a café but a restaurant, supermarket and banking agency. You could even have your clothes dry-cleaned there.

With great delight and many thanks we sat down for our second breakfast – coffee with the croissants from Varzy – conversing with the our hostess and the drinkers at the bar, who were not used to having people arrive in their isolated village on foot.
We set off reluctantly from this oasis, but after a short time our hostess called us back, as we had left our water bottle behind.
The scenery from then on was more varied, with farmland as well as woods. As the road climbed to enter thick forest again, we took a wheel track down beside a strip of meadow, hoping to connect with the even smaller road (the D127) shown on the map.

To our surprise, it worked, and we followed this quiet lane all the way into Donzy, with hamlets to left and right and a grand ruined abbey just before the town.
The first thing we saw as we entered Donzy was a busy outdoor restaurant, always a pleasant sight, so we sat down and enjoyed a second round of coffees before venturing in to the centre of town.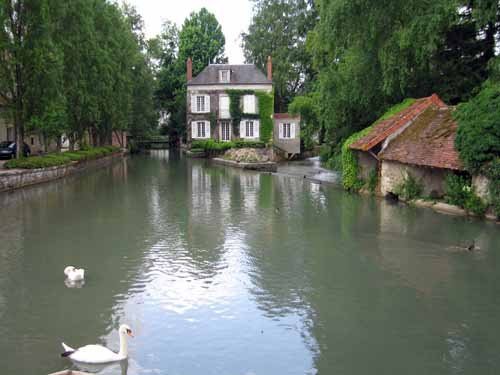 We were never sure whether we had found it, as there were a lot of small picturesque streets crossing the river and each other, but no main square.
The camping ground was at Donzy-le-Pre, a bit to the west, and after showers and lunch we hung out our washing, including our wet raincapes from yesterday and stretched out on the grass for a sleep.
The weather was cloudy and uncertain looking but we did not get wet again.

Later we went back to town looking for somewhere to eat, and on the way we heard a deep rumbling and discovered a great old water wheel at the Moulin de Malpertuis, lifting its enormous wooden paddles, dripping and mossy, far above our heads.

In the ill-defined centre of town, all we could find was a Logis de France hotel with a menu for €23, which we were not used to paying, so we decided to try the hotel we had seen near the camping ground.
It was open, although totally empty, and had menus for €11. We sat in a pretty gravel courtyard all alone, and were waited on assiduously.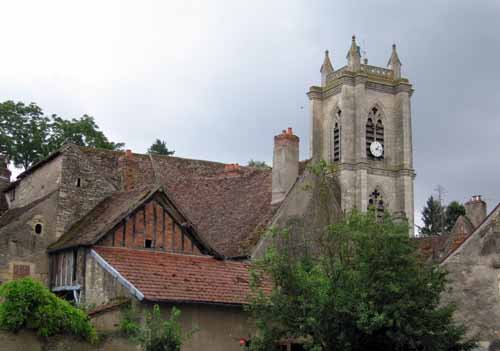 We had an introductory salad, then the inevitable steak, with Béarnaise and green pepper sauce respectively, and finished with icecream and lemon tarte. It was delightful and the walk back to the tent was short.
We had yet another free night, as there did not even seem to be an office.
Previous day: Clamecy to Varzy
Back to this section's summary