Friday, 6 July 2007
Distance 36 km
Duration 6 hours 40 minutes
Ascent 144 m, descent 171 m
Map 65 of the TOP 100 blue series (now superseded)
Map 64 of the TOP 100 blue series (now superseded)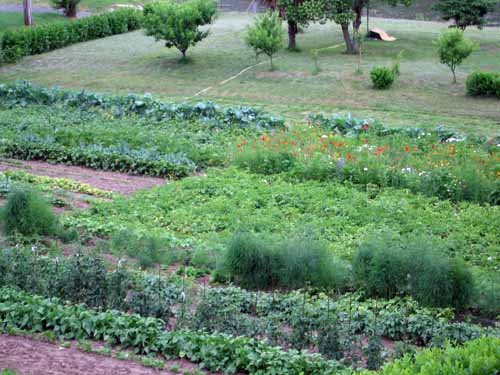 We left the camping ground at 6:50, our normal hour. Everything was quiet in the village, but as we walked downstream we found there was a bit more to it than we had thought – more houses, another restaurant, and a large retirement home looking onto the river flats, which were planted with beautiful vegetables and flowers, possibly by the residents.
Once over the bridge, we climbed the streets of Villeneuve-sur-Tarn, which had all the attributes of a pretty village except for the fresh paint and the tubs of flowers, which will no doubt appear in the next few years.
Then it was out into the forest for several kilometres of rapid walking in the cold morning air, following the convolutions of the river. The traffic howled on the other side, but there was hardly a car on our road, so we were grateful to the camping man for his advice.

After a while we came to the edge of our map (number 65) and we had no other, although we had been looking for number 64 since le Rozier. All we could do was trust the road.
My walking shoes were starting to come apart at the sole, despite the repairs I had made with molten tar on the way to Avignon.
We noticed that the road opposite had disappeared, and later Keith saw a tunnel exit and a bridge crossing the Tarn to our side. However, we did not actually join this road until just before Ambialet, which gave us a bit more time on our peaceful road.

At Ambialet, the Tarn made a loop so extreme that almost cut itself off. The closest parts were separated by only fifty metres of rock, through which the road went in a short tunnel.
There were no shops of interest as we came down to the tunnel, but a baker's sign directed us into the loop, where we found both a boulangerie and a bar, a welcome sight after so much walking.
The woman who made our coffees suggested that we cross to the right bank for the rest of our walk, as it was quieter and had no tunnels. There were two long tunnels on the left bank, she said.
While we were sitting having our coffee and croissants, two cyclists arrived. They had a map, rather a sketchy one, but enough to show that the two tunnels cut off two enormous loops in the river and saved many kilometres.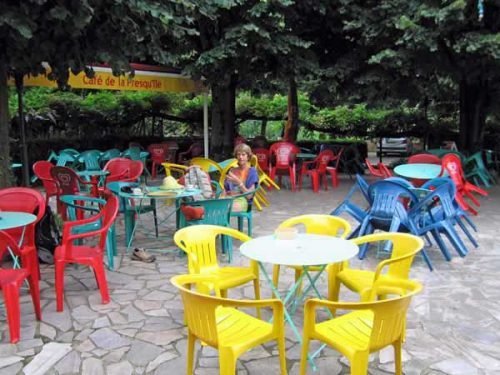 We changed our minds and decided to risk the tunnels. If they looked too dangerous for walking we could hitch-hike through them, we thought.
As soon as we set off again, we came to another bar, which was also a Presse. I went in and asked the woman about maps and was told to go up the staircase and have a look.
She meant me to go only a few steps, to the upper level of her bar, but I thought she meant to take the long staircase that went up the spine of rock and over to the road that we had come in on.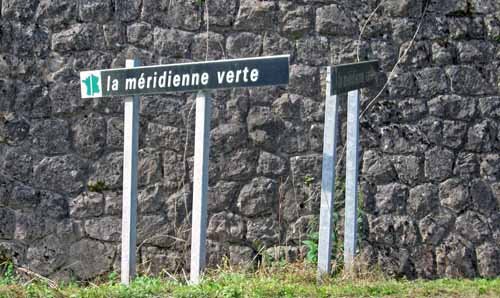 Naturally the shopkeepers there directed me back to the Presse. I slunk back, feeling very foolish, through the tunnel, to where Keith was waiting with the packs, and we looked at the woman's maps, but they were no good to us.
Off we went again, through pleasant open country, and after a time we came to the Méridienne Verte. This is a government millennium project, commemorating one of the last acts of Louis XVI before his demise in the Revolution.

In the midst of preparations for his escape, he gave royal assent to the survey of the meridian of the Paris Observatory, right through France from Dunkirk to Barcelona. This would fix the distance from the equator to the north pole and lead to the new immutable unit of length, the metre.
It took seven years, during which time the geometers were set upon repeatedly by hostile peasants speaking unrecognisable languages. The new project aims to plant a continuous band of greenery along this line.
An hour later we came to the first of the tunnels. There was a diversion road heading up to the left, but without a map we did not like to take it (which was just as well – it went for miles). The tunnel was alarmingly narrow, but had sodium lights and bolt-holes every twenty metres, so we got through it easily.

The worst thing was the noise of approaching cars, which filled our ears with a menacing, directionless roar. It was impossible to tell how far away the cars were, so we spent quite a bit of time cowering in the niches waiting for them to go past.
Out in the forest again, it was not long before we came to the second tunnel. This one was 965m long, whereas the first one was only about 370m, and we entered with trepidation.
There was a bend at either end and a long straight stretch between, so we could see the lights of cars without being able to judge how far away they were, and there was the same deafening rumble as before. We did a lot of sprinting between niches.
It was a lovely feeling to be past the two tunnels, and we began to think of lunch, but as we were in thick forest, the edges of the road were damp and nettle-infested.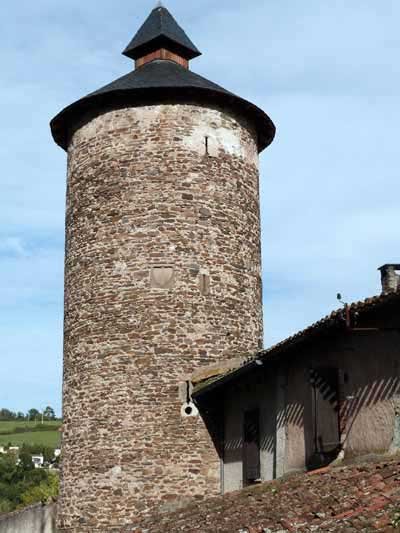 We had to wait until we got to the village of Les Avalats, with its curious tower, which was devoid of shops but had a nicely mowed grassy area near the river, shaded by a tree. By now it was warm and sunny for a change – indeed it was a rarity this summer.
Fortified by bread and cheese, we had only three kilometres to go to reach Saint-Juéry, which we knew was not far from Albi. We skirted a huge steel works before coming into the centre, where there was a roundabout on which motorists had to give way to entering traffic, the old French system now almost defunct (except at the Paris Arc de Triomphe).
We went into a bar on the corner for our second coffees of the day. It was entirely glassed-in, probably to keep out the noise of the traffic, and we felt like hot-house orchids inside. Across the road was a Presse, but as it was about 2 pm we assumed it would be closed. We were wrong, fortunately, and emerged with map 64 in our triumphant hands.
It was a treat to follow our progress into Albi on the map, although we could not possibly have got lost. Once over the ring road, we saw signs to the camping ground where we had stayed two years ago, and after some quick footwork getting across the many-laned D100, we soon arrived.
Last time we had been there, the camping ground was a stony desert, but this year it looked quite grassy and we found a good flat spot near the fence. Our first task, after showers and clean clothes, was to attend to my shoes, which were flapping open at the sides. They clearly did not have another day left in them, let alone two weeks.
Luckily there was a gigantic Weldom hardware shop next to the camping ground and a helpful man in an apron sold me some glue called Résist-à-Tout, which he said was impervious to heat, water and shocks.

I showed him my sandals and he handed them back to me with a phrase that I did not recognise but understood perfectly – it meant "they're buggered – they're beyond redemption".
On the long straight walk into town, we enjoyed the feeling of familiarity from our visit two years ago and it did not seem far.
The square around the Cathedral was fenced off for a concert, but we found plenty of restaurants and cafés in the Place du Vigan, all crowded with people making the most of the rare warm evening.
The weather forecast of our host in Trébas was proving correct. A pavement fountain had appeared since we were last there and children were running in and out of it.
We had a leisurely apéritif, then salads, pasta carbonara and steak, with generous amounts of bread and wine. By the time we got back to our tent at 10 o'clock it was almost dark.
Previous section: Millau to Trébas
Back to this section's summary