Sunday, 26 June 2011
We were not intending to have a rest day, but when we woke up we just felt like it. The previous day had taken a lot out of us and the town we were in was a lovely place to spend a sunny Sunday.
Our first act after the usual bowl of muesli was to go back to the pâtisserie and pay for another night at the gîte. We said that we would be leaving early the next day, so the pâtissier told us to leave the key next door at the "laboratoire", which would be open then.
We looked next door and saw no laboratory, only a medical equipment supplier a few doors further on.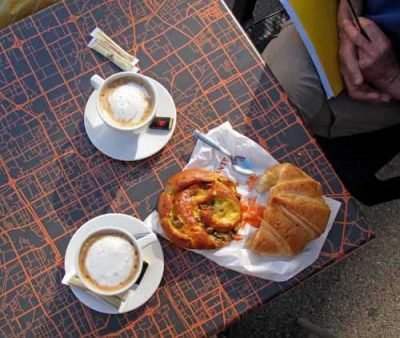 It was puzzling, and we went back to the pâtisserie to find out whether this was the place. He marched us out into the street and pointed at the door adjacent to the shop – the workroom, where the pastries were made. In my simplicity, I had translated "laboratoire" as "laboratory" instead of "workshop" – a case of what linguists call "false friends".
Having finally sorted this out, we were free to settle down at the bar with a bag of nice things from the "laboratoire". It was delightful to sit over our coffees with a whole day of repose ahead of us.

The woman who had talked to us at dinner last night was there and we had another chat. Later we went down to the Presse to get a France Telecom phone card, and bumped into the man whom we had met on the track yesterday, who had told us about the gîte, so we felt almost like locals.
In leisurely style, we wandered up to the church and looked around its cool interior.
Saint Symphorien is a very popular saint in these parts and there are many villages bearing his name. He was a third-century Gaul who was beheaded by the Romans for not showing proper respect for their gods.

His great golden church dominates the valley below the town. Above the main door there is a small inset of a dancing man – presumably some sort of signature from the mediaeval masons.

After lunch in the kitchen of the gîte, we retired for a rest, as both of us had terrible hacking coughs.

We immediately fell asleep and stayed that way until late in the afternoon, when we emerged to have apéritifs at the bar, followed by dinner at the pizzeria again.
Not only did we have the same waiter, but we ordered exactly the same meal – salad and lasagne. The only difference was that Keith had the slightly grander version made with gorgonzola.
No other pilgrims arrived to share our evening rest. It is evidently not a very much used pilgrim route.
Previous day: Violay to St-Symphorien-sur-Coise
Back to this section's summary