Wednesday, 6 July 2011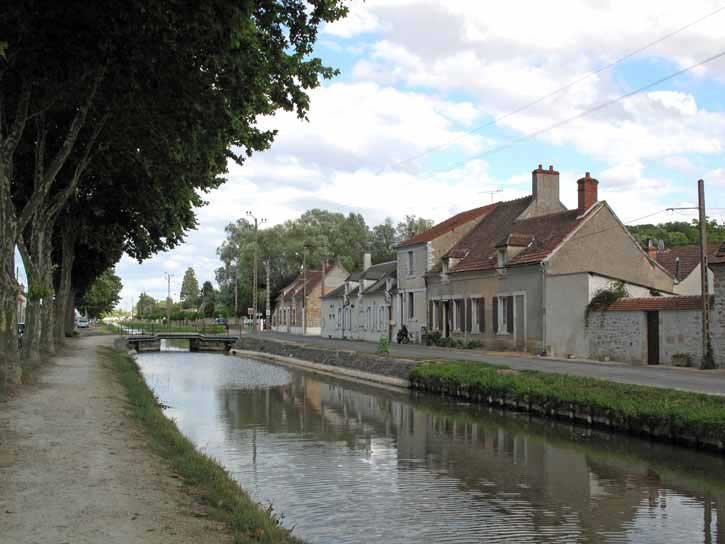 In our haste to get the tent up in the gathering dark of the previous evening, we had pitched it on a patch of lumpy tussocks, which, combined with my thin bed-roll, made for a poor night's sleep. However we were not intending to do anything strenuous today. We needed to prepare for our comprehensive change of plan by getting maps and accommodation lists for the area before setting off.
The camping ground was on the banks of the Canal de Berry, just south of the centre of town, with a row of charming cottages across the water.
With a bit of help from the locals, we found our way to a Presse for the TOP 100 map (no. 134), then to the Office of Tourism for a list of accommodation in the department and any other brochures that looked interesting.

Laden with these documents, we retreated to the nearby Bar du Commerce to study them over a leisurely second breakfast of coffee and pastries.
We remembered the town from last year when we had walked through it on the Way of Vézelay, but this time we were going to follow the Cher river northwards until we joined the other branch of the Canal de Berry at Mehun-sur-Yèvre, then continue along it to Tours.

At the main intersection of the town, on the footpath, was a statue of a skinny, barefoot lad, who looked like a local busker of times gone by, but turned out to be the famous Belgian singer Jacques Brel, whose connection with St-Amand-Montrond was never revealed to us.
Back at the camping ground, we had a picnic lunch, moved the tent to a less lumpy place and lay down for a siesta, pleased with our morning's work and feeling ready for a new adventure after three days of rest.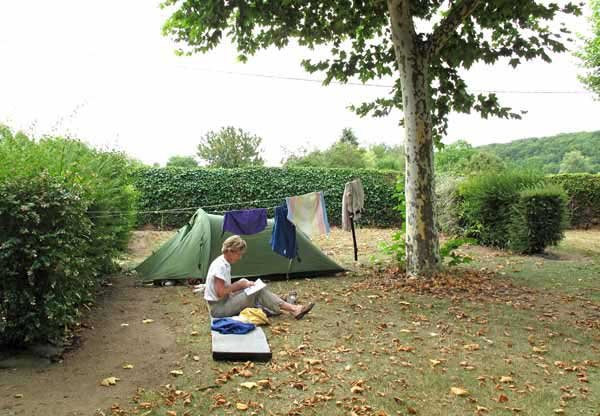 In the evening we had a drink at the Commerce, then walked up and down the main streets several times before deciding to eat at the Massilia, a small pizzeria that was filling up rapidly with customers.
At first we were shown into a large back room, but the air-conditioning there was too severe for enjoyment so we moved back to the warm front room, where we could see right into the beautiful flaming core of the pizza oven.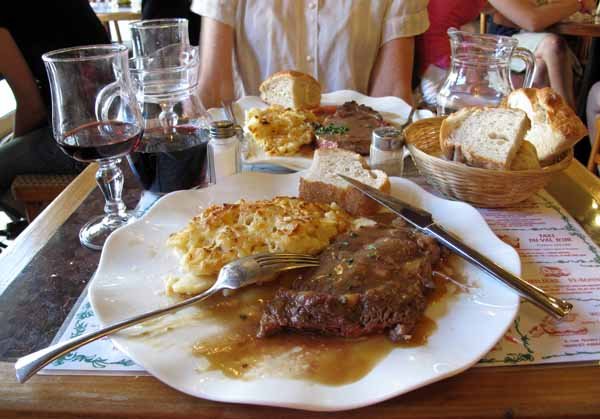 Like so many French so-called pizzerias, this one served a full menu as well as pizzas, and we try to keep away from pizzas except as a last resort, mainly because they often are a last resort.
Villages with no eateries at all will often have a pizza van that calls in, selling nothing but pizzas and drinks.
For this evening's dinner we chose the three-course formula for €14.90. While we waited for our crudités and salad to appear, we enjoyed the sight of the gadget that made the pizza bases.

The chef put a ball of dough on a metal plate and pressed a button, whereupon another plate came hurtling down and flattened the ball into a circle of just the right thickness, then rose again. Very entertaining.
Our main courses were entrecôtes in a rich sauce, with potato gratin, and to finish we had an apple tart and a cheese platter.
I was so full by then that all of the cheeses ended up in my discreet plastic bag for tomorrow's lunch.
Previous section: Aurec-sur-Loire to le Puy-en-Velay
Back to this section's summary