Saturday, 29 June 2013
Distance 14 km
Duration 3 hours 25 minutes
Ascent 182 m, descent 172 m
Map 163 of the TOP 100 lime-green series
Topoguide (Ref 7000) Le chemin de Régordane

Our predicament about where to stay was not yet pressing, as we had decided to go only as far as Vézénobres today, a village with a hotel, a gîte and several chambres d'hôte, according to the Topoguide.
As it was to be such a short stage, we had breakfast at the hotel before setting off. We sat next to the pool, slightly cramped against it, but in beautiful mild sunshine.
At the next table were six middle-aged Englishmen who had cycled from Clermont-Ferrand and were about to catch the train back to their van. The rest of the company was French.

Fortified by this splendid start to the day, we strode off. We had to do some shopping before leaving town, as our supplies of lunch food were completely exhausted, and our powdered milk had been almost used up by the numerous cups of tea at l'Affenadou.
Keith had noticed a little Casino supermarket last night in the street near where we ate, so we went there to stock up, then descended to the river, more or less where we had turned back yesterday in our fruitless quest for the Office of Tourism.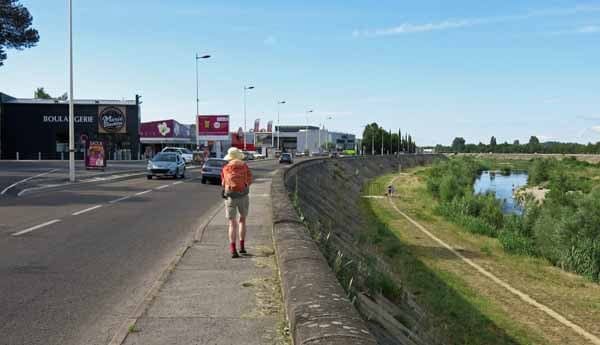 The way was marked as a GR, although completely built-up.
We walked on a footpath between a main road and a sloping stone wall, presumably a flood levee, with the river a series of meek pools below, enclosed by grassy banks. (All the tributaries of the river Gard are called the Gardon – this one was the Gardon d'Alès).
Across the road were gigantic metal emporiums selling furniture, electrical goods, clothes and so on. One of them was a sportswear shop so we went in and Keith bought a replacement for the warm top that he had lost.
It was half-price because of the sales, so he got it for €7.50. We were not to know that he would carry it for the rest of the trip and never once put it on.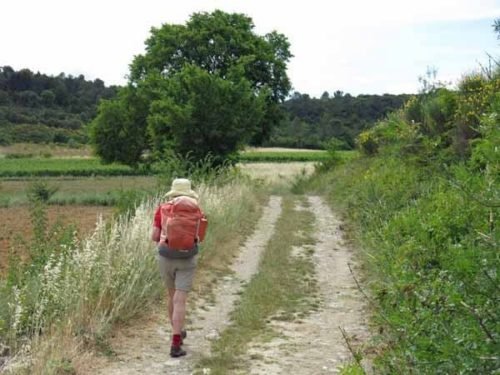 We went under a road bridge and the traffic lessened dramatically. There were no more huge shops, just a vista of neglected paddocks. When we came to a memorial to World War II patriots massacred by the Germans, we turned away from the river, went under the highway and picked up a track beside the railway line.
About a kilometre further on, we re-crossed the N106 on an overbridge and arrived in the tiny hamlet of la Lègue, still with an air of remoteness although so close to the highway.
Past the houses with their courtyards full of flowers, we took a road through market gardens until we came to the highway again, where there was an underpass. This time we also crossed the railway line and found our way to the D280 as it branched off towards St-Hilaire-de-Brethmas.

We would have been very happy to indulge in some of the comforts listed in the Topoguide – a hotel, a restaurant, a bar (probably all the same establishment), but there was no sign of anything except a boulangerie.
The baker assured us that there was no bar in the village, so we set off down the lane, out of the houses and into rolling fields covered with wheat and vines.
At first we were on a little tar road, then we crossed a stream and it became gravel, We started to climb amongst rows of vines, on a grassy path that degenerated into stones as we went higher.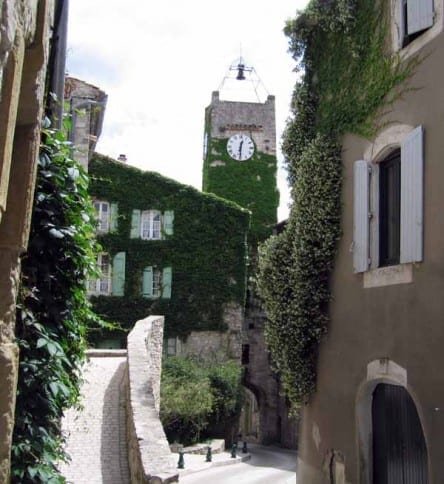 Eventually our way was blocked by the perimeter fence of a small airstrip. We could see the old route continuing upwards, but the GR turned to the right and went downhill to a road, which was a great waste of effort, as we could see from the map that Vézénobres was just over the rise on the other side.
Once on the road, the GR soon turned off again to climb through the grassland, but we stayed on the bitumen for the last kilometre or so, rising to the centre of town on the D173. Vézénobres had been a centre of Protestant faith and had endured centuries of oppression, culminating in the overthrow and murder of the leaders, who were buried in the walls of their own houses.
Despite this grisly history, it was a surprisingly picturesque place with narrow, crooked cobbled streets, stone arches, an ivy-covered clock tower and best of all, a bar, whose tables spilled out across the road. Most of the tables were already occupied by Dutch people – possibly from a tour bus – but we found an empty one and had a very pleasant coffee break.

It was past midday by now and we still had nowhere to stay. The Office of Tourism was just near the café, but it was closed until 2:30 pm. The waitress said that the hotel was down on the highway at the foot of the town, and we decided to try it in preference to a gîte or a chambre.
The walkers' way out of town was nothing if not direct – it dropped like a dead bird through an arch and down several flights of stairs, ending at a sort of terrace, which was still high above the main road.
From there we took a steeply descending lane between hedges and arrived at the highway just opposite a large bar/restaurant (l' Auberge au Bon Acceuil), where the barman told us that the hotel was half a kilometre back along the road. He also confirmed that his restaurant would be open this evening, a useful piece of information for later.

At the hotel, which was an imposing three-storey pile called le Relais Sarrasin, three youngish fellows were dining in the front courtyard, but the bald one jumped up when we appeared, and showed us to a room on the first floor with a view up to the village wrapped around the top of the hill. It was our second consecutive night in a hotel, so it felt very odd.
The room was exuberantly decorated in a Parisian theme, with lots of Eiffel towers and absurdly thin girls in feathers and lace. The bathroom was delightful and even had a bath – it was a Logis de France hotel, after all.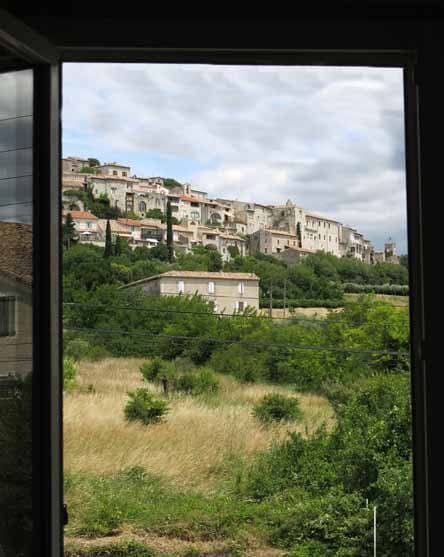 After a picnic lunch and a doze, we watched the first stage of the Tour de France from a recumbent position. We were still wondering where we would be sleeping the following night, as our efforts to book ahead into gîtes had failed.
Having seen the expensive menu at the hotel, we decided to go back down the road for dinner, but before we set off, we asked our three helpful hosts about possible accommodation in la Calmette (Russan having proved a dead loss). They said that there was no hotel in la Calmette, but there was one nearby that would pick you up from the GR and deliver you back in the morning.
It turned out to be the Logis de France hotel at St-Geniès-de-Malgoirès, that we had stayed at in 2007 on our way from Provence to the Charente. A quick phone call secured our booking, and I explained that we would not need to be picked up from la Calmette, as we would walk to the hotel.

Dinner at the Bon Acceuil was excellent. The front door was locked, with a sign directing us around to the courtyard at the back, where there were tables set out between an incredibly ancient, gnarled mulberry tree, a grove of bamboo and a large statue of Cupid.
It was rather early when we arrived, so we had apéritifs to start with. There were many drinkers standing at the bar but we sat at a table, always a luxurious thing for us.
The menu was €14 and we began with two mixed salads, adorned with ham, tomato and the small grilled goat's cheeses on toast known as chèvre chaud.

Then we had lamb chops, such a common dish in Australia but rather more unusual here.
Keith had chips with his, but I just had an extra serving of green beans. To finish Keith had a crème caramel and I had a coffee.

Walking back along the road at 9:30, we saw the village lit up romantically in the dusk, its peaceful air denying its history of brutal repression and terror.

Previous section: La Bastide-Puylaurent to Alès
Back to this section's summary