Saturday, 6 July 2013
Distance 20 km
Duration 3 hours 50 minutes
Ascent 148 m, descent 177 m
Map 170 of the TOP 100 lime-green series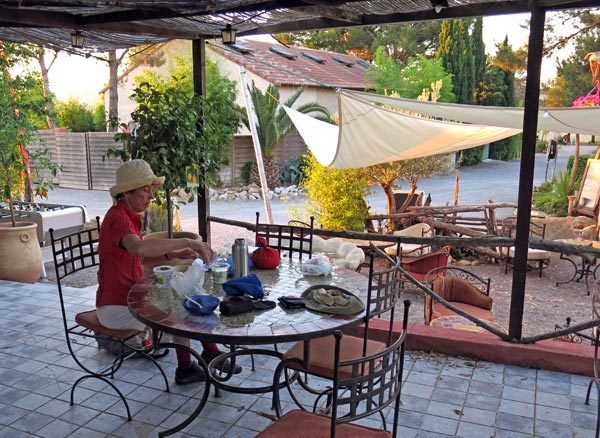 The eastern horizon was glowing like copper when we crawled out, and the sun quickly followed. We ate our muesli at the bar, which was now deathly quiet, spreading our stuff out comfortably all over the table. The air was already warm and promised a hot day to come.
We were out the gate by 6:45 am, with the sun on our backs, continuing along the same little road that we had arrived on yesterday. After a while it joined a slightly bigger one called le Chemin des Romains.
When we passed a winery called the Caveau de la Voie Domitienne, it dawned on us that we were on the original Via Domitia, the Roman road that had gone straight across southern France and into Spain.
We realised that we had been close to it, if not actually on it, ever since leaving Montpellier. This gave an extra spice to the rather flat farmland that we were walking through. After an hour or so, we entered the village of Montbazin beside an enormous graveyard, and plunged down into the centre of town, near the river.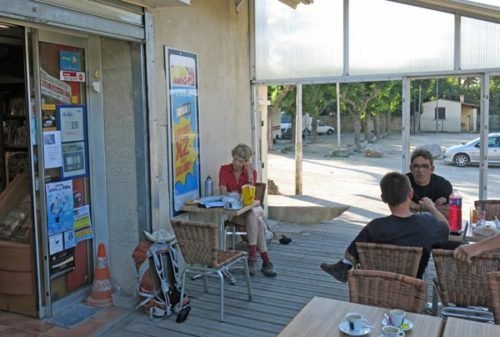 At a boulangerie, we got bread, a croissant and a pain aux raisins, and asked directions to the bar, which was at the other end of the street.
We found it at last and settled down on the little raised terrace at the back for our second breakfast. The pastries that we had just bought were particularly delicious, and so was the coffee.
All the other customers were locals enjoying a quiet Saturday morning drink, and they questioned us about what we were doing. One man, thinking we were English, wanted our opinion about the forthcoming royal baby, but we said that we were Australian and therefore not interested.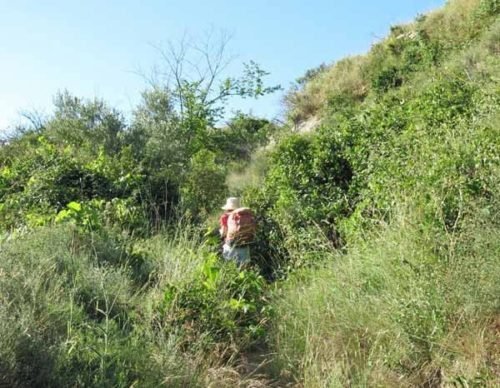 There followed a great grilling about Australia. How could we live in such a hot place? (Our part of Australia is much colder than their part of France.) Was Sydney bigger or smaller than New York? Why on earth did we want to come to France?
Back past the boulangerie, we crossed the stream and ascended on a tiny road amongst the vines. We were intending to turn off along a disused railway line after less than a kilometre, but we noticed a better way on the map, a track that continued beyond the end of the road.
When we got there, it was a rough, rocky path that climbed over a spur and onto the well-tended slopes above the village of Poussan.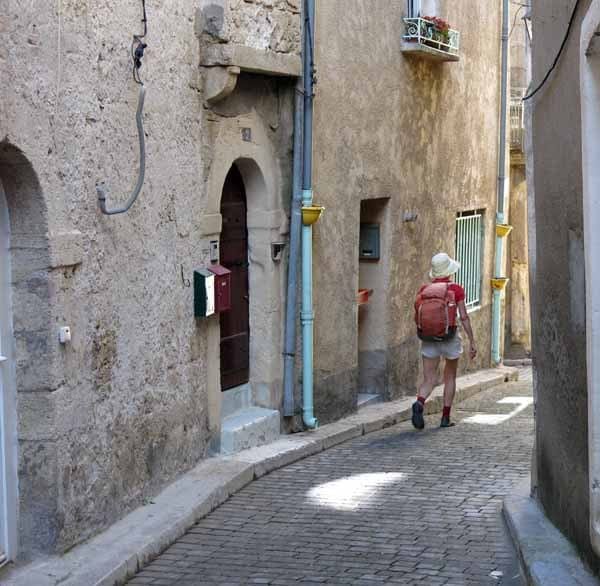 Entering the streets, we saw that Poussan was a "circulade", a mediaeval fortified village laid out inside a circular defensive wall, like la Calmette of a few days before. The commercial activity was in the wide outer ring road, presumably the line of the original ramparts.
We found a bar and sat down for another coffee break. The street was being dug up for some reason and was full of heavy machinery and piles of cavernous pipes. Some workmen were hosing down the dust and making a fine muddy mess.
One of them was helpfully hosing the parked cars outside the bar, which caused the barman to rush out and scream that his windows were not closed.
The workman, deprived of this innocent pleasure, then wandered over and talked to us. He had spent five years in Quebec but had never managed to get residency there, so he was now discontentedly back in his native land, tied down with a wife and children, and envious of our freedom.

It needed luck to pick the right road to take from the several that radiated out from Poussan, but we did it, and continued our gentle ramble.
There were vineyards and groves of pines beside the road, and we went past a gigantic stonemason's yard with a row of standing columns like a half-built temple.
We turned onto an even smaller road (which we later found out was the actual Via Domitia) that took us through increasingly dry heathland to the very edge of the autoroute – the A9, called "La Languedocienne".
Our little road went along beside it for a short distance and then ducked under a tunnel. We branched off almost immediately and a couple of kilometres later, arrived in the village of Loupian.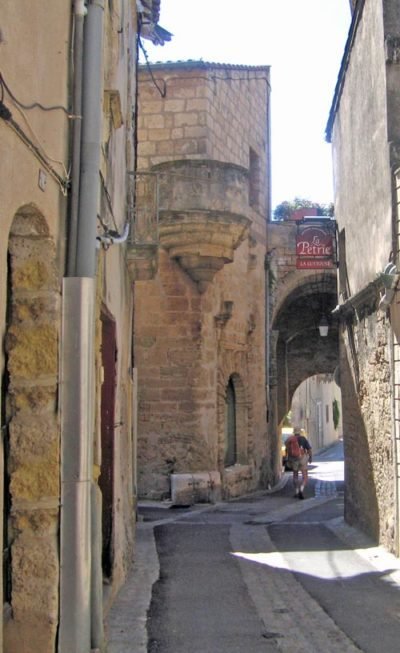 This was another warren of alleyways, with many stone arches, buttresses and turrets, and looked worth exploring, but we were on a mission to get to the camping ground. We found it just outside the village, on the road to Mèze, in a grove of pines.
Having paid our €14.70 and made sure that the adjoining restaurant would be open that evening, we set ourselves up on a patch of dry grass next to the fence, with a view out onto the salt marshes.
We were also very close to the ablutions block, although hidden from it by shrubbery, so it was almost like having a tent with an ensuite bathroom.
It was so hot in the afternoon that all thoughts of exploring the town evaporated. Instead we lay on our mats dozing most of the time. The furthest we got was to the snack bar for coffee.

At 7:30 we returned for apéritifs – the usual pastis and glass of rosé – as the tables around us filled with diners.
Everyone was dressed as lightly as was decent, rejoicing in the full blast of summer, which had been so slow to arrive this year.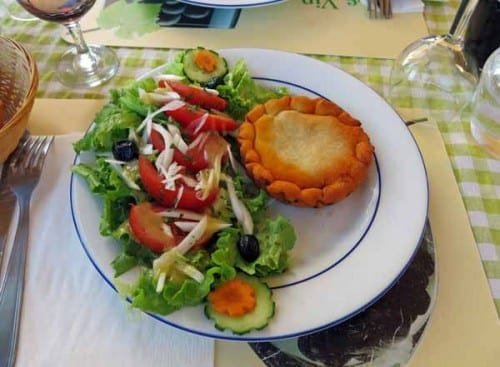 The menu was full of regional delights. We began with "tielles sètoises", fat little pies with crimped edges like babies' toes, filled with seafood and herbs. These came with a salad.
Then we had "petites seiches", which were tiny cuttlefish cooked with parsley and accompanied by a bowl of aïoli, more salad, and the inevitable chips.

Our other main dish was "calamares à la Romaine" (no opportunity is lost to push the Roman connection in these parts), consisting of crisp squid rings with lemon, salad and chips.
Apart from the chips it was all very Mediterranean and delicious. We helped it down with a basket of bread and half a litre of local red wine, and went to bed well satisfied with our evening out.
Previous day: Montpellier to Fabrègues
Back to this section's summary