Monday, 8 July 2013
Distance 29 km
Duration 6 hours 10 minutes
Ascent 117 m, descent 157 m
Map 170 of the TOP 100 lime-green series
During the night there had been thunder and a flurry of rain, but when we crawled out at 6 am the sky was as clear as eggshell. We had our customary muesli on the deserted terrace of the restaurant and were ready to leave at 6:45.
That was when we realised that not only was the main gate locked, but also the narrow side gate. This was made of tall vertical bars, but compared to the solid steel sheeting on the defunct bridge yesterday, it presented little difficulty.
We tossed our packs over and then set about scaling it ourselves. I flung a leg acrobatically over the top rail and hoisted myself over using my wedged foot as an anchor. Keith used brute strength to haul himself up with both arms.

Once on the other side, we marched off merrily, feeling very pleased with ourselves. We had not paid, but we had certainly tried to, so we felt no compunction.
Back at the roundabout, we found a small road running parallel to the Bessan road, much pleasanter to walk on. Even so, a car came up beside us and the driver courteously offered us a lift, but we assured him that we were walking by choice.
For a while we passed along the brink of a terrifying drop into an open-cut mine of enormous size. This mine was the economic mainstay of the village, producing basalt and the substance called pozzolan, which had been used to make concrete since antiquity.
Then we were forced onto the highway to get over the Languedocienne, the autoroute that we had crossed four times already, and shortly after that we arrived in the town of Bessan.

We were in need of coffee but the main street did not seem to be the place for it. We realised that the old centre was off to the left, and the layout of the streets suggested that it had been a "circulade" at one stage, with a wall encircling the heart of the town.
Turning into the Grande Rue, we soon came to an area of shops, including a boulangerie, at which we bought pastries and found out that there was a bar a little way further on, just past the Hôtel de Ville.
We arrived in a long square under a line of massive plane trees, whose shade was supplemented by an awning outside the bar. It was still early but already the heat was oppressive.
The Hôtel de Ville, which looked onto this square, was an engaging mish-mash of styles, with arcades at ground level, louvred windows above, and a little crenellated tower surmounted by a bell in an iron cage.

As we sipped our gran'crèmes and munched our newly-baked pastries, we agreed that it was turning out to be a classic French walking day. A little challenge to start with (the locked gate), then second breakfast within an hour.
Much refreshed, we went back to the main road and continued along it until we came to a fork, where we took the road to the right (Chemin de la Croix de Redon), past a walled cemetery overshadowed by aged pines.
We crossed the weedy disused railway tracks at a level crossing (with incongruously new-looking boom gates) and pressed on through fields, around a bend and under the formidable new highway, the D612A. Beyond that we found ourselves on a rising wheel-track which wandered pleasantly through uncultivated grass and shrubs.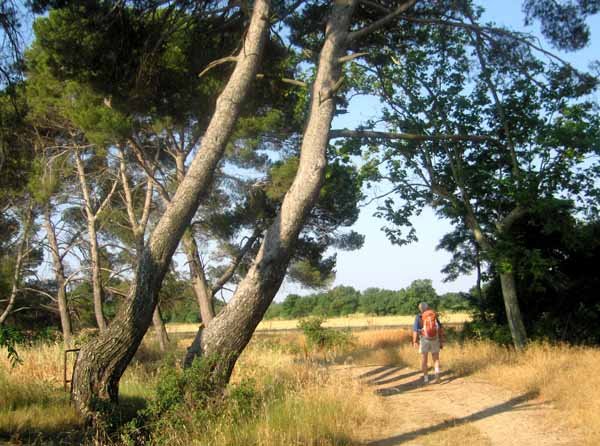 Then we twisted and turned through a grove of trees and emerged into a very different landscape, a flat, disciplined grid of crops and vines The track turned and headed due west, towards a distant assemblage of buildings and trees.
When we got near, we found that it was the Domaine de la Jourdane, a nineteenth-century château now mainly devoted to viticulture. The grounds were so overgrown that we could hardly see the house at all as we turned down the bitumen road beside it.
This road stretched in a monotonous straight line to the horizon, so when we came to a gravel lane leading off towards the château, we could not resist the temptation to take it.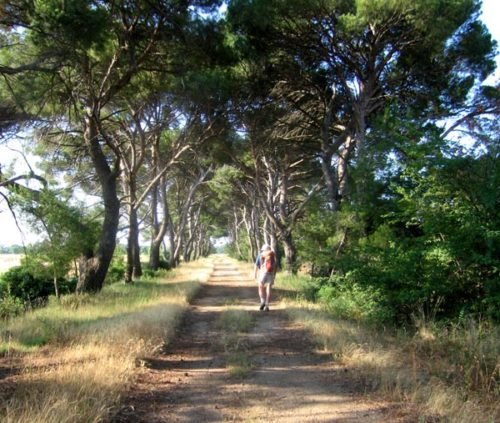 It ended at a high wrought-iron gate flanked by stone pillars, with a crest on top recalling former glory. It was all rusty and unkempt now, and looked as if it had not been opened for decades. Ignoring the "private property" sign, we followed around the edge of the grounds and came to another such gate, this one with a dilapidated gatehouse next to it. There was nobody about.
Leading off from this was a fine avenue of Mediterranean pines, also sadly neglected, which was evidently the original entry way. It had been amateurishly blocked by a rope hung with fertiliser bags, but we ducked underneath and continued until we joined the public track at the end.

After a couple of bends in a field of wheat, the path crossed a ford, dry at this time of year but no doubt a torrent in other seasons, and ascended to another wine-maker's château (Preignes le Vieux).
In contrast to the gloomy wreck that we had just left, this was surrounded by parked cars and there were people going busily in and out through the gates.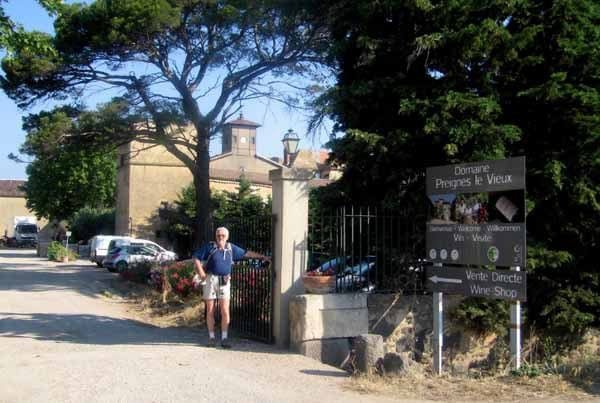 We were now back on the bitumen and a little further on we went over the railway line and the road forked.
The main branch went left, towards a village, but our direction was to the right. This branch was no more than a dirt track leading into a vineyard through a half-closed gate. It did not look very public, but we took it anyway, trespassing for the second time that morning.
With some anxiety we made our way down the red clay path beside the vines, in the direction of a parked van, rehearsing our excuses in case we were bailed up, but there was nobody in the van. An old golden retriever got to his feet and tried a couple of barks, then lay down again.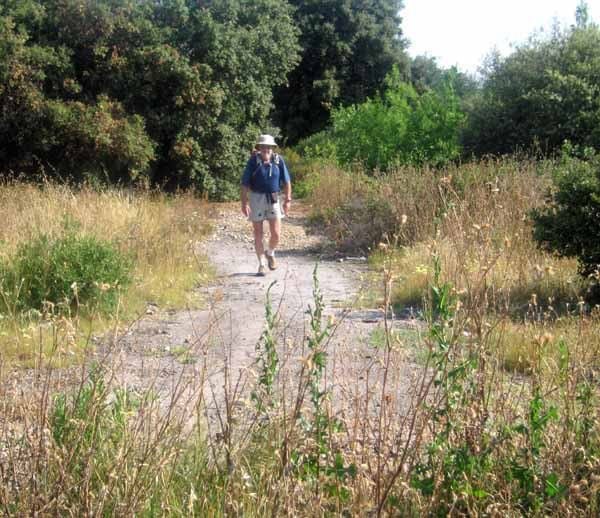 At the bottom of the slope the way forward was blocked by a wall of matted vegetation. We were only fifty metres from the highway so it was very frustrating, until we noticed, pointing off to the left, a rusty road sign – "Cédez le Passage". It was the remains of an old road.
Getting to it was painful, however. While trying to free my leg from the clutches of a blackberry bush, I fell forward into a muddy ditch, but struggled out at last onto a remnant of bitumen. Keith did better and then it was a moment's work for us to cross the busy highway and take the little tar road opposite.
This curved around the back of an enormous camping ground, a toy town bigger than many villages, with rows of identical cabins crammed together around grassy areas. Plenty of holiday makers were walking about or soaking up the sun.
It went on for the best part of a kilometre and just before we got to the end of it, a car drew up beside us.
The grizzled driver told us that we should walk on the left side of the road in France (which is what we normally do, but this road was so narrow that we had to walk in the middle).

Having ascertained that we were Australian, he said that he had guessed it by our hats. Then, in passable English, he told us that he had worked as a mining engineer in Australia, which amazed us, as very few French people have travelled that far. He had liked it, but his wife had detested the dirt roads and the huge distances.
After this friendly chat, he drove away and we set off again, across a stream and up a steep, bare hillside. It was painfully hot and we felt sorry for a man on a bike pulling a trailer containing two small children, who was going even more slowly that we were.

At the crest we suddenly found ourselves amongst the houses of Portiragnes and from there it was downhill all the way to the centre of the village, near the church.
We found a bar in a shady side street, with a boulangerie conveniently opposite, and proceeded to have our third breakfast for the day. It seemed a long time since our second one in Bessan, although it was not yet 11 o'clock.

As we left the village, we crossed a modest canal without realising that it was the Canal du Midi in its last few kilometres before meeting with the Mediterranean.
We then took a succession of farm roads that zig-zagged between the fields.
There were hardly any trees and we were exposed to the ferocious sun until we got to the bridge leading into Serignan.

The town looked drab and desolate when we arrived, but that was because we were not in the centre.
Following our rule to always head for the church, we soon found a lively area of shops, cafés and market stalls, packed with people.
The only refreshment that we needed was water, which we got at a street fountain and drank in the shade of a building.

Continuing generally southward, we passed the museum, then the sports field, then a new housing estate and the graveyard. It all agreed satisfyingly with our detailed home-made map.
The tiny road that we were on (le Chemin de la Yole) kept going, and we trudged along doggedly in the heat until at last we got to a big roundabout on the D64.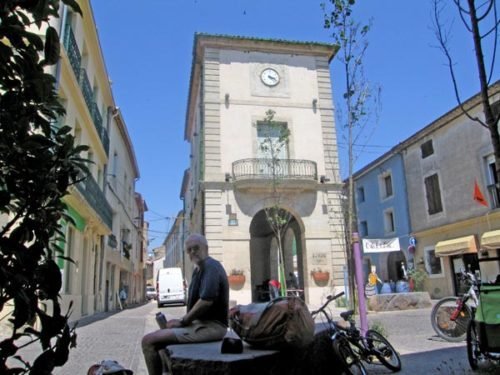 On the other side of the highway, we scrambled over a ditch and onto a cycle path, which ran parallel for a kilometre or so through open scrubland before arriving at the camping ground that we had chosen as our destination for the day (the Bellevue).
We did not like the look of it as we followed the fence around to the entrance. It was closely packed with caravans and cabins, and the ground was bare dirt.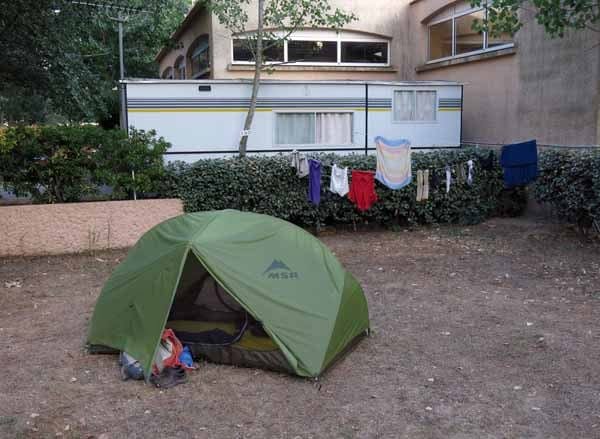 We liked it even less when we were told that the price was €35 a night and that we needed to provide our date and place of birth, as if we were applying for citizenship, or a job.
On the pretext of looking at the sites, we walked out. There were plenty of other camping grounds nearby and we ended up at the Méditerranée, just around the corner, where there was at least some grass, although most of it was dead.
As we walked up to the barrier, a hefty looking security guard bailed us up and marched us to the office. The price was relatively cheap at €31.50, but for some reason we were told that we had to pay as we left in the morning,.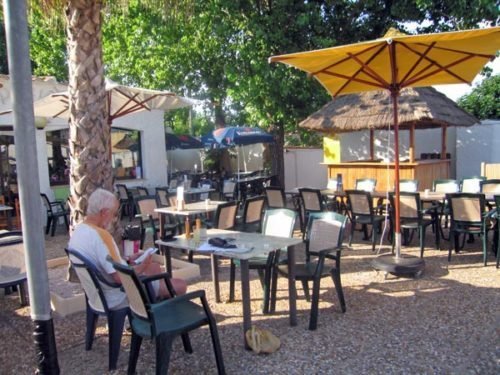 Our wrists were banded with orange identification bracelets, then we were allocated a space and escorted to it on a sort of golf buggy, driven by the security guard. By this time we felt that we were in some sort of detention facility. However the spot was fairly close to the entrance and also to the ablution block, so we settled down comfortably enough after our showers.
In the evening, for want of anything else in the vicinity, we ate at the bar-restaurant at the entrance to the camping ground.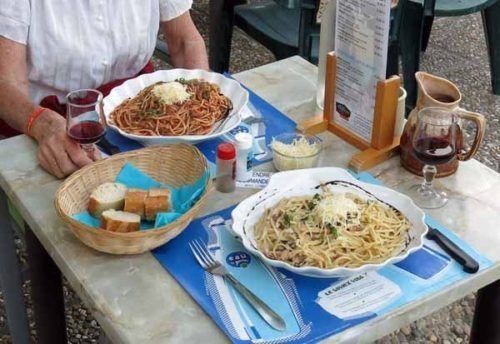 The menu was rather basic – pizzas or pasta – so we had pasta, which stuck our ribs together very well. The waitress's attractive face was ruined by crooked, discoloured teeth, which she tried to hide by various hand movements, poor thing.
By 9 pm we were exhausted and ready for bed, but just as our heads hit the pillow, the evening's entertainment began. It was a karaoke session at the bar and we soon regretted that we were so close to it.
The caterwauling went on at top volume until 11:30 pm, when it stopped abruptly and completely, no doubt in obedience to some municipal law.
Previous section: Montpellier to St-Thibéry
Back to this section's summary