Saturday, 28 June 2014
Distance 20 km
Duration 4 hours 20 minutes
Ascent 335 m, descent 121 m
Map 154 of the TOP 100 lime-green series
We were woken by a sudden rainstorm, but it stopped just as suddenly, and we managed to pack everything up and hurry off to town before the second storm hit.
We rushed past the grand domed abbey church and into the bar in the main street where we had eaten last night.
The barman said the boulangerie was further down the street, and Keith went off in search of croissants (I was slightly upset in the stomach so I was excused from errands such as this).

He found the boulangerie, but unfortunately it did not open until 7:30 am – absurdly late for a French baker.
He also got drenched in the second storm. Just as he got back, dripping, a tray of croissants was delivered to the bar, so we did not miss out in the end.
Our route for the day was directly north and there was no GR, but we had a plan involving tracks and very small roads. Once out of the built-up streets, we went under a tall railway viaduct, part stone and part concrete.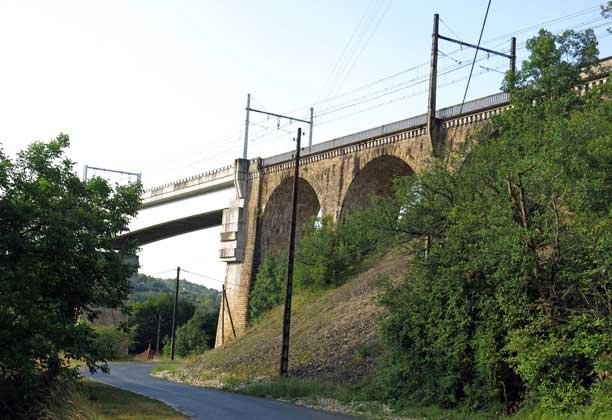 The reason for this break in style became clear when we read a sign attached to one of the piers – the bridge had been blown up in 1944 by a combined American and French group, to prevent the Germans from running their armoured trains on this line.

Further along, the little road went under the railway line again as it looped around, and then continued beside a minor tributary of the Dordogne, the Blagour.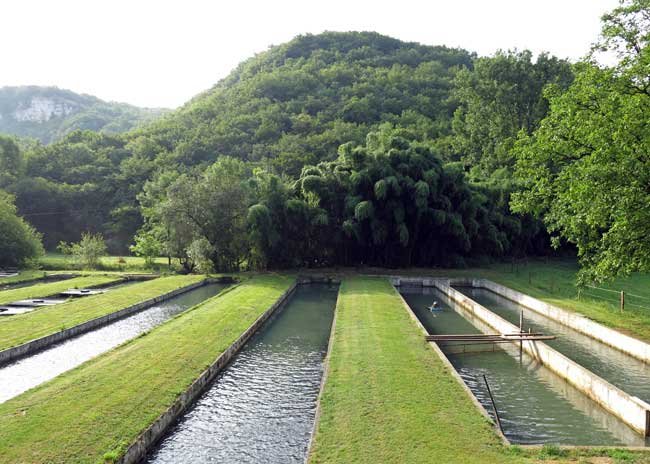 There were fields in all their summer glory on either side as we swung along, and a complete lack of cars, giving us the freedom to walk in the middle of the road.
After half an hour we came to a series of long rectangular pools separated by lawns, stretching down towards the stream. They could easily have been lap pools at some fashionable resort, but in fact they were part of a fish farm, as we found out from a sign.
There was a restaurant attached, beside a small lake, at which former denizens of the pools could be savoured.
Although we knew that it was not likely to be functioning at nine o'clock in the morning, we went down and tried the door, which opened, surprisingly.

A woman appeared looking slightly startled, but quickly pulled herself together and invited us to sit beside the lake while she made coffee. It was a delightful and unexpected break.
The table was wet from the morning's rain and strewn with leaves from the massive tree overhead, but I brought out my little towel and tidied it up. It was the nearest thing to housework that I had done since we left home.
As soon as we resumed our progress the road got steeper, but it was a charming walk amongst wheatfields and clumps of green oak and beech.
We eventually merged into the highway (the D820) and crossed it when we came to the turn-off for Maure, up a stiff little climb. This was such a tiny place – only a few houses and some farm sheds, with an airy view of the surrounding patchwork of fields – that we wondered why it was dignified with a name at all.

We left Maure on a descending wheel track and followed it as far as le Renaudet without trouble, although it was often rather circuitous.
We were in a narrow strip between the D820 and the autoroute, but were not conscious of either. Our route seemed as remote as it would have been in pre-industrial times.
At the entry to the village of le Renaudet we were menaced by a dog on what we thought was the driveway of a private house, but was actually the track that we needed to take.

With the aid of the bundle of tent poles (carried in the side pocket of Keith's pack), we saw the dog off and continued straight on, taking the next turn to the right.
Half an hour later, having traversed a wood with increasing puzzlement, trying to make the track correspond to our map, we found ourselves on the D820 and then had to make our way back at a sharp angle through the wood to rejoin the track that we had missed.
After that we passed two hamlets even smaller than Maure (les Genestes and Peyrelvade), surrounded by oak woods and fields of corn. It was easy walking, but we were getting tired and it was beginning to pall.

When we emerged onto the D820 again, we were just below Cressensac, our destination for the day.
A final heavy slog up the hot bitumen of the highway brought us into the town, and as we rounded the bend we saw the hotel, a sight that filled us with relief and gratitude, even though we were safely booked in – old disappointments linger in our mind.
A well-dressed crowd was milling about at the front under the red awning, and there was a lot of kissing, hand-shaking and champagne sipping going on.
We slipped through to the interior and located our host, who took us up to our room, or rather rooms – we had a sort of suite with two bedrooms, a sitting room and a bathroom. Seeing our surprise, Monsieur assured us that it would only cost the same as a normal room (€62). Left to ourselves, we collapsed onto the bed until we felt fit to have showers.

Keith then went off to find some bread for lunch, but I lay down again, as I was still feeling a bit sick. Keith discovered a boulangerie but it was closed for the summer holidays. Fortunately the baker was there, doing renovations, so he directed Keith further up the street to the supermarket, where he acquired a wholemeal loaf as heavy as a boulder.
Nevertheless we spread out a fine little picnic on the bed, which we protected with the same towel that had come in handy as a table-wiper at the fish farm. With the stone-like bread we had the cubes if ham and cheese that I had saved from last night's dinner. Then we slept blissfully, lulled by sounds of revelry from below – laughter, singing, speeches, an accordian. The party-goers had moved inside, into a large dining hall beneath our rooms.
Late in the afternoon, we descended the stairs and went out to the terrace, under the awning, for a beer. By this time the dining tables had been carried out of the hall and the feasting had given way to ballroom dancing. Our host was now able to relax and we had a chat with him. He revealed that the party was a sixtieth wedding anniversary ('les noces de diamante'), which explained the black-and-white photographs that we had seen on the tables.

He politely asked whether we needed to connect to the WiFi, but I said that we were the last people in the western world to travel without a mobile phone. "And without a car too!" he exclaimed, rolling his eyes. Then he remarked that he was closing the hotel after breakfast tomorrow, and going off to the Auvergne for ten days.
It was our turn to exclaim, about how lucky we were to arrive today and not tomorrow. "Well, you don't know how lucky you are", he replied, "you also got the last room!" No doubt this was why he had hesitated slightly when I spoke to him on the telephone – he was calculating that he could put us in the suite.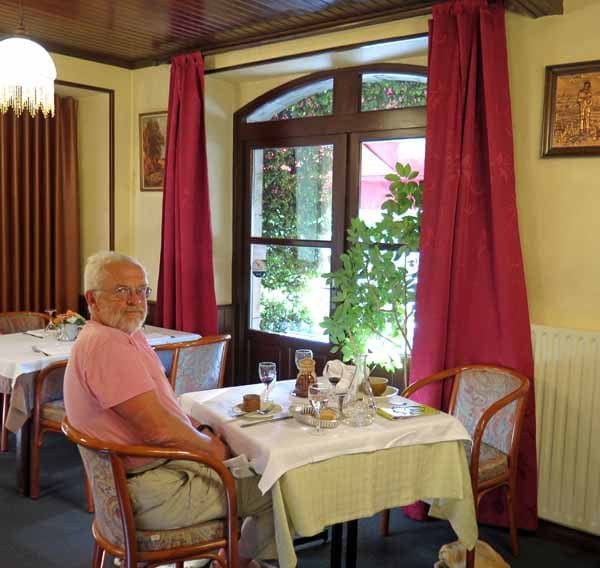 Another little rest upstairs was in order, after which it was time to go down to dinner.
The dining room (not the one where the anniversary had taken place) looked out onto the terrace and was beautifully appointed in an old-fashioned way.
Heavy red brocade curtains were drawn back from the windows and there were stiffly starched white cloths and serviettes on the tables. The room became quite full as we sipped our preliminary drinks.
Keith decided on the menu for €19.70 and I had the same thing without the dessert for €15.70.
The bread basket contained a mixture of rolls, nut bread and fig bread, which last was the correct accompaniment for foie gras, said our host. Not that we were ordering it, but he felt the need to educate us, I suppose.

I started with onion soup while Keith had a terrine, and both were delicious.
The standard was maintained with our main courses – coq au vin in a rich dark sauce for me, and steak with crisp golden potato slices and ratatouille for Keith. With this we drank a half-litre of the local Pays du Lot.
Finally, Keith had café gourmand, a tray of three little desserts and a coffee. I helped with the coffee.

We thanked our host as we rose from the table and he engraved himself forever on my heart by saying that my French was excellent and that I hardly had an accent. It was not true, but I felt absurdly pleased.
Previous section: Figeac to Souillac
Back to this section's summary