Saturday, 4 July 2015
Distance 18 km
Duration 4 hours 0 minutes
Ascent 71 m, descent 42 m
Map 127 of the TOP 100 lime-green series
After the baking temperatures of yesterday, we had all the motivation needed to get up before 6 o'clock and hurry back towards the bar at the bridge. Across the river, the sun was just crawling over the roof of the château as we arrived at the boulangerie, and we were the first customers of the day in the bar.


There was something deeply satisfying about the sight of the bar table laden with two large cups of black coffee, a jug of hot milk and two beautiful pastries laid out on a paper bag. So often our days begin without this pleasure.
Local people came and went, buying papers or having a quick coffee at the counter, while we studied our maps.
We did not dare delay too long, however, and it was not yet 7 am when we shouldered our packs for the day's walk. The houses lining the little road petered out almost immediately, whereupon the road became a stony farm track through an ocean of bright green corn.

Ahead was a long arched railway viaduct, a sure sign that the land was prone to flooding (from the Loire). This probably explained why the water-hungry corn looked so prosperous.
After threading our way under the viaduct, we joined a road and marched through the middle of the village of Poilly-lez-Gien, which was strung out along the railway line.

Past the last houses, we continued parallel to the railway line, on a road that soon degenerated into a track and veered away up a hillside of dry rapeseed.
The track was evidently not much used and we started to wonder whether we would get through before we lost our way completely.

Our socks were full of annoying seeds and the heat was increasing by the minute.
At last we made it to the top of the rise and joined a much better track. Someone had mowed it recently, so we sat down and emptied some of the seeds out of our shoes and socks before pressing on.

This path went round a small lake lined with willows, a pleasant change after the parched wasteland of rapeseed, then beside some fields of newly harvested hay, where the great golden cylinders of the crop lay haphazardly on the stubble.
There were patches of forest between the fields, but they were not the grim grey quagmires that we had met near Toucy.



Eventually our track met a marked GR (a variant of the GR3) and from that point on, we had no navigational worries.
Emerging from the trees, we followed a dusty white wheel track which became a road as we drew near to the village of Coullons, our destination for the day.

It was then that Keith was struck down by the same violent pain in the leg that had almost ended our walk a couple of weeks ago. He hobbled the last kilometre into town, past the great stone church at the top, and a little bit further on to the restaurant called la Canardière.
By an odd chance we had actually been booked in at this restaurant for last night, a rare occurrence for us. We had sent an email from Australia enquiring about whether they would be open on the evening of the 3rd of July, and had got the reply that yes, they would be, and that we had a reservation. But because of the extreme heat were a day behind schedule.
It was a big, imposing building on a corner, with a terrace at the back. The terrace was actually a large wooden deck with a roof, looking out onto a small square. We were shown to a table by a shy young girl, who went off to make our coffee.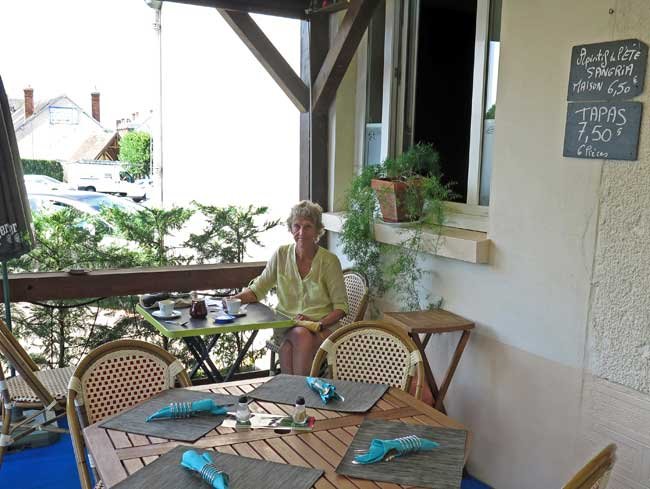 I took off my shoes and a shower of grass seeds poured out on the carpet, causing me to scrabble about trying to tidy up the mess before she came back.
It was only 10:30 am and we were almost finished for the day, which was a good thing considering Keith's state.
We were very grateful that we were here, despite the upsetting blueness of the carpet.

Eventually we went to pay and a man in a chef's cap appeared. He looked like the boss so I said that we owed him an apology for not turning up last night, whereupon he took a scrap of paper from the desk, with Keith's name on it, and declared that he had been worried about us when we failed to arrive.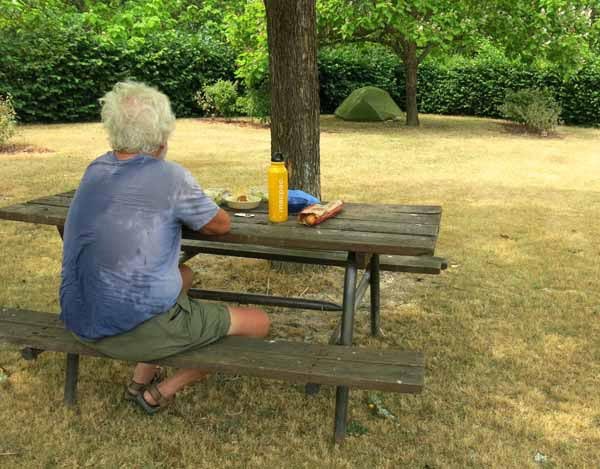 However they would be open tonight and he would expect us. We parted with warm handshakes. It was all quite lucky, as the place was only open in the evening on Friday and Saturday nights, and there was nowhere else to eat.
It was about a kilometre to the camping ground and every step of it was torture for Keith. From the church we descended to a lake, surrounded by lawns and trees and weekend fishermen, and took a track along the shore that led up through a tall avenue to the camping ground.
Here everything was spick and span – the hedges trimmed, the grass mown, the ablutions block neat and clean – but there were hardly any campers in residence. Being a few miles off the Loire made all the difference between here and Gien.
This did not bother us, as all we wanted was somewhere for Keith to rest his leg. He was exhausted by the pain and incapable of even having a shower at first. We had lunch at a picnic table with the eggs, chicken and bread from last night, then put up the tent in a shady corner. After hot showers and a change of clothes, we lay down for the afternoon.

Our only activity was to take Keith's leaky mattress/bedroll to the laundry tub and submerge it, to reveal a stream of bubbles which we patched, feeling very pleased with ourselves.
When we set off back to town we walked slowly and carefully. In the main street we saw a bus stop and even looked at the timetable in case Keith was still crippled in the morning and we needed to catch a bus. That would have meant that the walk was over. But for now we were concentrating on this evening's gastronomic pleasures.
At la Canardière there were already a couple of diners on the terrace although it was only 7:30 pm, far too early for French people to arrive.

We sat at a little table on the footpath to have our apéritifs, as we did not want the waitress to think that we were ready to order dinner yet.
Eventually we went up to the terrace, which was now well filled with people.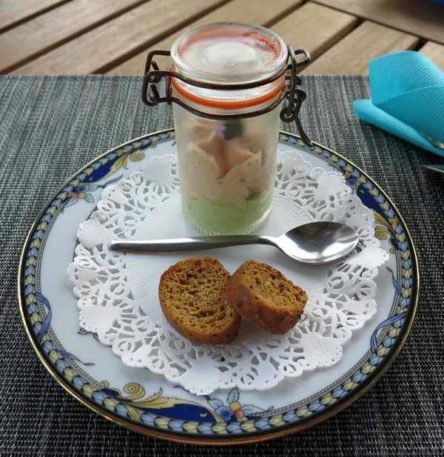 The menu was on a blackboard, two courses for €19.50, but it was really two and a half, as we started with a mise-en-bouche of asparagus and crab paté, presented rather post-modernistically in a glass jar.
As entrées Keith chose gazpacho, his favourite soup, which has as many variations as there are restaurants in France. This one had slices of tomato and herbs floating in a light broth.
I had a pale, spicy vegetable terrine with salad, and we both had nasturtium flowers on top and artistic swirls of sauce around our plates.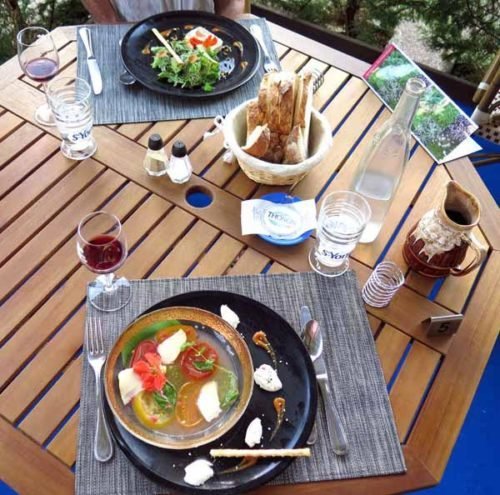 Our main courses were both lamb. The meat was hidden in a jacket of filo pastry, around which were various delicious bits of vegetable matter, some of them recognisable (the purple carrot, the baby turnip) and some not.
Inevitably our plates were crowned with a nasturtium flower – someone's garden was much less colourful than it had been earlier in the day.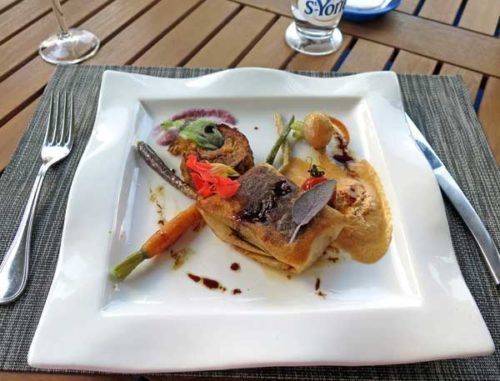 Later the friendly chef came out to chat, and revealed that his apprentice had just gone to work in Melbourne. It is always a surprise when French people have any direct contact with Australia, as, unlike the Greeks and Italians, they are not great emigrants.
Back at the camping ground, there was still no sign of anybody to pay, so we resigned ourselves bravely to another free night, our fourth so far on this walk.
I took the mended mattress, just in case it was still leaky and it turned out that it was, so I did not sleep very well.
Previous section: Toucy to Gien
Back to this section's summary