Monday, 10 July 2017
Distance 23 km
Duration 4 hours 55 minutes
Ascent 58 m, descent 83 m
Map 141 of the TOP 100 lime-green series
From the moment when we stumbled through the door of the farmhouse yesterday, wet and bedraggled, we had been looked after magnificently by our Dutch hosts, and there was more to come.
They had offered us breakfast, and not just a simple French breakfast, but the full Dutch spread.

It was an offer that we were hardly likely to refuse, and at the appointed hour of 7:30 am we presented ourselves in the dining area.
A table had been set with an amazing array – boiled eggs, cheeses, sausage, orange juice, yoghurt, cereals, jugs of coffee and hot milk, bread, butter, croissants and various jams. Not wanting to offend, we ate everything.
Finally, at about 8:30, after thanking our hosts yet again, we set off, much happier than we had been when we arrived.
The first two kilometres were a continuation of the same road, but then we veered off on a wheel track, crossed a stream and joined another small bitumen road, which ended abruptly in a field of corn.
A wide, grassy path led off to the right and we followed it a short way until we saw what we were looking for – a well-used dirt track that took us through a patch of woodland up to a road, which we crossed, arriving at a bigger road (the D21) soon after.

We were only on this for a few hundred metres before diving off on a small local road that wended its way through the fields and delivered us into the streets of Varennes-sur-Allier half an hour later. By now it was nearly 11 am, high time for another breakfast.
The central shopping area of Varennes was enclosed by two big parallel streets interlaced with smaller ones, and we wandered around for a while looking for a boulangerie, eventually finding one near the church.


With our bag of croissants in hand, we went up the side street and sat down at a bar just opposite the Mairie, which was a stately old white building with a clock tower and a lot of flower beds.
After this refreshing pause, we walked down through straggling, rather derelict streets, crossed the railway line and arrived on the wrong side of a high wire fence, inside which were rows and rows of long metal sheds – a military base of some kind.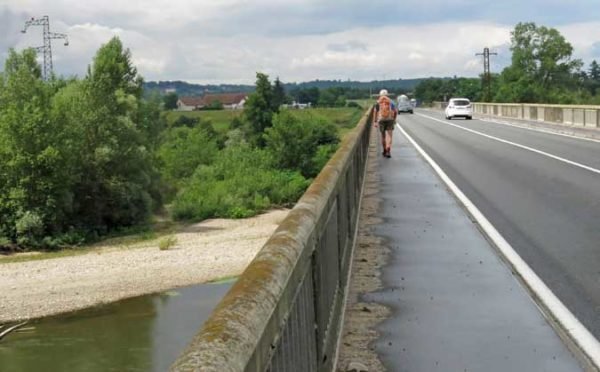 We kept walking while it began to rain lightly, and a kilometre or so later we came to a roundabout where several large roads coincided, including one that was so new that it was only on our map as a dotted line, and the dirt and rubble beside it had not even had time to grow weeds.
We were not far from the great bridge over the Allier, the only one for miles in either direction, so we were obliged to trudge along next to the shrieking traffic until we had made the crossing, but as soon as we could, we turned off on a quiet gravel wheel track and once again exercised our sovereign right to walk down the middle of the road.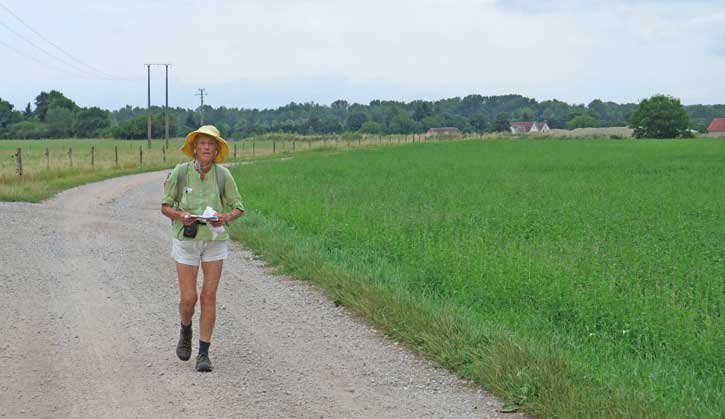 Then there was a short piece of bitumen before we entered a deciduous wood, where the track was stony and eroded, and we had to dodge puddles.
Nevertheless, it was a pleasant walk, that is until we came to an intersecting forestry road.
The track beyond, which was shown clearly on our map, simply did not exist – a wall of scrubby vegetation barred the way.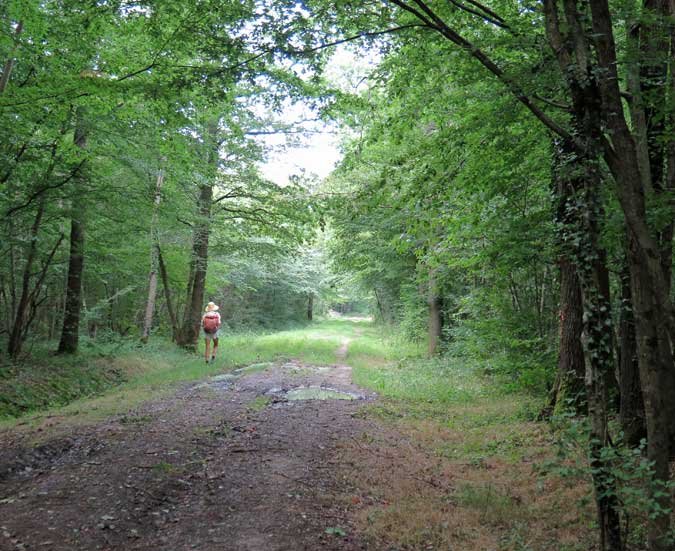 We had no choice but to turn onto the forestry road and join the highway (the D46), the same unpleasant road on which we had crossed the Allier half an hour before.
We were approaching the town of St-Pourçain-sur-Sioule, and at the first opportunity we took a side road that went down through a small industrial estate, crossed the railway line again, and eventually delivered us to the D46 just at the bridge leading into town.
Immediately after this bridge, we turned left and entered the camping ground, which occupied a small island in the river Sioule.
It was a pretty little place, with mown lawns, clipped hedges, thick, leafy trees and a great many caravans and tents. We had showers in the sparkling ablutions block and washed our sweaty clothes, then stretched out in the shade. It had not been a hard day's walk but it was good to be finished.

Later, on our way out, we asked the man at the reception to recommend a restaurant.
At first he mentioned the one at the entrance to the camping ground, but then remembered that it was closed on Mondays, so he gave us the name of a couple on the main street – le Chêne Vert and le Bistro Bourbonnais.
This main street was none other than the dreaded D46, but as it came around the corner from the river, it divided in two, with rows of beautiful trees in the middle, and shops on either side.

We had no trouble finding the two eateries (they were side by side), but we rejected both of them, for opposite reasons.
The Chêne Vert was a hotel, and the dining room had a hushed, obsequious air, as well as being ridiculously expensive.
The Bistro Bourbonnais next door was little more than a bar, although people were eating there – hamburgers, chips and pizza were the only things on the menu.
We sat down outside the Bistro for a glass of rosé while we considered what to do, and while we were there we noticed through the trees, on the opposite side of the road, a hotel-restaurant called the Globe.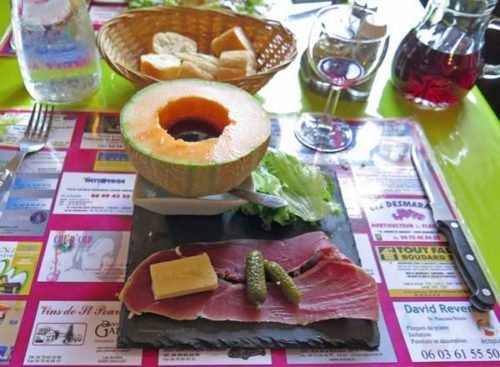 We went over to check the menu and it looked excellent – €15 for three courses, with all the traditional French dishes. Tables were set out on the footpath, but it was getting cool and I had not brought my warm top, so I was relieved when our hostess asked whether we would like to eat indoors.
It turned out that there was a cosy room behind the bar, already half full of diners. We could imagine what a haven it would be on a winter evening.

To begin our meal, Keith's had ham and melon, with tiny gherkins and a great slab of butter, which is always a luxury to us. I had delicious oeufs mayonnaises reposing on a bed of lettuce, and I borrowed a bit of Keith's butter to put on my bread.
After that I had coq au vin, with new potatoes sprinkled in parsley, while Keith stuck to the tried and true entrecôte and chips.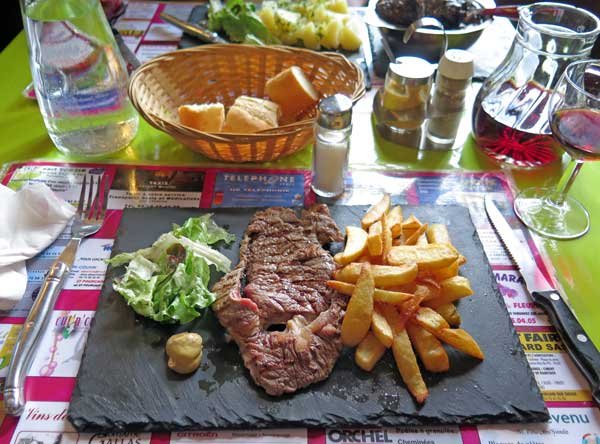 When we had finished our wine, we moved on to dessert. I could not resist another Café Liégeois – I still remembered the one at Digoin three days ago – but Keith had a slight variation, a Caramel Liegeois, which he said was just as good.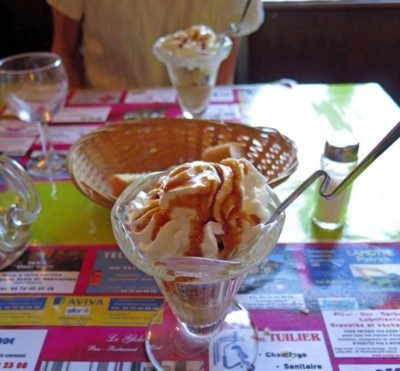 As we walked back to our tent at 9 pm, the light was fading slightly and the river was like glass, reflecting the graceful arches of the old stone bridge.

Previous day: Dompierre-sur-Besbre to Treteau
Back to this section's summary