The last time that we were in Le Puy, we said to ourselves that there could not possibly be another route to take from there.
After all, we had already started or ended five distinct walks in this town (the pilgrimage to Compostella, the Robert Louis Stevenson walk, the Régordane, the Gorges of the Loire and the Way of Geneva).
But here we were again, setting off in a new direction. This time we headed generally west for a couple of days until we struck the Allier river, then followed it downstream (north) as closely as we could, to the big town of Issoire.

It had been raining for weeks until the day we began walking, but we had beautiful clear weather all the way.
The land was hilly, although not impossibly so, and the river snaked its way through many small green domes, almost doubling back on itself at times. However, by the time we got to Issoire, the land was much flatter.
The river towns of Langeac, Lavoûte-Chilhac and Brioude provided excellent camping, as well as beautiful dinners and breakfasts, so we were very pleased with this first section of our Allier walk.
Getting to le Puy-en-Velay
We left home early on Monday morning, shivering in our French summer clothes, and caught the local bus, which was full of office workers, to town, then the long-distance bus to Sydney International airport.
As the winter scenery flew past the window, I savoured the fact that I had swept my last floor, washed my last dish, stirred my last pot and made my last bed for over five weeks.
With the minimum of fuss, we were whisked away to Singapore, where we had a pause of three hours, time for a round of non-airline coffee. The most upsetting feature of the airport was the carpet – a mess of black and white streaks like a dirty ski-field.
The second leg of the flight was rather luxurious, as we had paid a bit extra to have exit-row seats and could stretch our legs out. I whiled away the time with a mini French film festival, watching six French films in a row, all interesting and enjoyable.

Once on the ground in Paris, we caught the train to the Gare du Nord, then walked through the morning streets to the Gare de Lyon.
On the way we stopped on the Boulevard Magenta for croissants and coffee at the busy Bar Métro, where bikes and cars jostled past under the plane trees, to the music of sirens and jack-hammers. We breathed in the fume-laded but seductive air of Paris.

By the time we arrived at the Gare de Lyon we were hot and tired. We bought a foot-long "sandwich" and a salad at Paul's and ate them on the TGV as we hurtled along.
Because we kept falling asleep, the journey did not seem long and we soon found ourselves at St-Étienne, where we had to change trains.

At this point the campaign of railway strikes that has been plaguing France for months caught up with us, and we had to wait an hour and a half instead of six minutes for the connection.
However there was a pleasant tree-shaded café across the road, which we occupied, together with several other waiting groups of walkers.
We got to Le Puy at about 7 pm and stopped at the first restaurant that we came to on our way to the camping ground.

There was a terrace, bordered by lavender in tubs and carpeted in artificial grass, on which we had a delightful meal surrounded by many other diners.
Our first course was halfway between a salad and a ratatouille, and we followed that with steak for me and an escalope and pasta for Keith.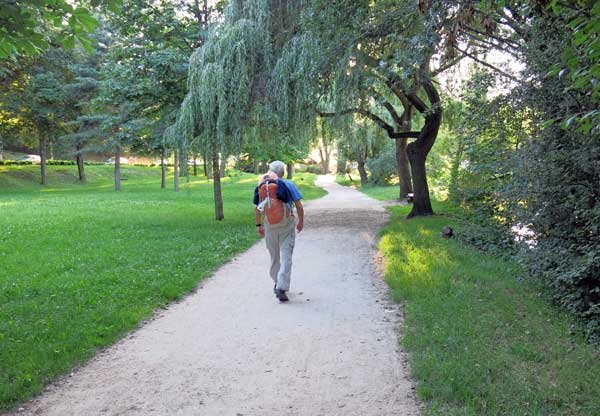 We found ourselves slipping back into the familiar pleasures of eating out of doors in France. There was even someone sending out great clouds of vapour from an electronic cigarette.
The way to the camping ground was along the small river Borne, and as we strolled along the riverside path we fell into step with a local man, who complimented us on our timing, as he said it had been raining every day for weeks until today.
He proudly pointed out a vegetable garden that had been donated by the commune for old people to cultivate, then we parted company as he turned off towards the hospital to visit a relative.
The camping ground was the same as ever, sprinkled with the small tents of aspiring pilgrims as well as the usual campervans.
We did not have the energy to do more than put our tent up before fatigue overcame us and we went to bed without even a shower.
Day 1: Le Puy-en-Velay to St-Paulien
Day 2: St-Paulien to Siaugues-St-Romain
Day 3: Siaugues-St-Romain to Langeac
Day 4: Langeac to Lavoûte-Chilhac
Day 5: Lavoûte-Chilhac to Brioude
Day 6: Brioude to Brassac-les-Mines
Day 7: Brassac-les-Mines to Issoire