Sunday, 1 July 2018
Distance 13 km
Duration 2 hours 50 minutes
Ascent 171 m, descent 68 m
After sleepless hours in which I was tormented by irrational, childish fears, dawn finally came. I felt terrible, but at least the ordeal was over.
I dragged myself up and we set off just after 6:30 am, turning away from the town and crossing the Dore again.

On the bridge the same civic pride was visible as we had seen in the camping ground, and it was not the fault of the commune that nobody but us had wanted to camp there that night.
A couple of kilometres later, having crossed the flood plain with its carpet of ripe wheat, we came to the Allier river.
It was the first time we had seen it since leaving Longues four days ago, and the last we would see of it for another four days.
Just past the bridge we climbed into the village of la Jonchère, where there was a bar, or rather the sad remains of one.
We sat glumly on the doorstep and munched some bread and meat saved from last night's dinner, then trudged on along the small D63.
It was Sunday morning and there was no signs of life on the road, especially when it turned to gravel.

After crossing a couple of streams, we came to another tiny road – more a cart-track with a lick of tar on it – that went along beside a stream at the foot of two bulging, breast-like hills.
Here we saw a pair of stout middle-aged men coming towards us at a trot, and they stopped to exchange pleasantries.
This was their regular Sunday morning exercise, they said, and were duly impressed when we said we had been walking every day for almost two weeks.
Taking a gravelly road up the cleavage between the two hills, we came to a farmhouse (la Brousse) and turned west on a wide, grassy track that descended slightly through fields of golden wheat, which were being harvested as we walked by.


Eventually we came to a bitumen road again, crossed a railway line and found ourselves climbing seriously for the first time that day. Randan was visible on the ridge above us, stretched out in the sun like a lizard on a rock.
By the time we got to the top I was really fading, from the combination of blisters and lack of sleep. It was good that we had decided to break up what was originally going to be a very long day's march.
The first thing we saw when we arrived out of breath in the village was the hotel, a fine-looking building of dark, patterned brick, with a wave of wistaria billowing over the balcony.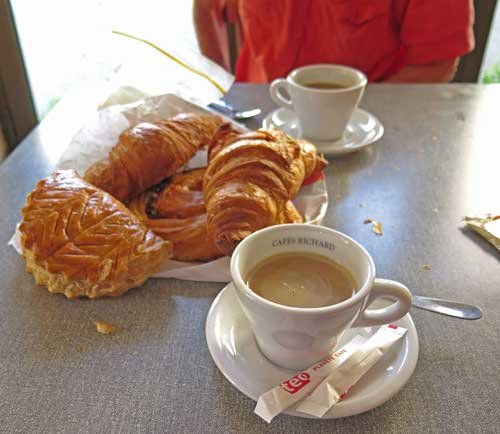 The second thing we saw was a boulangerie across the road, so without delay we acquired two croissants, a pain aux raisins and a chausson, and took them to the hotel bar.
Inside it looked austere and rather gloomy, and so did the barman. Some guests were still having breakfast, as it was barely 10 o'clock, and Monsieur apologised that our room was not ready yet, but we were very happy to be sitting comfortably over coffee, knowing that the day's exertions were over.
Leaving our packs with the lugubrious barman, we went for a walk up the main street of the town, and were delighted to find another bar opposite the church, with a wide terrace covered by cheerful orange sails, and plenty of people enjoying themselves on this warm Sunday morning.

It was run by a large, plump, smiling couple, who seemed to know everybody (except us of course). Another round of coffee slipped down very easily, and the barwoman assured us that we could eat there in the evening, as long as we wanted pizzas.
This was good to know, as the hotel restaurant was closed on Sunday evenings, and in any case it did not look a very jolly place to eat. The other good news was that the bar would be open early in the morning, at 6:30.
Beside the church, at the top of the hill, a tree-shaded park stretched away out of sight. This was all we saw of the Royal Domain of Randan, once the residence of kings, and especially favoured by François 1, that great sixteenth-century patron of the arts.

On our way down the street, we revisited the boulangerie and discovered that it did not open in the mornings until 7.
We bought two apple chaussons for breakfast, as we intended to start walking early, to avoid the heat of the day, and we would try to be at the bar at 6:30.
Back at the hotel, we were shown up to our room, which was surprisingly light and modern, with a spacious bathroom and a balcony covered in wistaria.
We stayed there all afternoon and I caught up on the sleep that I had missed in Puy-Guillaume.

At about 6:30 pm we went back to the cheerful bar, which was full of people and life, and had our customary glasses of rosé, then ordered pizzas, as everybody around us was doing.
There was also a stream of people coming to collect takeaways. Keith had a chorizo pizza and I had jardinière, both excellent, but I only ate half of mine before I was full.

We amused ourselves watching the other diners. Several burly, insufficiently clad girls covered in tattoos occupied one table, and at another was an ancient but immaculate couple, who shared a pizza – he wore a dapper jacket and had his silver hair slicked back with oil, while she had startling blonde curls and wore what looked like a yellow nightgown.
In due course we retired to our luxurious room for more sleep. It was a hot night, so we had the windows and shutters flung wide, letting in a delicious light breeze.
Previous section: Issoire to Puy-Guillaume
Back to this section's summary