Tuesday, 3 July 2018
Distance 25 km
Duration 6 hours 0 minutes
Ascent 380 m, descent 490 m
Following two easy half-days of walking, this one was to be a normal length, so we thought it wise to start as early as possible. In any case it is our habit to set off early, to escape the afternoon heat.
We left the camping ground at 6:35 am and got to the bar in town just as it opened at 7.
The big boulangerie next door was also open after its day of rest yesterday. It is hard to find a boulangerie anywhere in France that is open on Mondays.
We got four light, still-warm pastries and ate them with our coffee at a table indoors, as the outdoor tables had not yet been set out.

A second round of coffee was tempting, but we managed to resist, as we were hoping for refreshments at Ébreuil.
It was a cool, clear morning and by 7:30 am we were well on our way, at first on the D516, which was lined with houses.
Just past the graveyard we veered off on a patched little road, shady for the most part, which rose steadily for a couple of kilometres until it plunged down under an autoroute.

Immediately after that we left the bitumen, but it was not as easy as we thought.
The track that we wanted was blocked by an unfriendly-looking gate, but we just lifted it off its hinges and continued on our way (after putting the gate back on its hinges, of course).
This track wandered over the rise and began to descend rapidly, past a series of ponds.
We went through a yawning archway under another autoroute, then continued to descend through open fields.
The village of Ébreuil was ahead in the fold of the river Sioule.
Before long our track joined a road and swung over the ancient stone bridge, to which an incongruous modern cycle lane, made of red metal, had been attached.
The houses lining the river bank were imposing – large white mansions with lichen-encrusted red roofs, set in elaborate gardens.
Somewhere among them were the remains of a royal palace from the days of Charlemagne, when Ébreuil was one of the four capitals of his empire.
Also a few remnants of the abbey Saint-Léger, which lasted for nine centuries (from the ninth to the eighteenth), after king Lothiare donated the land to some monks who were fleeing from the Vikings.
At its height the abbey possessed about fifty dependent churches and was a destination for pilgrims, thanks to the relics of St Maixent – not the best-known of saints these days.

Ébreuil was also the stamping ground of the swashbuckling eighteenth-century highwayman Mandrin, who came to a sticky end after killing several constables.
All this past colour and glory was difficult to reconcile with the present modest village, with its few shops and one bar.

We sat down with our coffee at an outdoor table across the street from the bar, and savoured the peace of the present day, as well as a crosissant left over from Gannat.
From Ébreuil we took a steep old road, signposted as a GR, up through the forest to the top of the escarpment.
The cobbled surface that had been so painstakingly laid in previous centuries was still mostly there, although weedy and uneven.
When we emerged from the trees we looked ahead onto descending sunlit wheat fields, and soon joined a bitumen road that zig-zagged over the high plateau.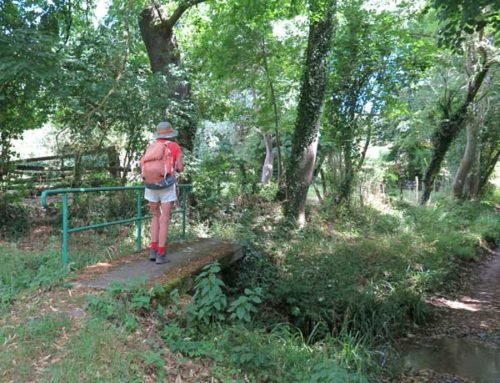 Then we turned off the road, obedient to the GR, and followed a grassy old way until we came to a ford over a pebbly stream, with a footbridge beside it for people like us.
We began climbing again, leaving the GR temporarily in favour of a shorter route past scattered houses, and we were near the top of the rise when we saw an inviting swathe of green lawn under a line of chestnut trees, just the place for a rest.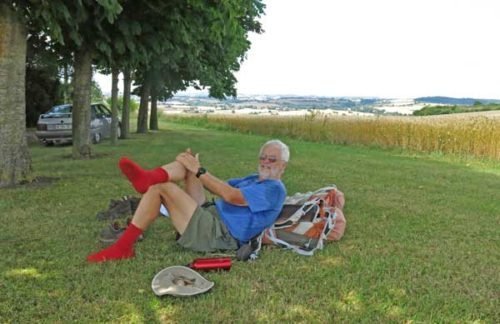 There was a house nearby and we hoped we were not trespasing.
After setting off again, we very soon rejoined the GR as it came up through the wheat, and continued, wending our way down to the next stream, at which point we swapped over to the bitumen and arrived in Bellenaves on the ruler-straight main road, the D43.

This was a compact little village of only a few streets, but including a grand château hidden by trees behind tall gates, and a twelfth-century church with a shapely octagonal bell tower.
The commercial life of the town radiated from a central fountain, but there was not much to see – a bar, a boulangerie, a hotel-restaurant, an Office of Tourism (closed) and a Petit-Casino supermarket.
We knew that the camping ground was half a kilometre further on, past the cemetery, but we felt that the day's walk was done, and celebrated with a cold beer at the bar. This also served as our lunch.
Feeling very relaxed, we then wandered on to the camping, which at first glance was imposing, with a large building labelled Gîte d'Étape at the front. Behind was the office, a shower block and a games room, all locked except for the showers. There was one tent, but nobody in sight, and it felt about as lively as the cemetery that we had just walked past.

Nevertheless we unpacked, had showers, changed our clothes and lay down for a rest. After a while a woman emerged from the tent with two small children and went to the little playground, ignoring our friendly smiles.
Later a car appeared, containing presumably the father of the family, and they all got in and drove away. This was exactly the sort of situation that I most hated, but I told myself not to be weak, other campers were sure to arrive.
But by 6 pm nobody had, and as we needed to go back to the village for dinner, Keith argued that it would be better if we just took everything back and booked in to the hotel.
With great relief I allowed myself to be persuaded, and we hastened back to the land of the living.

At the hotel we were shown to a room that looked out onto the church. The dinner menu did not look very appealing, but there was no other restaurant in the place.
Before eating we walked back to the bar for an apéritif, and while we were sitting there we had the idea of buying some food at the Petit-Casino and having a picnic in our room.
By then it was 6:55 pm and the shop closed at 7, so we rushed down and got through the door in time, collecting a tin of choucroute garni, a camembert, half a baguette, some sausage and a bottle of local wine.
Back at the hotel, we paid madame for the room and I lied that I was feeling sick, so we would not be dining tonight.

We had a lovely evening in our room, with the window wide open romantically onto the church.
Starting with another round of showers, we set out our picnic on a towel on the bed, and as we ate we watched a World Cup football match, just for the pleasure of having a television.
I was so relieved that I was not still at the camping ground, and grateful to Keith for indulging my little weakness.
Previous day: Randan to Gannat
Back to this section's summary