Thursday, 12 July 2018
Distance 19 km
Duration 4 hours 20 minutes
Ascent 206 m, descent 223 m
With no prospect of coffee in town, we saved ourselves the walk, and set off away from the houses, past the playing fields, towards an underpass of the A77.
We had considered having muesli before we left, but had decided not to bother, as we had marching food in the form of half a croissant from yesterday and the last of the home-dried fruit from our garden in Australia.

After the underpass our small road continued and we ambled along through the fields, rising gradually, until we reached the foot of a heavily wooded steep ridge and entered a tunnel of greenery. There was a château somewhere high above us but we did not see it.
For reasons unknown, this part of the road was lined with opulent mansions set in elaborate gardens – a sort of millionaires' row in the middle of nowhere.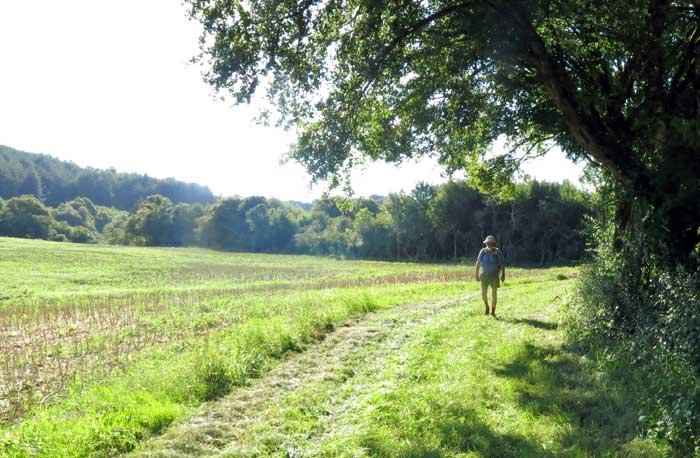 After a kilometre or so of this, we emerged from the forest and were joined by the GR654 (the Way of Vézelay) coming in from our right.
The road began to descend, but we left it shortly afterwards, in favour of a farm track going parallel behind a band of trees. We were getting bored with walking on bitumen, which we had been doing all day, and it was a relief to be walking on grass again.
Soon we regained the road and entered the pretty village of Chaulgnes, which was dominated by a tall, pale church looking down on public gardens and a school.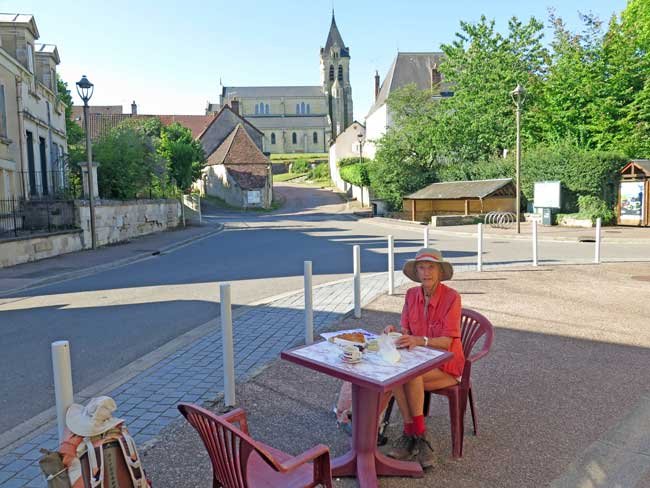 As we arrived we saw a bar on the corner but, to our great disappointment, the door was closed, and the chairs and tables stacked against the wall.
A couple of hundred metres further along the street was a small supermarket (closed exceptionally this morning) and a boulangerie which was open, and which, by a miracle, had a coffee machine.
Then we were disappointed for a second time, when the girl in the boulangerie said that they only served coffee at weekends.
Consequently, instead of croissants, we bought a tarte aux poireaux and a tarte aux myrtilles, thinking that they would be easier to eat in the absence of a hot drink.
When I mentioned to the girl that the bar was closed, she was mystified, and said that it should have been operating. So with a mixture of hope and doubt we walked back, tried the bar door and it opened!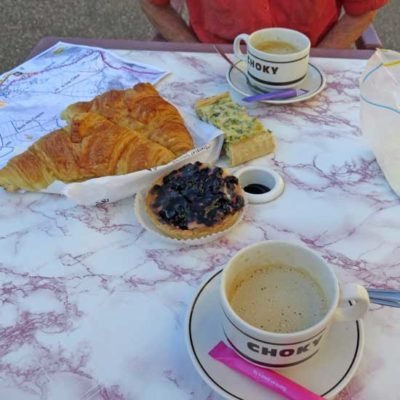 A large bristling dog barred the way but its owner, a tiny old woman, soon bundled it out the back door and took our order. We went outside, dragged a table and two chairs from the wall and set them up in the shade while she made the coffee.
I asked her to heat up the milk, which she did, but when she came back she admitted apologetically that it had curdled, and that she had no more. However, we assured her that it was fine, because we had powdered milk in our supplies.
Then I rushed back to the boulangerie for two croissants, so in the end we had quite a feast for our second breakfast – or was it our first?.
After this satisfying break, we followed the GR, which went first through a forest on a pleasantly shady path, and then on some minor roads.

When the red and white signs turned away towards la Marche (the original site for the Cluniac abbey which was subsequently established at la Charité-sur-Loire) we parted company with the GR for a while, preferring a more direct route.
We crossed a highway and went under a raised railway line, at which point we reconnected with the GR after its wanderings.
From then on we stayed close to the railway line as we approached la Charité-sur-Loire, but the going was not as easy as we expected and, unlike the railway line itself, far from flat. We had three big climbs to negotiate.


A friendly dog walked with us for a while, until we started to worry that it would get lost and had to stamp our feet at it to make it go back.
Finally we reached the crest of the rise and got our first view of the river and the great bulk of the abbey.
As we descended towards the town, the gaunt new houses high on the ridge gave way to older, closer-set terraces, then shops and bars.
At the abbey, among the crush of tourists, we found the Office of Tourism, and went in to ask them to telephone the two gîtes at Châteauneuf-Val-de-Bargis, our destination for tomorrow.
Gîtes are not normally our favourite accommodation, but there was no camping ground there and no hotel in that village. We had been warned that it was necessary to book the gîte ahead, but we did not have a phone.
Our man tried the first gîte but it was booked out. The second one did not answer, so we arranged to come back after lunch.
Meanwhile we went to the camping ground, which was on an island in the Loire. We had camped here before and it looked much the same, but now there were security codes on the gates and a special area beside the water, reserved for small tents.
This area was almost empty when we arrived but later filled up, mostly with cyclists. Our tent was shaded by riverside trees, with the Loire sliding smoothly along just behind our washing line.
Back at the Office of Tourism at 2 pm, there was still no reply from the gîte, so we went off and had coffee.

When we returned, our obliging man got through to the gîte and booked us in. We were to pick up the key from the café in the village. This was a great relief to us and we thanked our helper very much.
He was determined to speak English to us, but I was just as determined to speak French to him, so that is what we did, to everyone's satisfaction and amusement.
After a reviving doze beside our tent, we walked back to the bridge via a riverside lane, and managed to get an outdoor table at the pizzeria overlooking the Loire.
We were lucky, because it was the last one outside, and later arrivals had to go indoors, which was not as good on a warm night.


From our table we looked onto a wide pool in the river that was used at one time as a resting and refuelling place for seaplanes making the journey from Paris to the Mediterranean – hard to believe now.
As usual we started our meal with a salad, fresh and simple, and a quantity of bread. To follow Keith had a pizza and I had a vegetable gratinée which was more substantial than it looked.

I was obliged to smuggle half of it into the plastic bag which I always have about me for such moments.
The local red wine was delicious, and a wasp had the same opinion, with the result that I was stung on the lip when I took a sip. That was the first of many encounters with wasps, although the only time that I was actually bitten.
Previous day: Nevers to Pougues-les-Eaux
Back to this section's summary