Thursday, 5 July 2018
Distance 16 km
Duration 3 hours 35 minutes
Ascent 266 m, descent 261 m
Rising early, we left the camping ground with two missions to accomplish before breakfast – visiting the upper town, and buying a map to fill in the gap caused by our change of plans.
We stepped across the bridge that joins the camping island to the mainland and took a narrow, rising street arriving out of breath at a wide paved square with crooked lanes radiating off between the houses.
In the middle was a fountain and all around were thriving shops. It seemed an entirely separate town from the one down on the highway.

While we were there we bought a bag of pastries, and enquired at a newsagent, but they did not have the map we wanted.
Built into a red-brick shop facade on this square rose the rough stone cylinder of the clock-tower, its top sheathed in gleaming metal, looking more like a lighthouse than a terrestrial landmark.
Beyond that we glimpsed a syringe-like steeple, and, descending a little, we found ourselves in front of the great sprawling church of Sainte-Croix.
By this time we were almost back down on the handsome main boulevard where we had been last night.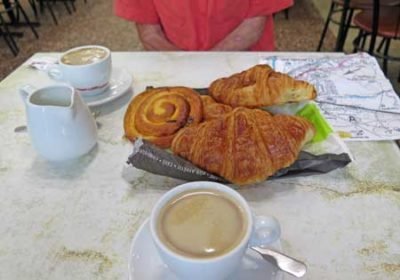 We found the presse (le Bergerac) that our hostess had mentioned last night, and to our great joy, they had a TOP25 map that exactly covered the stretch of country to Moulins that our maps did not. So now it was breakfast time.
Back along the street, we went into the Café du Cours, which was open although far from busy at this hour (just after 7 am).
We had a satisfying double breakfast – two pastries and two coffees each – and then walked down past the Globe and were soon out of town.

Our small road wove its way over undulating fields, and the only slight annoyance was that it began to rain, not heavily, but enough for us to bring our plastic ponchos.
The worst thing about these is getting them on over our packs, and I am not sure how a solitary walker would do it, without the help of another person.

Nevertheless it was a delightful stretch of farmland, planted with corn, wheat and vines.
On the flat land below us the traffic-ridden highway to Moulins (the D2009) sped along arrow-like. After a few miles on our quiet little way, we saw the church of the tiny village of Contigny ahead, flanked by its graveyard the size of a football field.
The dead outnumbered the living by a considerable margin here, it seemed.


On the street below the church was a building whose faded sign announced it as Le Relais de la Sioule, but it looked derelict and we decided that it also had passed into the ranks of the dead.
Just in case, I pushed the door and almost fell inside, surprising the elderly barwoman.
We found ourselves in a large, sparse room with wooden chairs, reminiscent of a schoolroom, with a counter in one corner.
There was no coffee machine, but the barwoman disappeared and came back with a saucepan full of traditional French coffee – boiled and bitter – which we moderated by adding powdered milk. (We were carrying the powdered milk to go with muesli, but so far this year we had never used it for that).

From Contigny we took the small road going north (the D232). At first it went through fields, but after a kilometre it threaded its way between a steep, heavily forested escarpment and a nameless river – not the Sioule, which had already been swallowed by the Allier.
When this road turned up towards the top of the escarpment, we kept going beside the river, on a tiny road whose bitumen soon gave way to gravel, and then to grass. This track was signposted as the GR300.

It had stopped raining by this time, but everything was wet, and we were pestered by mosquitoes until we slathered ourselves in repellent.
However the walking was easy and after half an hour we emerged onto a road near the bridge of Châtel-de-Neuvre, where a sturdy little church stood guard on the hill above.

The river that we were beside now was the Allier itself, which we had not been following for over a week.
This village of Châtel-de-Neuvre was unusual in that it had two camping grounds, the first one very close to the bridge.
As we walked down to it, this first one was deeply dispiriting, with long, rank weeds everywhere, a half-collapsed "Friterie" made of rotting fence palings, and the only occupants a couple of fishermen doing something to a rusty truck. Without further investigation, we turned around and walked back to the road.
After that, the town itself was surprisingly neat and trim, stretched out along the highway, with a boulangerie, a supermarket, a school and a bar-restaurant among other shops.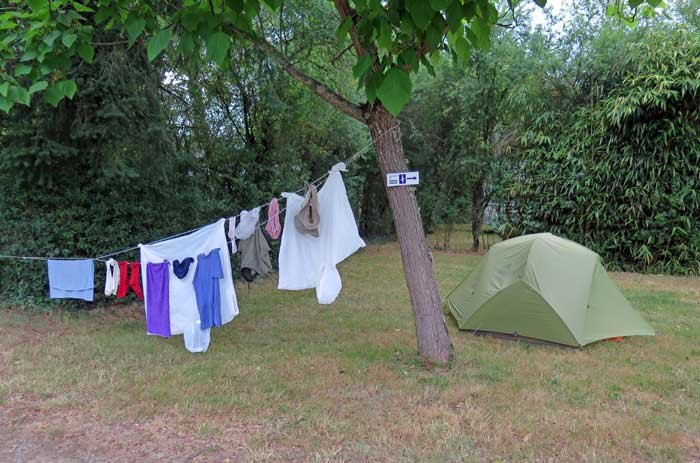 We went in to the bar to ask about dinner tonight, and ended up being persuaded to book a table, although we were starting to worry about whether we could stay in this village at all.
The second camping ground was further on and a few hundred metres off the highway, on the riverbank. It was hidden by trees as we approached and we feared a repeat of the first one, but it turned out very different.
The grass was neatly mown and there were cars and vans parked in most of the allotments.
The reception building looked like a well-kept private house, approached through a flowery garden, and tables were already laid inside for dinner. Once again we were prevailed upon to book a table.

Our spot was pleasantly shaded and surrounded by campers with Belgian vehicles, suggesting that the owners were possibly Belgian themselves (it was beyond us to detect the Belgian accent in spoken French).
It was a relief to know that our problems were over for the day, and that all that remained for us to do was to have showers, wash our clothes and put the tent up.

At half past seven we walked back to the dining room, which by then was half full of people.
As we sipped our preliminary glasses of rosé, our hostess brought us each an amuse-bouche – a tiny glass containing an olive, an artichoke heart, and a square of fetta.
For the main course, Keith chose steak and chips (what a surprise!), while I had chicken in a creamy sauce, with so-called gratin dauphinois, which turned out to be no more than mashed potato cakes, strengthening our suspicion that our hosts were not really French.
We also had a dish of ratatouille, and it added up to a fine meal.

We were delighted to be sitting up in our best clothes being waited on, with the murmur of conversation around us.
To finish, Keith had a café liegeois for the second night in a row, and I had a small café crème.

After that we retired to our excellent riverbank accommodation and slept the sleep of the well-fed, physically tired but unworried walker.
Previous section: Puy-Guillaume to St-Pourçain-sur-Sioule
Back to this section's summary