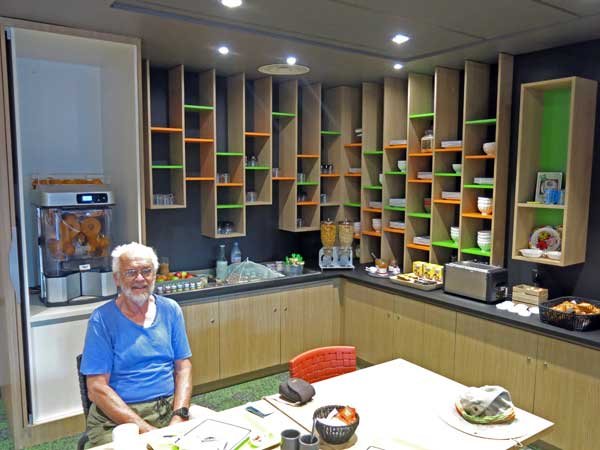 Saturday, 7 July 2018
Distance 26 km
Duration 5 hours 20 minutes
Ascent 253 m, descent 221 m
Breakfast at the hotel was served from 6 am, but despite our best efforts we did not get there until 6:20, Even so, we were the first arrivals.
The room had the severe appearance of an office or a laboratory, with the walls covered in pigeon-holes containing the bowls and plates, and merciless overhead lighting.
The only softening aspect was the food itself, which was set out invitingly on the benches.


There was an egg-poaching bath (which we recognised from Issoire), in which I cooked three eggs – one to eat then and two to smuggle out for later.
We also demolished fruit, yoghurt, lengths of baguette, croissants, butter, jam, cheeses, ham and several refills from the coffee machine.
Some of the ham, cheese and baguette joined the eggs in my pack before we marched forth for a day on the roads.

Because of our change of plan, we were obliged to walk along the western highway (the D945) for the first ten kilometres or so until we could take a side road.
As it was Saturday, and still early in the morning, the traffic was light, although it increased as we went along.
The first few kilometres of this road were as relentlessly straight as any Roman general could wish, but as we approached Coulandon it detoured around the village and crossed the railway line.

Not long after that we parted company with the highway (although not with the bitumen), taking a small road signposted Besnay, which was also marked as a GR.
This was convenient, as that was where our map ceased. We knew that this GR led to Souvigny, so we were happy to be guided by the red and white marks, not that it was hard navigation.
We entered Souvigny along the side of the massive priory church, the only surviving part of what was once a rich, extensive abbey.
This abbey was founded in the tenth century, one of the oldest "daughters of Cluny", Cluny being the great Benedictine abbey founded in 909 AD, which in the end had over a thousand of these daughters.


The town of Souvigny, now almost unknown, was the seat of the powerful Bourbon dynasty in mediaeval times, and the capital of the district known as the Bourbonnais.
It was still a handsome village and we soon found a bar. It was only 9:30 am but we were ready for a bit of café life after all that pounding on the bitumen.
As we were sitting there, we saw a troop of walkers, all kitted out with day-packs and poles, clattering up the street and disappearing into a lane between two buildings.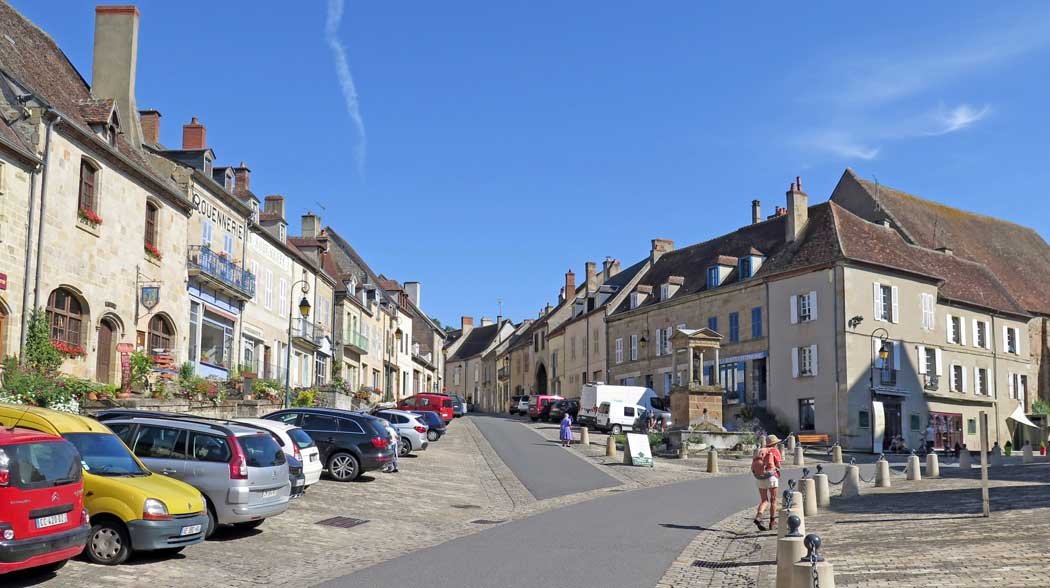 In due course we followed them up the lane, but the other walkers were well ahead and we did not see them again. Without difficulty we connected with the D104 and continued along it for an hour, snaking our way up and down through sloping fields, until we came to the village of Autry-Issards, which was on a small rise.
As far as we knew there were no shops of any sort here, but as walked up we saw a beautiful sight – a cluster of blue umbrellas in front of an old cottage inscribed with the magic word Café. Next to it was a charming little church of age-darkened stone, with a flower garden in front.

We sat down gratefully under an umbrella and ordered Oranginas from the chatty waiter, who said that the café was run by his family, who were Belgians.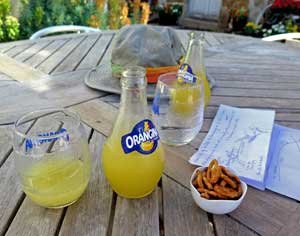 While we were there, I helped myself to some salt which I screwed up in a scrap of paper, to go with the boiled eggs later.

Just as we were leaving, a tiny electric scooter whirred into the square, bearing a large woman swathed in an orange smock, who looked too much of a load for the scooter to manage.
We saw her again when she sailed past us on the road a few minutes later, and half an hour after that she overtook us once more, having presumably turned off to her house meanwhile.
The land was hilly and we were getting tired by the time we trudged up to St-Lazare, which was where our own maps began again.
The town of Bourbon-l'Archambault was soon in sight below and we descended gratefully. At that moment the electric scooter, with its ample orange-clad burden, came up towards us, surprisingly quickly, and this time we all waved and smiled. I greatly envied her the scooter and wanted to get one when we returned to our native land.
We crossed the busy D953 which skirts the town, and followed a grassy lane behind the houses, obviously a former railway track, until it became a street. This emerged onto the steeply descending main street of the town, and just across this street, behind a small château, was the camping ground.
It was a series of well grassed, tree-shaded terraces that extended almost out of sight down the hill (we guessed that it had been part of the grounds of the château in former times) and was crammed with tents and caravans. For some reason all the vehicles were French, without the usual complement of Dutch, German, British and other foreigners.
Having paid our dues (€10. 80), we had showers and lay comfortably on our mats while we ate the ham and cheese sandwiches unwittingly supplied by the hotel this morning. Our neighbours started a game of boules on a stretch of gravel nearby and it kept them happily occupied for the afternoon.
At about 6 pm we finally put up the tent, a task of no more than a couple of minutes (a newly arrived couple near us had been toiling on their palatial edifice for an hour, and were still not finished).
Then we walked into town, and on the advice of the responsable, we went by the back road, past various sportsfields which looked as if they had also been originally part of the château grounds.
We came to a bigger road and turned to plunge down onto the main street, which was lined with grandiose hotels.
Bourbon-l'Archambault in its heyday was a spa town, where wealthy invalids came to have their aches and pains treated, and it still breathed the rather repellent mixture of sickness and luxury typical of these places.
The healing springs had been known since pre-Roman times, but their great boom occurred in the nineteenth century, which is when all the ornate hotels were built.
Walking down the road, we saw many restaurants, but none that appealed to us, so we sat down at a bar to have a drink while we decided what to do.
Suddenly we remembered that we had just walked past a little supermarket, and the idea of having a picnic took hold. Just as the waiter was approaching our table, we got up and scuttled away rather impolitely, leaving him no doubt wondering about the strange habits of foreigners.
At the supermarket, which was on the brink of closing, we quickly collected a tin of sausages and lentils, a tin of mixed vegetables, some bread and cheese, a tomato and a bottle of St-Pourçain wine.
The owner was Moroccan, and when Keith said that he had been to Agadir, his face lit up – that was his hometown. As we left, he shook Keith's hand with tears in his eyes.
Taking the short way, straight up the main street, to the camping ground, we settled down again on our mats, and laid out our picnic.
People all around us were doing the same, although they had the luxury of tables and chairs.
We began with wine in plastic containers (the nearest thing that we had to wine glasses), and had another round with our first course, the tin of sausisses-lentilles.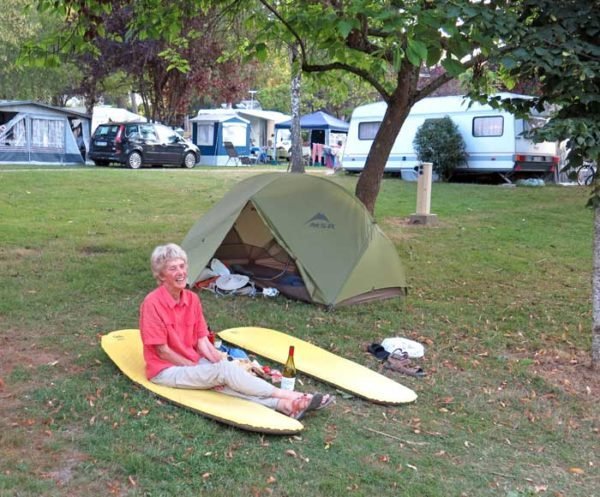 The bread turned out to be inedible – spongy and full of sugar – so we put it away to feed the wildlife in the morning.
Our second course was the tin of mixed vegetables.
There was a lovely chatter of voices around us and we had a couple of laughing exchanges with people nearby.
Altogether it was a very pleasant evening and a much shorter walk than usual to our tent.
Previous day: Châtel-de-Neuvre to Moulins
Back to this section's summary