Monday, 9 July 2018
Distance 14 km
Duration 2 hours 50 minutes
Ascent 50 m, descent 36 m

With some alacrity we rose and packed, eager to start on our breakfast at the hotel.
None of our fellow campers showed signs of life, but as we walked out the young cyclists started to emerge from their canvas bunker.
At the hotel, the breakfast room was empty except for a large blonde woman behind the counter, and I explained to her that we had spoken to the patron last night.
She asked politely whether we were Dutch, and on hearing that we were Australian she immediately reverted from French to English (in fact she was English herself, and the co-owner of the place).

While we worked our way through the offerings – coffee, bread, croissants, butter, ham, eggs, cheese and jam – she told us about the difficulties of moving to France, which they had done about ten years ago.
The paperwork had been monumental and they had had to pass a French language test, then be self-employed for the first two years before getting any benefits from the state.
However she said it was better than staying in England, which in her opinion was "full".

It was a wonderful start to a short day's walking, and as we left we said goodbye to the English couple that we had chatted with last night. They were just coming down for breakfast, before presumably being whisked back to Bourges by taxi.
Full of energy, we strode off along the road and up to the tiny village of Château-sur-Allier, which was little more than a few houses pressed around a church, with no sign of a château.
Then there was a steep, grassy lane through a patch of dense woodland, and two or three kilometres along a small road before we got to the château itself.
We glimpsed it through the trees, but it was comprehensively barricaded by a high wire fence, and as we emerged onto the main road, the barricade continued.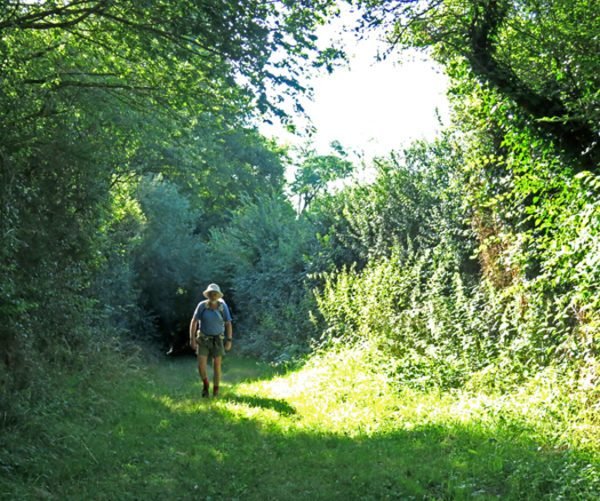 We were passing through a tall deciduous forest, and could see a bridle path on the other side of the fence, but could not reach it.
We had to walk on the road, which was unrelentingly straight, for almost an hour, until the fence turned away and we felt less like frustrated asylum-seekers.
We continued along what was now a pleasantly meandering country road until the first houses of Sancoins appeared. Soon afterwards we arrived in the main square, which was presided over by a tall church and lined with shops, bars and hotels. We remembered it from an earlier visit.
At this point we joined the Canal du Berry for the first time this year. Our initial plan had been to have refreshments here and then keep going along the canal to la Guerche-sur-l'Aubois for the night.

This village had the advantage of a camping ground, but the disadvantage of an uncertain evening meal, and we had decided that it would be better to stay in a hotel in Sancoins (with a decent dinner), and make up the distance the following day, ending up at the same destination (Nevers).
Also it was very hot by then, not the weather for comfort-loving people like ourselves to be out walking.
On a previous walk (the Way of Vézelay) we had spent a delightful night in the hotel St-Joseph, looking directly across the square at the church, so we went there and were given a room for the countrified price of €54.

This time we did not have a view of the church, but of the beautiful side garden of the hotel, with its white umbrellas under the trees.
After showers in the palatial bathroom, we spent a lazy afternoon watching TV and sleeping – the Tour de France was on and sight of a mass of straining lycra-clad backs had a soporific effect.
Later we walked around the streets looking for restaurants, which were surprisingly scarce, and visiting all the bars to ask what time they opened in the morning.
We needed an early start, as we had a long way to go to Nevers. It turned out that the bar of our own hotel was the best, opening at 7:15 am, but even that was not early enough for us. On the other hand the menu at our hotel looked good.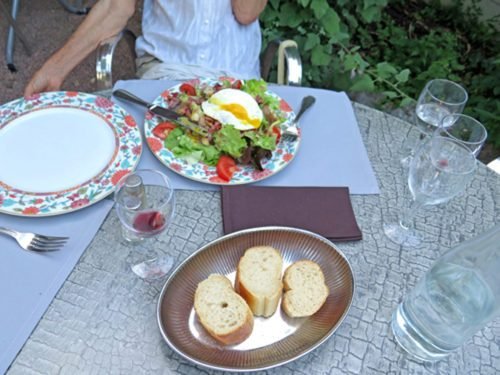 Dinner was being served in the garden on this warm evening, whereas last time we were here it was rainy, and we ate in the lovely old panelled dining room, with its chandeliers and mirrors.
Several tables under the trees were already occupied when we arrived.
We began traditionally with a shared salad adorned with ham and egg, helped along by bread and red wine.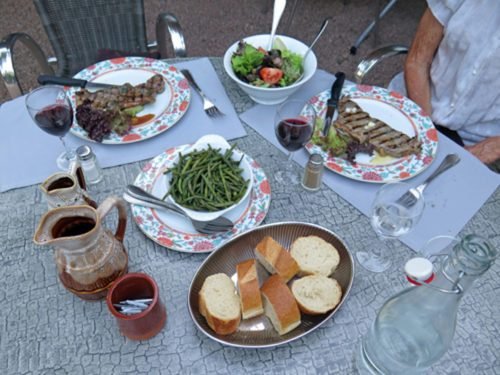 For the main course, we asked the waitress about a dish called "steack au grill", which was suspiciously cheap compared to the other dishes, to which she replied blandly that it was a piece of beef.
We decided to risk it and it turned out delicious. Keith even went so far as to pronounce it the best steak he had eaten so far in France (and he had eaten a lot).
Included with the steak were a bowl of beans and a salad.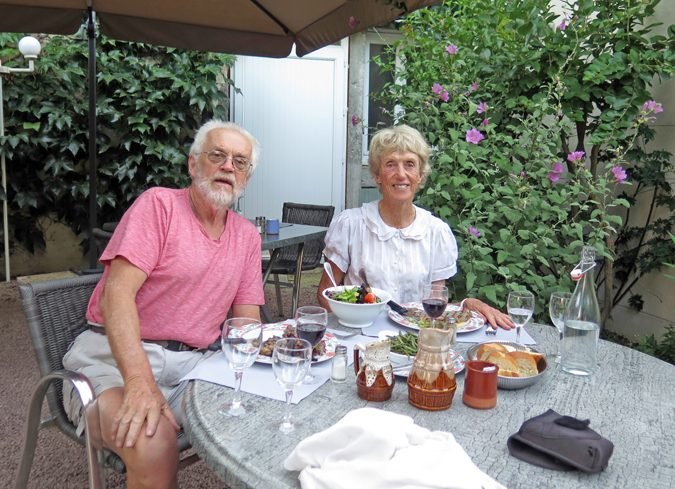 A woman who was eating alone near us spoke to us in slow English, offering to take a photo of us "all the two", a charmingly direct translation of "tous les deux".
When we retired to our room, the murmur of voices under our wide-open window continued as we drifted into asleep.
Previous day: Bourbon-l'Archambault to Le Veurdre
Back to this section's summary