Thursday, 20 June 2019
Distance 20 km
Duration 5 hours 15 minutes
Ascent 155 m, descent 223 m
After another round of showers, just for the luxury of it, we went down to breakfast at 8 am.
The reason for this late start was that the hotel at Merlines, our next destination, did not open until 4 pm, according to their website.
It was only about twenty kilometres away, and we did not fancy sitting outside the door of the hotel for hours, waiting for someone to open it.
The breakfast was a credit to the Swiss nation, and almost worthy of Holland.
The table groaned with good things – fruit juice, yoghurt, fresh fruit, boiled eggs, pastries of various kinds, bread, butter and jam, plus a pot of coffee that was refilled when we emptied it.

Full of food and optimism, we bade a grateful farewell to our hosts and set off down the road to the south. It was only hours later, in fact that night, that we realised that we had left the power cable for the iPod plugged into the wall in the hotel room, so for the moment we had not a worry in the world.
At the edge of the village we turned off on a smaller road that wandered along pleasantly through fields and patches of forest.
After a few kilometres the bitumen ended and we took a well-worn wheel track, until it was suddenly blocked by a makeshift wire and rope gate.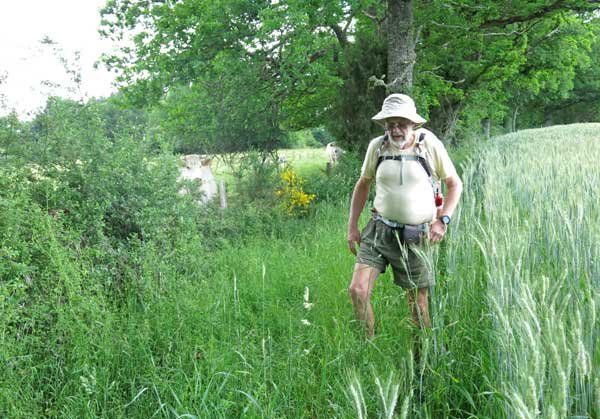 This was a surprise, as our map showed the path continuing. However, it is quite common to find public paths obstructed like this by farmers, and we felt no compunction in clambering through the gate.

The track, descending beside a field of young wheat, was much less distinct after that, but all went well until we came to a daunting mass of fallen trees and regrowth.
The line of least resistance was to go into the wheat field and try to find a way down to the stream, which we could glimpse through the tangled vegetation.
Eventually we caught sight of a footbridge, but could not reach it, so we fought our way back to the original track and managed to push through onto the grassy bank of the stream, from where we reached the footbridge with no trouble.


There was a yellow PR sign on the bridge, confirming that it was an official walkers' route. That was a happy moment, as we had no wish to back-track and make a long detour by road.
After crossing the stream, we found ourselves in an emerald-green deciduous forest, following the reassuring PR signs. Higher up, the birches and oaks gave way to pines.
This section was not devoid of obstacles, but they were easy to get around, and at last we emerged onto a road bordered prettily by a small lake.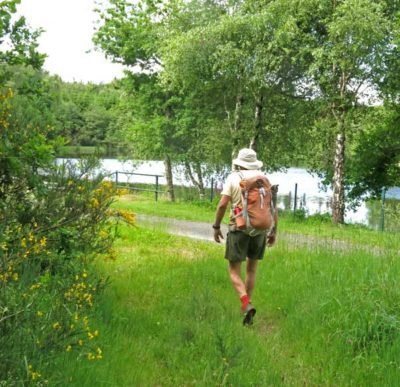 We were only on the bitumen for a short distance before entering another pine plantation, a very large one, lined by piles of recently cut logs here and there.

Just before this track merged into a gravel road, we sat down on a grassy bank and had a rather motley snack consisting of cucumber, left-over rösti and caramels. We also took off our shoes to allow our toes to wriggle and breathe a little.
Pressing on, we were soon on another track, a cool corridor roofed by arching branches.
We crossed a stream and began climbing gradually along the edge of a pine forest, with brilliant yellow gorse on either side of the track.

Eventually we came to a tar road, on which we descended into the village of Eygurande. I was very keen to see this place, because its name was significant in the pre-Roman history of France.
According to Graham Robb's excellent book, The Ancient Paths, there are seventy-five places in France bearing some form of the Gaulish name 'equoranda' or 'icoranda', of which this village is one. The name means something like "calling post" and it seems that they were part of a sophisticated telegraph system using shouted calls to pass messages across huge distances.
This one was on a rise in a wide, shallow valley, a typical location for such telegraph posts, but beyond that there was no trace of its former importance, and in modern terms it was a distinct disappointment.
The first thing we came to was a bar, closed and possibly defunct, then a boulangerie, also closed, with a For Sale sign on the door. Arriving at the church square, we found a SPAR supermarket (closed) and a pharmacie, which miraculously was open.
The lovely woman inside thought that the bar might open at 3 pm, but she wasn't sure, and as it was only 2:30 pm we decided to walk on.
It was hardly more than a kilometre to the hotel at Merlines, where we had a room booked, but it was too early for that, so we stopped at a small artificial lake surrounded by parkland, and waited there in the cold wind (at least I found it cold) until about 3:30, when we walked on to the hotel, which was at the foot of the lake.
It was a great white block set among neat gardens, with two strange, awkward rectangular columns guarding the entrance.
To our great gratification, the door was already open, and we were shown to our room on the top floor. We wasted no time in testing out the shower, after which we sank into a warm, blissful sleep, with our wet washing dangling all around the room.
When we woke up we decided to recharge our gadgets, at which point we realised that we had left the iPod cable in the hotel at Giat. So we could only recharge our cameras and hope to buy another iPod cable tomorrow in the big town of Ussel.
Dinner was served downstairs at about 7:30. Our host was attentive and helpful, with a charming smile revealing spectacularly crooked teeth. The other diners were several solitary men, no doubt travelling businessmen, and a few tottery looking elderly couples on walking sticks.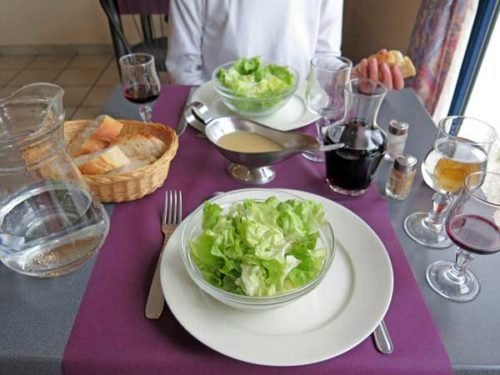 We started with a salade verte each and it was just that – green lettuce and nothing else. However there was a bowl of vinaigrette and a big basket of bread to go with it, not to mention the delicious wine, so it was actually very good.
After that we had ordered two pièces du boucher (that is to say, pieces from the butcher) and the same literal approach was in evidence.

They arrived looking like lonely brown stones on empty plates, with a cup of green peppercorn sauce their only companion. They turned out to be bigger than they looked, and a dish of hot chips came separately.
There was an endless supply of bread and we did not run out of wine until the last scraps had been mopped from our plates.
Altogether it was a very agreeable evening. It was our second hotel stay in as many days, and our last for this year, or so we thought.
Previous section: Gannat to Giat
Back to this section's summary