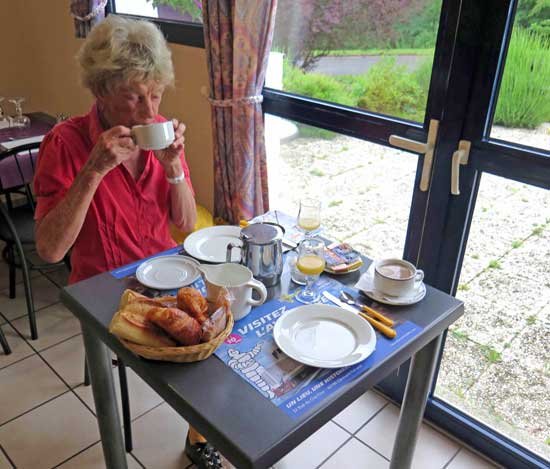 Friday, 21 June 2019
Distance 24 km
Duration 5 hours 30 minutes
Ascent 282 m, descent 350 m
We had a bit further to go today, and no reason to delay, so we descended with our packs to the breakfast room just after 7 am.
The lone workers were all there bent over their breakfast, but none of the other aged couples.
Starting with orange juice, we had several cups of coffee with our croissants and baguette, and even managed to save a length of baguette and some butter for lunch.
They would go nicely with the two boiled eggs that we were still carrying from the hotel at Giat.
The village of Merlines looked about as lively as Eygurande, with only one visible shop, a boulangerie.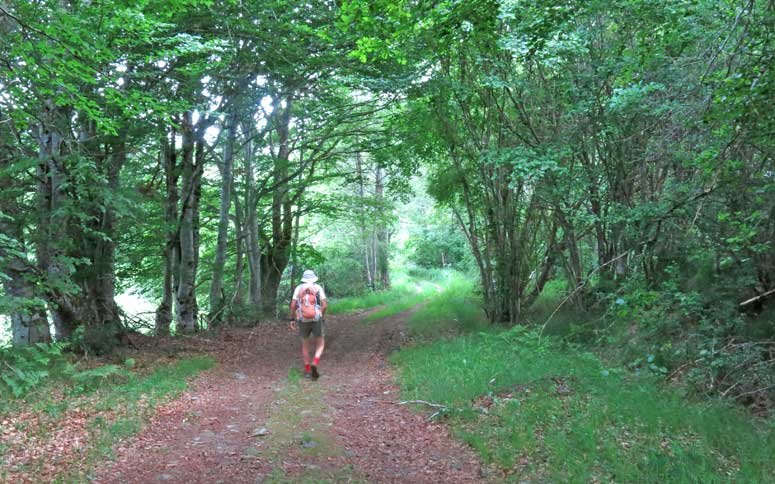 Instead of taking the highway (the D1089), we went up through the houses and into open country – high, level meadows through which our little road made its way, lined by hedges and trees.
We crossed an abandoned railway line deep in a cutting, and then took a couple of crooked tracks which threaded their way through a thicket of greenery, ending up on the highway at the edge of the village of Chalons.

This was a tiny place, but it had evidently enjoyed better times, and there were several prosperous mansions lining the road, including one with blue awnings and the legend "la Demi-Lune" over the door – possibly an exclusive hotel or restaurant, or perhaps just a private house, we never found out which.
We left the village on a rising gravelly path, parallel to the highway but separated from it by a little hedge, so although the highway was now a "Nationale" (the N89), it was no problem at all. Anyway there was next to no traffic on it, for reasons unknown.
At the crest we turned off on the small D49 and traversed a shallow valley full of pasture, until we came to a forest and turned sharply uphill.

When we came out of the forest we were high above the valley that we had just walked along, and approaching the crest of the climb.
The village of Aix was just over the brow of the ridge, no doubt a good place to be when the north wind blew in winter. We were now at about 840 metres of altitude and we felt that this was probably the watershed between the north-flowing rivers that we had been following and the south-flowing ones to come.
The grey-roofed houses of Aix clung to the road as it skirted across the face of the ridge above a plunging emerald-green valley. The church was the only building larger than a cottage.

As we began going along this road, we looked anxiously for signs of the bar but saw none until we were almost on top of it, tucked away as it was on the end of a house.
It was an angular modern addition to a conventional house, and we were delighted to see lights on inside.
The barman was a heavy-set, silent, lugubrious type, with two horrid small bulldogs who jumped and yapped around us. I gave one of them a surreptitious kick under the table while monsieur was making our coffee.
When we got up to pay, he became friendlier and asked whether we were English, no doubt because of my accent.
Keith laboriously counted out all his small change to make up the required €4, which seemed to please the man very much. He probably had trouble getting to a bank.

We swung away down the green valley, still on the D49, and soon turned onto the D49E2. Any road with an "E at the end of its name is very small, and one with an "E2" is more or less a track with a lick of tar on it.
This was our pleasant companion for about four kilometres, until, just before joining a highway, we took an actual walking path briefly as a short cut.

Fortunately our encounter with the highway was also brief, and we turned off at the foot of the church of St-Dézery, to roam past some smallholdings and then a gigantic factory making windows and doors, after which we crossed the railway line and descended into the streets of Ussel.
We had not forgotten that we needed to buy a new cable and plug for our iPods, having left ours at the hotel in Giat. It was already past midday and we had no idea where to find a suitable shop.
As we arrived at the main road leading to the centre, we saw a big factory-like building advertising all things electronic, with an arrow pointing to the entrance at the back. Unfortunately this entrance had not been opened for many years, by the look of the spider webs, so we set off disconsolately toward the centre.
As we trudged upwards, a man came out of his shop with a bunch of keys in his hand, preparing to lock up. At that moment we saw that it was a computer shop, just what we needed, and the man kindly escorted us back inside and provided us with the necessaries, for which we were very grateful.
The old centre of Ussel, with its solid, serviceable buildings, was further up, on a steep knoll. We felt like celebrating with a coffee, but it was not as easy as it should have been in such a big town.
Lunch was in full swing in the few cafés that we saw, and all the outdoor tables were taken. Also the traffic roaring past was unpleasant, so we gave up and set off to find the camping ground.
This also was not as easy as we expected. From the roughly circular top road, many other roads descended at all sorts of angles, but only one of them would take us to the bridge over the Diège and on to the camping ground. We tried one road but it swung the wrong way, so we had to retreat.
Our second attempt also felt wrong, but eventually proved to be right, which was confirmed when we passed the great gates and mighty cedar trees of the Château de la Diège, now a public park. Apart from that, the road was lined with drearily functional houses and commercial premises.
Just before the bridge there was a little shopping centre set off the road, with a supermarket and a boulangerie.
On closer inspection, we found that the boulangerie had a coffee machine, and that it opened at 7 am – good news for us, as we would not have to go all the way up to the centre to get breakfast in the morning.
Beyond the bridge the road climbed past a huge new shopping paradise and then into the forest for about a kilometre before emerging into a high meadow. The camping ground was just in front of us.
It was a pleasantly grassy place with a few vans in residence and nobody at the office, so we wandered up and chose a spot looking over the still waters of a lake (l'Etang de Ponty), with lichen-encrusted trees standing like sentinels along the shore.
On the way to this spot we passed a strange building like a wide, sawn-off pagoda, that we were to see more of later.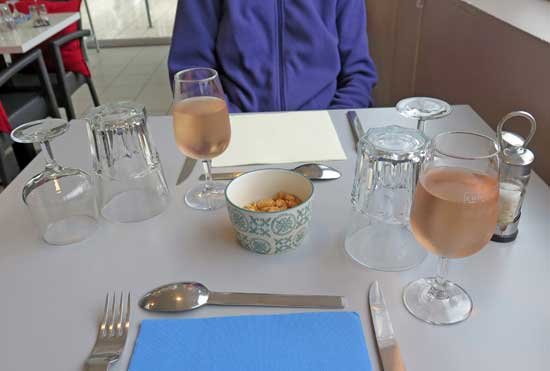 The sky was full of clouds, so for once we put the tent up straight away, and had a fine little picnic lunch, which consisted of the bread and butter saved from breakfast, with the boiled eggs from Giat.
It began to rain slightly and we retired indoors, where we stayed for the rest of the afternoon as the rain steadily increased.
At about 7 pm, keen to escape the two cubic metres that had been our prison for the past few hours, we crawled out wearing our white rain capes, and flapped our way like a couple of bedraggled swans across the adjoining park to the restaurant, which did not look very lively in this weather.

For an awful moment we thought it was closed, but then a man hurried up and opened the door, escorting us to a table next to the rain-streaked window which looked out onto a magnificent expanse of lake and forest.
A few other people came in soon afterwards, but our host was not very busy, and he filled his idle moments, when not chatting to his guests, by singing along to the radio, surprisingly tunefully.
Our dinner began with an apéritif of rosé and a bowl of nuts. Then the serious eating began with cassoulet for Keith and pork in a creamy sauce for me.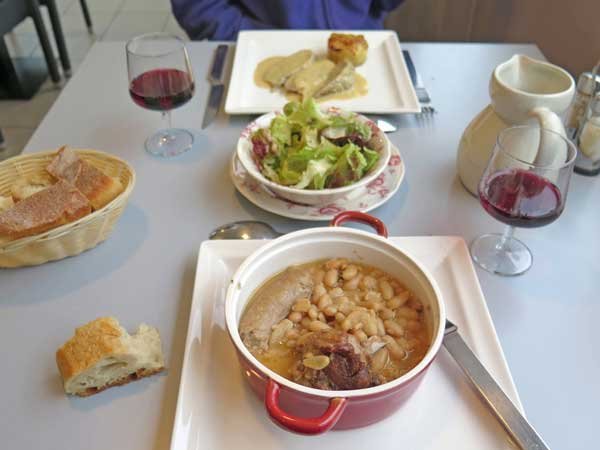 There was a green salad, a basket of bread and a flask of red wine also on the table and we enjoyed the cosy feeling of being dry and comfortable with the rain drumming on the window next to us.
Keith finished off with another bit of field work on his crème brûlée thesis, after which we took the path that our host had pointed out and arrived back at our tent in short order.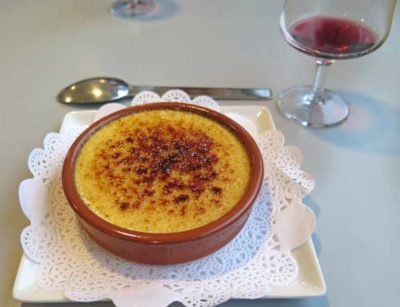 The rain had lessened by then. The woman in charge was walking around collecting money from the campers and we handed over our €9.40, then began wriggling into our sleeping bags.
At that point the résponsable, whose name was Nathalie, reappeared at the tent flap with a man, worried that we would get washed out by all the rain. We did not think so, but they said that they would help us move everything down to the communal salle (the pagoda-like edifice that we had noticed before), which was for school groups and the like, but which was empty tonight.

The man (Patrick) rushed back and brought his van to transport our tent, but it would not fit, so we each grabbed a corner and ran down the hill while the rain pelted down, having regained its strength.
We were all laughing when we got to the salle.
Our benefactors departed and we left the tent still erected on the lower floor and climbed up a ladder to the top level, where we laid our bedrolls on the bare floor and had a luxuriously dry night.
Previous day: Giat to Merlines
Back to this section's summary