Tuesday, 25 June 2019
Distance 29 km
Duration 6 hours 35 minutes
Ascent 442 m, descent 535 m
In our short acquaintance with the camping ground at Mauriac, we had become very fond of it, especially its lovely grassy emplacements, its épicerie and the nearby restaurant on the lake. Yet another endearing feature was that it offered breakfast.

As we had no desire to trudge back up the hill to the centre of Mauriac for breakfast, we had arranged to come to the office at 7:45 am, the earliest time that Jean-Claude was willing to oblige us.
We arrived just before he drove in from town, and sat down outside, in the company of three garbage men who had paused to refresh themselves in the midst of their labours.
Breakfast was the classic French combination of orange juice, coffee, pastries and pieces of baguette, with butter and jam in sachets. The air was cool, the sun shone mildly and we felt ready for anything.
Thus fortified, we said our goodbyes and set off, taking a short cut around the base of the town, followed by a couple of kilometres on the big highway to the south, the D681m which climbed over a ridge before starting to descend. This was an unedifying exercise for us, but necessary and not difficult.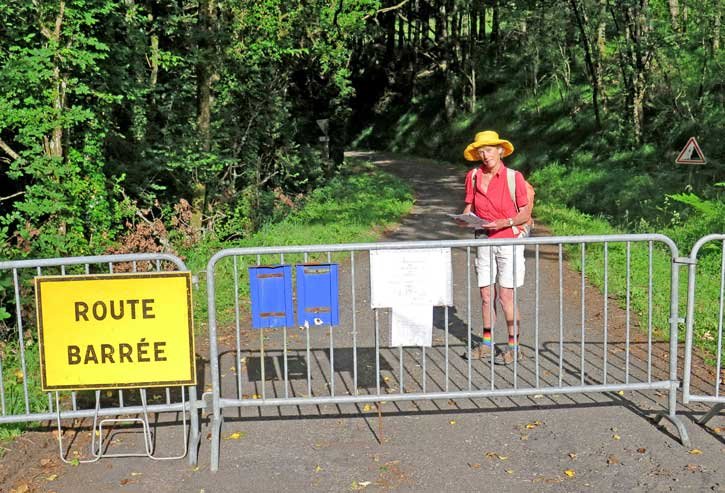 A little way beyond a hairpin bend, there was a side road marked on our map, which dropped into a deep gorge, crossed the river Auze and climbed up the other side, greatly shortening the distance to the village of Chaussenac, which was where we hoped to have morning coffee.
We had no trouble finding the side road, but a nasty shock awaited us – a closed gate with a big Route Barrée (Road Closed) sign.
The bridge at the bottom (le Pont de la République) was being rebuilt.

Anxiously we studied our map, looking for some other way that would not involve trudging along the highway for hours, but there was no such thing.
Then we had a closer look at the sign on the gate, and noticed that the road had been closed since April and was due to reopen in a few days' time.

That suggested that the work was almost done, so we decided to risk it.
Nevertheless we were worried as we plunged further and further into the gorge, imagining how depressing it would be to have to haul ourselves all the way up again.
Half an hour later, to our relief and delight, we came to the sparkling new bridge, still barred off with plastic ribbon, and lacking only a coat of bitumen to make it complete.
We were no doubt the first members of the public to use it, and we unofficially opened it by marching proudly across.
From there the road climbed, but not steeply, and we had a rest when we came to a wide track going off at a bend.


Leaving the bitumen, we took this track as it sidled up to the top of the gorge, passing a picturesque old disused mill on the way.
It was a relic of times past, but just around the corner, when we rejoined the bitumen, was an unsalubrious feature of modern times, a piece of woodland torn to pieces by trail bike tracks.
After that, a short walk across farmland brought us to Chaussenac, where we hoped to find a bar, and indeed a bar was the first thing that we came to, with tables set out in front, complete with tablecloths.

It was 11 am and high time for refreshments. Then we noticed the sign on the door – it was closed for congé!
There was nothing for it but to keep walking.
A little way on, still in the village, we sat down against a stone wall, took off our shoes and drank some water, which was not the refreshment that we had envisaged, but reviving all the same.

While sitting there we decided between two possible routes for the rest of the day.
The first route would have us turning off at Saligoux, about four kilometres away, and ending the day at Pléaux, but we rejected that in favour of the second route, continuing straight along to St-Privat.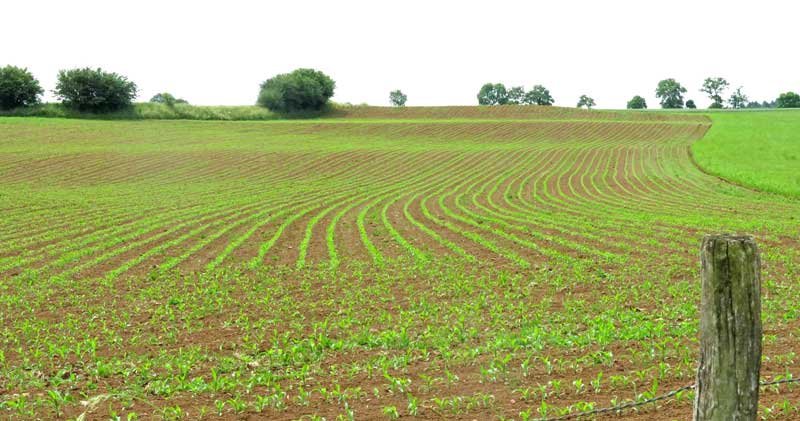 The road along the ridge was mildly undulating and displayed every possible shade of green – the dark, blackish trees, the vivid pastures, the bright lines of freshly planted crops and the fading ones of recently cut hay.


A herd of cows took an interest in Keith but wandered off resignedly when he had nothing to give them.
It was about 1 pm when we reached the curiously-named village of Rilhac-Xaintrie.
We later discovered that the name Xaintrie denotes the high granite plateau to the east of the Dordogne and to the north of the river Cère.
Apparently, the word comes from the Occitan "Saint Trie", or "SantaTerra" in Latin (something like "blessed land" in English).

Keith was convinced that there was a bar here, although the village looked as dead as a dodo as we arrived.
I was sure that we were wasting our time poking around the side streets, but to my amazement we came to a hanging Pelforth sign, and the name "L'Ostal del País", over an open door.
From this door emerged a cacophony of happy voices – the place was packed with lunch diners.
The waiters were run off their feet, and there was nowhere for us to sit except a couple of stools against the bar, but as we only wanted coffee, that was fine by us.
It was a shock after our long, solitary walk, to be in the midst of such a gloriously festive crowd, and we enjoyed it greatly.

For a couple of hours after that we walked on the bitumen (the D145), although we did not have to share it with any cars at all.
It seemed that nobody felt the need to drive from there to St-Privat at that sleepy hour of the afternoon.
We began to tire after a while, and sat down in a grove of trees to recover, but we still had quite a distance to go, so we did not stay long.
As usual the scenery was delightfully green, a mixture of fields and forests.

We came to an abandoned railway line, converted into a walking track, and followed it around a wide, smooth curve, with thick forest on one side and a hayfield on the other.
Soon we cane to some sports fields flanked by many parked cars, and then the entrance to the camping ground, just before the first houses of St-Privat.

Inside the gate, there were lawns, shaded by tall deciduous trees, which sloped down to a pretty little lake.
Wooden holiday cabins were set among the trees, and a few of them were occupied, but on the whole the place had a deserted look, with only one or two other campers.
The reception block and the sanitaires were locked, but we found a shower and toilet behind the changing rooms of the sports fields which were sufficient for our ablutions.
When the sun began to decline we set off to take the short route to town along the lake shore, taking the advice of an old French couple in a caravan nearby.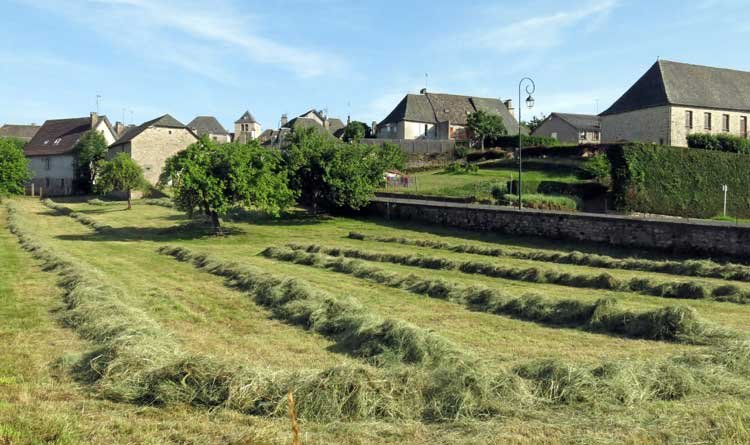 The town, like so many small places, was on a steep knoll, and the afternoon sun beat down powerfully as we toiled up the hill.
Around the base were some tiny fields, where cut hay had been raked meticulously into rows. It was remarkable how small the fields were, and how close to the houses of the village.
The village at the top was attractive although confusing, with streets rambling about at odd angles. The only jarring note was a block-like modern Logis hotel opposite the church.

Having located a boulangerie that opened at 6:30 the next morning, and a bar that opened at 7, we enquired about where to eat this evening. The only suggestion was the Logis hotel, so that is where we ended up.
As we walked up to it, a mighty bus stopped outside, disgorging a flood of decrepit looking tourists.
They hobbled inside, to their rooms presumably, and we went to the restaurant and took a table against an open window, with a lovely breeze coming through.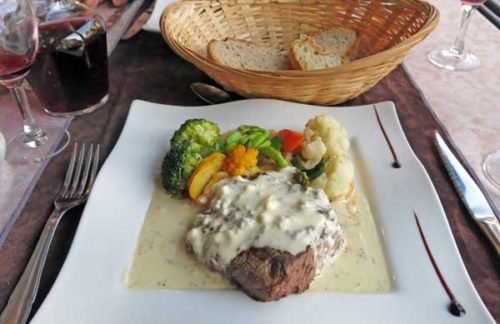 After we had enjoyed our leisurely apéritifs (glasses of rosé as usual), the old folks began to arrive in their multitudes, but most of them were shepherded off to an inner room, so there was still plenty of space.
The menu of three courses was €22. and we did what we often do in these circumstances – ordered one menu plus one extra main course. As an entrée we shared a delicious chiffonade of ham, bulked up with a quantity of bread and wine.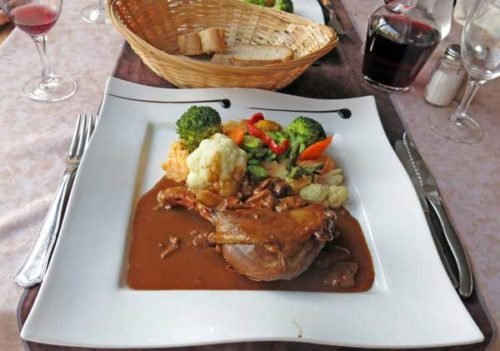 Then Keith, predictably, chose steak for his main course, and it came with a creamy sauce and a pile of colourful vegetables.
I had confit de canard (a leg of duck), with the same picturesque accompaniments. As I had already indulged heavily in the chiffonade, I ate the vegetables, but put most of the duck away for a future lunch.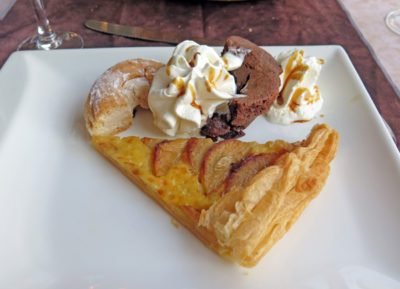 For dessert, Keith was on his own, and he had what amounted to Café Gourmand without the coffee – in other words, a selection of three or four small desserts on one plate.
On the way back to our tent in the fading daylight, we saw an old farming couple in one of the tiny fields, baling the cut hay with a little machine. To our eyes it was a poignant image of what life must have been like long ago, but without the machine, of course.
Previous day: Saignes to Mauriac
Back to this section's summary