Thursday, 14 July 2016
Distance 20 km
Duration 4 hours 50 minutes
Ascent 476 m, descent 351 m
Map 156 of the TOP 100 lime-green series
Our host had said that breakfast would be served at 8 am, so we packed up beforehand and took everything down to the snack bar.
The morning was beautifully sunny so we sat on the terrace, well rugged up against the cold, with the lake reflecting the thick greenery beyond. Our German fellow walkers ate indoors for some reason.
Breakfast was simple but delicious – a baguette, some butter and jam, and two rounds of coffee with hot milk. There is something very strengthening about being waited on at breakfast time, instead of crouching on the ground mixing up muesli in a plastic bowl.
When we finally left this little haven, we took the descending road and then a small offshoot that reunited us with the GR at an underpass. We had detoured yesterday to get to St-Sauveur, leaving the GR to continue along the abandoned railway line (now a road), as far as this point.
The GR then left the old railway line, which was about to fizzle out at the entrance to a tunnel, and branched off uphill.
Before long we were swallowed up in a pine forest with tracks going in all directions. The only clearly marked one was the GR heading up to les Settoux, a hamlet that we had no wish to visit, as it lacked everything that we needed (a restaurant, plus camping or a hotel).
On our home-made map, we had worked out a way to get through the forest and back onto the abandoned railway line beyond the tunnel, the only trouble being that it was hard to pick where to deviate from the GR.
However, our first guess turned out to be right and we swung along comfortably, about fifty metres below the GR and parallel to it.
After half an hour our forest path ended at a descending wheel track, and we walked down a short distance to our old friend the D503, at the pass of le Tracol.
This pass marks the watershed between the Rhône and the Loire, and was the reason for the former importance of nearby St-Sauveur-en-Rue. There was a bar there, but we were still well fed from breakfast so we did not stop.
A farm road went down steeply beside the highway and we came to the scattered houses of St-Meyras, where somehow we found ourselves lost in the backyard of a private house.
The owner smilingly directed us back to the fork in the road and we descended past a field of golden cows, to a strange-looking construction site.
A newly painted railwayman's cottage stood beside a strip of crushed gravel, at the end of which we could see the mouth of what had obviously been the tunnel under le Tracol. The old railway line was being converted to a cycle path.
Further on this conversion had already happened and the track was a smooth ribbon of tar, with the distance to its terminus at Dunières marked, perhaps over-zealously, every hundred metres.
It was almost ten kilometres to Dunières and no map-reading was required, so I passed the time with the heroic Danton until he came to the same gory end as his predecessors – yet another case of the Revolution devouring its own.
Meanwhile quite a number of cyclists glided past us, but as usual we saw no other walkers.
At Riotord we had hopes of a bar, but when we got there we were on a high bridge and the town was far, far below us.
The possibility of a second breakfast did not seem to justify the effort required to get down to it, so we ambled on for another hour or so, crossing one more vertiginous bridge, and came to an enormous sawmill at the edge of the town, and then the shunting yards of the railway terminus of Dunières.
This ambitious and expensive railway line was opened in 1885. It was a circuit, linking the large industrial centre around Firminy and St-Étienne with its hinterland to the south-east, and with the great trade artery of the Loire.
It prospered for the first sixty years, but after World War II things began to decline and the track was closed in stages, the final one as recently as 2003.
The grand station building was now a gîte, and there was a tourist train (Vélorail) operating on the line further on, taking visitors a little way in the direction of Firminy.
Past the station, at the top of the street, there was a bar with lights on and a crowd of people inside, which was a relief, as it was Bastille Day, when many bars and shops are closed.
We went in and ordered coffee, whereupon all the people – a group of several families – suddenly left. Perhaps this was because it was midday and the place was supposed to be closing.
Nevertheless we enjoyed our little break there, especially when it began to pour with rain. It stopped again obligingly in time for us to leave.
There was a confusing web of roads going up behind the bar and we had to ask our hostess to point out the right route.
We were well and truly off the GR65 by now, but there was another GR, the GR430, that guided us up out of the village. We soon diverged from it and climbed through a pine forest, then meandered down and up again through another wood.
Emerging from the trees, we found ourselves in a wheat field, on the other side of which was a small road which gradually descended in the direction of Montfaucon, our destination.
It was an easy walk through an idyllic pastoral landscape, but the rain returned and this time it did not stop.
In our wraith-like white capes, we squelched along the tiny road and soon came to the built-up outskirts of Montfaucon, which were not looking their best with all their grey masonry darkened by rain.
We passed two hotels but not the one we were looking for, the Hotel de la Gare, so we pressed on to the main intersection at the bottom of the slope, turned right, walked another long way, turned right again, then again, and finally found it, not far from where we had started half an hour before.
On the way we came to a large gîte and went in to see whether we could stay there. The entrance was full of boots and jackets, but inside there was nobody to be found, only tables strewn with packets of food, unwashed plates, open books, half-completed jigsaw puzzles and general clutter. The walls were covered with dispiriting new-age posters. Eventually a woman appeared and announced that they were booked out, allowing us to scuttle off with relief.

The Hotel de la Gare, as its name suggested, was opposite the station, although since the line was now defunct, this was not the advantage that it had once been.
Nevertheless it had a thriving, well-kept air and there were people still eating their Bastille Day lunch in the dining room when we arrived.
It was a happy coincidence that there was no camping ground in Montfaucon, because it continued to rain hard for the rest of the afternoon and we had the luxury of a dry room with all the comforts. It cost €54 and we would have paid a lot more.
After long hot showers, we reclined on the spacious bed and watched the Tour on the TV, at the same time enjoying the sight of lashing branches and driving rain out the window.
At about 8 pm we went down to dinner in our evening clothes (our non-walking shirts, long pants and sandals).
Just as we got to the lobby, the front door opened and another walker burst in, accompanied by a blast of cold air. He was lanky, wild-haired and soaked to the skin. As soon as he had booked in, he went upstairs and did not reappear.
The dining room was graceful and old-fashioned, with long net curtains, a chandelier and a great empty fireplace. Our hostess was quite in keeping with the décor, small and plump, with neatly crimped hair and a spotless apron.
Apart from one other person, we were the only diners, although the place had been almost full at lunch time.
We decided that we were celebrating not only Bastille Day, but also the average of our two birthdays (thankyou, Dataman!), and chose the three-course blackboard menu for €18.
The first course was a mixed salad, which was as fresh and crisp as if madame had just hurried out with an umbrella and picked the leaves from her garden. The bread, with its big leathery holes, was a delightful accompaniment.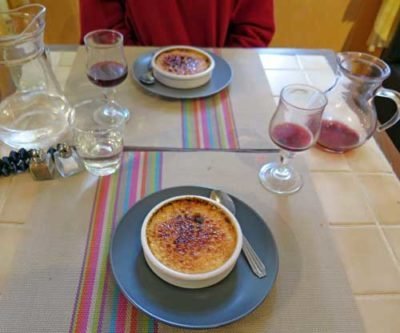 Then we had steak with green peppercorn sauce, another favourite, and finished off with crème brûlée. Even though I am normally a complete non-eater of desserts, I broke with tradition tonight, as I was trying to put some meat on my sadly depleted bones.
It was not the most adventurous menu, indeed it was standard French fare, but we enjoyed it greatly, and went upstairs to our room in a very contented frame of mind.
Previous section: Beaurepaire to St-Sauveur-en-Rue
Back to this section's summary