This first section of the Régordane (GR700) has much in common with the Robert Louis Stevenson walk (GR70), which we had done in 2004. However, we had not stuck closely to Robert Louis' itinerary, cutting off a few corners, and we discovered that the newly developed Régordane walk took much the same shortcut that we had.
Therefore we decided, for the sake of variety, to make our own way from Costaros to Pradelles, using paths and minor roads. This turned out very well.
From Pradelles to la Bastide-Puylaurent the two GRs were the same, so there was some repetition with our 2004 walk, although not as much as we expected – the route has changed a bit.
These first three days were undertaken in shockingly cold weather, even though it was the middle of summer. Probably this is not uncommon in the Cévennes.
Getting to le Puy-en-Velay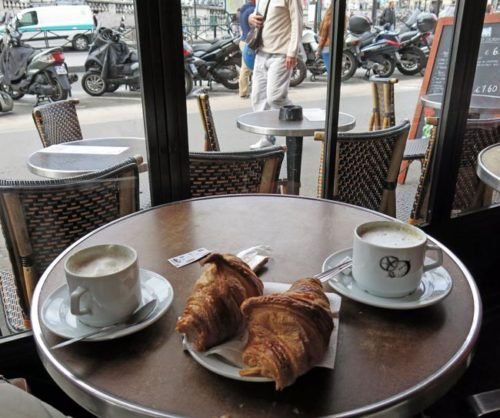 The best way to get to le Puy is by train. In our case, we caught a train from the Gare de Lyon in Paris at 10 am and arrived in le Puy at 2:30 pm.
As we had been to le Puy several times before, we had no trouble finding the start of the Régordane amongst all the GRs that leave from this town (the Way of Le Puy, the Robert Louis Stevenson walk and the Gorges of the Loire walk among others). There were red-and-white GR markers everywhere, so it was important to find the right ones.
From the station we made our way to the central Place du Breuil and stopped for coffee at a lively terrace bar on the corner of the Rue Vibert. It was the first of what we hoped would be many such delights on our walk.
Day 1: Le Puy-en-Velay to Bizac
Day 2: Bizac to Langogne
Day 3: Langogne to la Bastide-Puylaurent
Back to this pilgrimage's summary