Tuesday, 17 June 2003
Distance 29 km
Duration 7 hours 0 minutes
Ascent 722 m, descent 604 m
Map 69 of the TOP 100 blue series (now superseded)
Topoguide (ref. 653) Sentier de Saint-Jacques de-Compostelle, Moissac/Condom/Roncevaux

My hip-hole had proved more of a hip-hill and had kept me tossing about initially, so we slept in a bit. It was after 7 when we crossed the footbridge, but still early enough for otters to be playing in the river.
Following the blue-and-yellow scallop signs, we left the town, and soon realised we had a retinue of pilgrims, who had emerged from the gîte and had put their trust in us to lead the way.
We began to worry that we were lost, as we had stopped seeing the signs, but a merciful providence kept our feet on the true path and we arrived, over the shoulder of a hill, at the monument marking the junction of three of the four traditional pilgrim routes – the Way of Le Puy, the Way of Vézelay and the Way of Tours. At this point we rejoined the GR65 proper.

A slippery looking track lay ahead, going straight up a bald hillside, but on closer inspection, what we thought was shining mud turned out to be sheets of rock and it was not as steep as it looked.
At the top we came to the small chapel of Soyarza, encircled by the interlaced branches of plane trees. There was a viewing platform, but the weather was closing in and all we could see was mist.

From here we walked along in the company of a sawn-off Spaniard and a young French woman, up and down on the muddy track, through damp forests and smelly farmyards, until we came to Ostabat, set prettily in its fields of sheep and cattle.
In former times this was an extremely busy stoppping point for pilgrims from all three directions, and could accommodate 5000 people at a time. Only one of the great dormitory buildings still exists.
Our companions, more dedicated than us, trudged on, but we stopped at the cafe.

A woman who was mopping the floor invited us to sit down at a trestle table in the empty room while she prepared the coffee.
As she fussed about with a saucepan on a gas-ring, she talked on the phone in the Basque language, which we had been longing to hear, so it was a treat.
Keith even bought a T-shirt with a Basque message promoting the revival of the language.

In the wide, straight valley from here to Saint-Jean, the GR never strayed far from the road. At Larceveau we bought bread and ate our lunch at Mongelos, on the terrace of a magnificent but completely deserted hotel.
Soon we got to Lacarre, where the hotel was making up in activity for the deficiencies of Mongelos. Coffee and home-made icecream set us up for the final push to Saint-Jean-le-Vieux, the old stepping-off point for the ascent to Roncevalles.

After that we walked on the road for a while. Although it was quite busy, there was a generous bitumen strip beside it, almost a cycle path, so it was pleasant enough.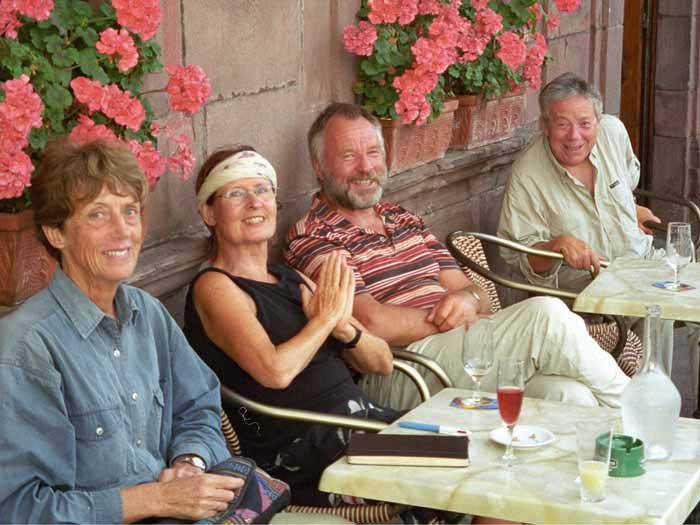 The Romans, Charlemagne, Roland and Aimery Picaud (author of the twelfth-century Pilgrim's Guide) went this way. It was only in the thirteenth century that the deviation through Saint-Jean-Pied-de-Port became popular.
The short path to our destination took us through scattered houses and vegetable plots, rising to enter the town by the Porte de St Jacques.
We had caught up with the little Spaniard by now so we took each other's photographs, then descended the crooked streets, swarming with tourists and gift shops.

At every turn we saw people we knew – the speedy Flemish pair, the festive Alsatians, the French people from Saint-Antoine and many others we had spoken to along the way. It was like a graduation party and there was much embracing and exchanging of addresses.
The camping ground was cheek-by-jowl with the centre of town, over a footbridge. It was full of small tents and everyone had a story to tell.
It was so cold by the time we had finished our ablutions that we had to go inside the tent for our afternoon rest.
Later on we looked around the shops and Keith bought a real Basque beret from a woman who showed him how it should be worn – clinging at the back, pulled out to the front.

For dinner we also ate inside, enjoying the cosiness and warmth. A few days ago we had been gasping with heat.
In a spirit of enquiry, I had something called Axoa, minced veal and capsicum, which was pleasant but innocuous. Keith had paella – after all, we were almost in Spain.
Leaving Saint-Jean-Pied-de-Port
There is a railway station in Saint-Jean-Pied-de-Port. From there you can go to almost anywhere in France.
Previous day: Navarrenx to St-Palais
Back to this section's summary